Charity Island Light Restoration
$680
of $400,000 goal
Raised by
11
people in 27 months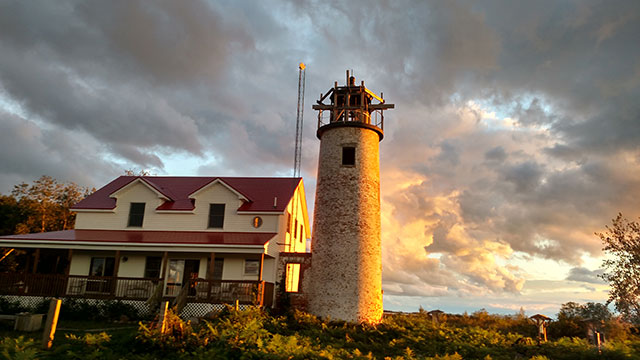 Put into service in 1857, the Big Charity Island Light played an important role in the history of this region by keeping ships off the hazardous limestone reefs at the northern entrance to Saginaw Bay.
The main goal of this fundraising effort is to restore the Light tower to its original condition to honor the Lightkeepers and their families who served on Charity Island and to keep it accessible for the general public and future generations, to be used as a safe and educational historic landmark.
The Light has proven to be a significant economic asset to the communities on both sides of Saginaw Bay, drawing over 30,000 visitors to the Island since the ferry service began in 2005.
The original light, a fourth order Fresnel Lens, was fueled by oil, then later by kerosene,  before its final conversion to acetylene gas in 1917.  This made it one of the first  on the Great Lakes to be automated using a gas valve, developed by Swedish Nobel Laureate, Nils Gustave Dalen.
Ownership of the tower was severed from the Keeper's quarters in 1924 when the federal government sold the entire Island to a local fishing company.  They kept only the tower on three acres as a navigational aid.
The tower was decommissioned in 1939  when it was replaced by the then newly constructed Gravelly Shoals light. 
Since then its condition has steadily deteriorated due to its exposed location, lack of maintenance, and vandalism.
Now, 92 years later, the tower has been reunited with the Keeper's quarters into a single property allowing this restoration effort to begin.
This Light has a unique history and is an important remnant of our maritime history in Saginaw Bay, worthy of the effort to preserve it.
Recently
Mihm Enterprises, a Michigan contracting company with extensive experience in historic restoration completed
an estimate on the cost to put the tower back in its original condition.  They have worked on 16 other lighthouse projects in the Great Lakes and received
4 Governors Awards for Historic Preservation.
The cost of the restoration effort is currently estimated at $350,000 to  $400,000.   
We hope to have enough funds raised by the spring of 2017 to begin meaningful restoration work which is projected to take  2 years.
+ Read More