13
16
Changing Lives in India
£2,285
of £25,000 goal
Raised by
16
people in 24 months
I am seeking donations for projects in India benefitting orphaned, abandoned and destitute children, slum dwellers, visually challenged and disabled young people, uneducated and unemployed youths, girls and teenage women and overlooked members of society through emphasis on health, sport and education.


Girls of HEAL Paradise School, Andhra Pradesh, India, making their way to lessons 

My name is Jem King, a 58-year-old former journalist and father of three from south Wales in the UK. I have many years experience of standing up for people unable to fend for themselves through no fault of their own as a result of crippling poverty, natural disaster, health issues and inequality.

This is my first serious attempt at Crowdfunding, being done in an effort to help me achieve my ambition of dedicating myself to helping children and young adults from the most disadvantaged families imaginable escape from the Indian poverty trap. They would otherwise be condemned to a daily battle for survival, perpetual hardship, lost childhoods,  child labour, trafficking and exploitation, malnutrition and stunted growth, lifelong medical problems, lack of education or job prospects, reduced life expectancy and, to sum it all up, an absence of basic human rights.

I have teamed up with a number of not-for-profit organisations in India and the UK and will work hand in hand with them to achieve my goals.

They include:
HEAL (Health and Education for All) - a UK, India, USA and Australia registered charity, run entirely by volunteers, which recently celebrated its 25th year of lifting thousands of severely disadvantaged children out of poverty and placing them into education. The goal is to have removed 10,000 needy youngsters from the Indian 'poverty trap' by the year 2020.

KISES (Kiranmayi Socio Educational Society) & KISES UK - a small charity capable of achieving big things for some of the most marginalized members of Indian society, including the downtrodden Dalit and tribal communities struggling to survive on waste ground, in dump yards and inner-city slums. Again, education is used as a powerful tool to provide lasting change for victims of generational poverty, while healthcare is another major weapon for change.


Some of the families, including many young children, who work as rag-pickers on the Vijayawada Dump

IRCI (International Rugby Coaching Initiative) - sport, and rugby union in particular, has always been a massive part of Welsh life and I have linked up with IRCI to offer the chance for young players and coaches to bring their oval-ball skills to the children of India as a way of promoting good health and fitness and spreading the rugby gospel.

So, why do I care? I am one of the lucky ones... born into a relatively comfortable life, blessed with a loving and caring family, able to attend school, gain employment, earn money, eat regular meals, travel and start a family of my own. Along the way, I have experienced debt, stress, ill health, grief, even depression, but still nothing compared to the struggles of some of the downtrodden people I have met on my travels in India.


An example of living conditions for many low-skilled and illiterate people in rural areas of southern India

This country of stark contrasts has had a special place in my heart since I first began sponsoring a little girl, Anusha, through the charity HEAL (Health and Education for All) more than a decade ago. My own children had grown up and flown the nest and I found myself pondering the next chapter of my life. A TV documentary about very young children living on railway platforms and rat-infested rubbish dumps had brought the plight of India's poorest people to my attention - and there was no looking back from there.

Aside from sponsoring children in India (and later Zimbabwe), I was able to apply my skills as a lifelong journalist to assist HEAL in their ambition to lift 10,000 children out of poverty and into education by the year 2020, organising and participating in several biennial fundraising bike rides through India, raising awareness via websites, the written press, newsletters and social media and serving as a director and trustee in the UK.

But this still wasn't enough. I had seen for myself the incredible hardship experienced by some of the world's poorest, most overlooked and, sometimes, shunned people. I had to do more and so it was that I found myself, on my 57th birthday, launching a Crowdfunding appeal through GoFundMe to help me achieve my own personal goal of transforming thousands of lives in India.


Children of the Vijayawada Dump receiving their first classroom experience thanks to our KISES mobile school

I am seeking outside investors to support a long-term charitable offensive In India - an initial five-year plan for which I intend to dedicate my own time, money and energy, but need backing to help me reach out to as many impoverished and disadvantaged citizens as possible. My focus will be on education, gender equality, ending generational poverty, preventing child labour and exploitation, healthcare, human rights, nutrition awareness, disability, sports and games, and representing those without a voice in a caste-driven society.

These are ambitious targets, but ones I am already involved in or working towards. However, in order to achieve maximum effectiveness I will need to spend the majority of my time volunteering and living in India - and this is where I am appealing to individuals, groups, organisations and companies across the world to make an investment in my commitment to changing lives.

Only with sufficient financial backing can my unpaid work in India be brought fully to fruition. I have had the support of many family members, friends, sporting and celebrity benefactors in the past, but I am now looking beyond simple sponsorship to Crowdfunding a lifestyle choice - to dedicate myself full time to helping others worse off than myself. It's as simple as that.

Among the projects I have lined up in conjunction with HEAL and another small, hard-working charity called KISES (Kiranmayi Socio Educational Society) are:

+ The formation of a Communications, Media and Business Centre for the immediate benefit of disadvantaged and orphaned children from as young as four to 18, including the visually challenged and those affected by loss of limbs, at HEAL Paradise Village in Andhra Pradesh state;


The Institute for Visually Challenged at HEAL Paradise Village is home to blind and partially-blind children who are in need of specialist education

+ Mobile health clinics and schools;

+ Lifting children who live and work as rag pickers in slums and dump sites out of child labour and placing them into temporary schools and, where possible, full-time residential education;

+ Providing sports and games equipment for slum children;

+ Developing sporting links between UK and India using coaching volunteers, eg: touch rugby, kwik cricket, track & field, badminton, archery etc;

+ Eradicating child labour in poorest rural areas;

+ Providing greater education and employment opportunities for girls and young women;

+ Identifying vocational training opportunities for young adults from impoverished backgrounds;

+ Targetted support for the farming community and environmental clean-up campaigns in line with the Clean India Swachh Bharat policy;

+ Teacher sponsorship and support network, to enable residential schools like HEAL Paradise to attract good quality teachers by providing adequate accommodation and out-of-school leisure facilities;

+ Child sponsorship, including those being educated at the Institute for the Visually Challenged at HEAL Paradise Village and young adults wishing to take part in vocational training or further education;

+ Feeding programmes for vulnerable people living on the streets and also those living in slums and dump yards;

+ Combating exploitation of low-income or no-income families;

+ Seeking citizenship, government recognition, basic human rights and rightful benefits for marginalised families and individuals without fixed addresses.

*If there is a particular project you are interested in supporting, please let me know. Otherwise, all funds raised will go into a general fund to further all or any of the remaining programmes.


MAJOR PROJECT 1:
HEAL PARADISE COMMUNICATIONS, MEDIA & BUSINESS CENTRE (HEAL)
Here, Indian children from some of the most difficult backgrounds imaginable will be given a once-in-a-lifetime opportunity to learn and practice skills which would never normally be available to them.

As a journalist and media operator with almost four decades of experience, my aim is to put something back by offering hundreds of orphaned, abandoned and slum children the chance to develop careers in communications and other fields.

I am appealing to companies, organisations, trusts and individuals to help finance a project which will open up a world of possibilities for young people from the most neglected areas of Indian society, including girls, young women and the downtrodden Dalit and tribal communities.

Children facing a life of poverty, hunger, ill health and hardship will be at the front of the queue to benefit from training and educational programmes covering written media, marketing, advertising, PR, social media, blogging, publishing, communications, video, photography, illustration, event management and business studies.

Training, mentoring and teaching will be provided free of charge to some of the poorest families living in slum areas, where child labour is rife and the youngest members of families often forego their basic right to a normal childhood.


Children at HEAL Paradise Village are encouraged to get involved in growing and harvesting fruits, herbs and vegetables, which are used to feed more than 550 students daily

HEAL Paradise Village, a multi-million dollar educational development at Thotapalli, Andhra Pradesh, has already established itself as a fast-growing, nurturing environment where children from the poorest backgrounds receive free healthcare, lodging and education, right through from pre-school to secondary school and on to further education.

By providing a base for the business centre, Paradise Village will offer the infrastructure needed to create a work and training environment where youngsters can develop the skills for a bright and rewarding future in any number of business sectors.

In addition to expert tuition and guidance, project work, portfolio-building and, ultimately, paid work, students will receive mentoring and practical demonstrations from those already well-placed in the field of communications and media.

The business centre will be operated on a separate financial footing from the rest of HEAL Paradise Village, with outside investors encouraged to provide funding and sponsorship to ensure that teaching, administration, transport and equipment costs are met in full.

On a personal level, I already support several students in India throughout their education at university, college, secondary and primary levels and will continue to do so as long as the business centre can be run as a profit-making enterprise and allow me to spend periods based in India and UK as need dictates.

In addition to providing funding, I hope that companies (in India especially) will work closely with our business centre to offer equipment, placements, company visits , scholarships and eventually jobs for our students.

I intend to raise further funds by selling services and developing business opportunities, including the production and sale of health foods, local produce, children's books, jewellery, pottery, original artwork and printed material such as cards and calendars, many created by HEAL children.

The Business Centre is intended to further benefit and impact upon the community by establishing strong links with local schools and villages, offering up courses and day-visits to HEAL-associated schools, education opportunities for under-funded local youth, an anti-poverty campaign, support for the drought-hit farming community and emphasis on recycling and environmental clean-up campaigns.

If you think you would like to offer funding, or support of any kind, to this project, but have further questions, please feel free to contact me via email at jemking@hotmail.co.uk


MAJOR PROJECT 2:
FROM CHILD LABOUR TO FULL-TIME EDUCATION (KISES/HEAL)
KISES has enjoyed some success in recent years taking children out of horrendous living conditions and finding places for them in full-time residential education.


KISES founder Mr Shoury Babu Rebba (second right) with dump children, brother and sister Srinivas and Vaishnavi, being welcomed into Paradise School by HEAL staff and management

With the blessing of their mother, brother and sister Srinivas and Vaishnavi were freed from the daily grind of their so-called childhood at the Vijayawada City Dump, where they toiled in filthy, health-damaging circumstances picking through waste to find small amounts of plastic or metal to sell for recycling.

The siblings gained admission to HEAL Paradise Village three years ago and are now living and learning among 550 children from similar unhappy backgrounds. All their needs are catered for - food, uniforms, dormitory accommodation, regular health checks and an all-important education - and their bright, new future will be assured by the excellent HEAL child sponsorship programme.

Other small children from the dump, from the lowly Dalit caste, have been provided with daily school lessons, clean drinking water, and free nutritious breakfasts - plus the opportunity to break away from their daily rag-picking duties. Their school is only a temporary construction, but gives these uneducated children a chance to be introduced to a learning environment for the first time before, hopefully, going on to follow the path of their friends Srinivas and Vaishnavi into full-time education.

All the families living on the dump are being offered support, meals, access to fresh drinking water and washing facilities, but frequent re-siting of the dump by local authorities continues to add to the considerable hardship experienced by these overlooked and downtrodden people.

Update: This project has now also been expanded to take in children living in the slum colonies of Vijayawada.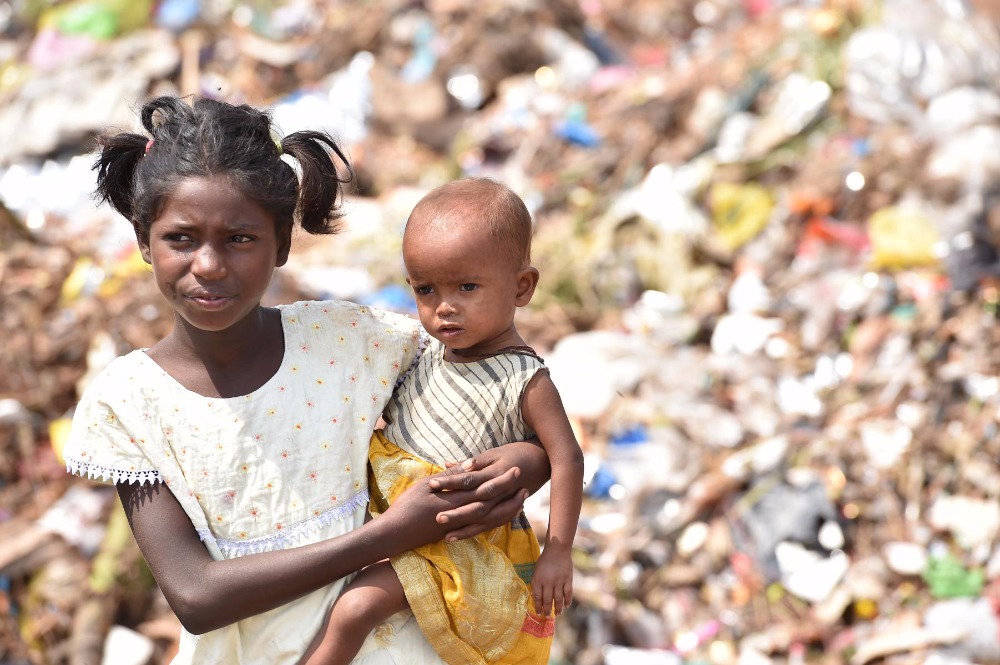 Two young sisters facing daily hardship and a childhood supporting their family by rag-picking

WHAT I AM ACTIVELY SEEKING
+ Direct Funding - either from individuals who want to ensure that their donations are used wisely and without unecessary admin costs, or businesses with a social conscience. Schools, groups and universities are encouraged to help by organising their own fundraising events.

+ Donated Equipment - such as printing equipment (new or reconditioned), SLR cameras & video cameras, editing and photoshop software, computer tablets or laptops, sports equipment & kit for girls/boys (badminton, archery, cricket, rugby, football etc), running shoes.

+ Free Gallery or Exhibition Space, particularly in south Wales, the UK and Andhra Pradesh state, India. A recent 'Changing Lives in India' exhibition and illustrated talk were held at a Welsh church during the summer of 2018.

+ Expertise - knowledgeable individuals, able to give freely of their time in India to present practical demonstrations in fields such as media, sports, business studies etc.

+ Volunteers, Vehicles & Equipment - for mobile school & health clinic projects in Andhra Pradesh.

+ Personal Sponsorship, to help me meet costs of transport and travel when visiting projects in India, putting on awareness-raising exhibitions, making presentations, or fundraising in the UK and elsewhere.

+ Company Support - for health food business, children's jewellery and pottery business, media & film, publishing, printing and others.

+ Artists & Publishers - to illustrate and develop a series of children's books.

*If any of the above suggestions sound like the sort of assistance you, your organisation, group or company might be able to provide, please email me at jemking@hotmail.co.uk


The Amputee Centre at HEAL Paradise Village has provided prosthetic legs for more than 80 under-18s

WHAT YOUR CONTRIBUTION CAN PAY FOR
£25,000 - fund a project of your choosing
£15,000 - vehicle and petrol costs for mobile health clinic in remote, rural and coastal areas
£10,000 - to rent space and provide staff for evening classes or vocational training for disadvantaged young adults
£5,000-£15,000 - a small/medium-sized vehicle for mobile school visits to slum areas
£3,000 - to provide medical equipment for a mobile health clinic
£3,000 - for a year's transport and travel costs between projects in India
£1,000-£2,000 - sponsorship of a further education student's college and hostel fees for one year
£500 - bus hire, food to provide organised day trips for slum children
£250 - sporting equipment for use by 500+ students
£250-£350 - sponsor a child's preschool, or primary school education for one year, or a visually challenged child
£250 - 'adopt' a family living on the Vijayawada Dump or other dump site to help them meet their basic living needs for one year
£200 - to aid the plight of suicidal, struggling farmers in drought-hit areas
£200 - to provide braille books and audio books for visually challenged children
£150 - to fund environmental clean-up campaign in and around rural villages
£150 - for 'soup kitchen' visits to poorest inner-city areas of Vijayawada
£100 - to provide books, slates, puzzles, games and other basic educational equipment for a small mobile school
£100 - contribution towards cameras, computer tablets and film equipment for HEAL Media Centre
£50 - travel costs to allow children with missing limbs and a relative to visit HEAL Paradise Village's Artificial Limb Centre for consultation
£20 - contribution towards daily nutritional breakfasts prepared on site for children living on the Vijayawada Dump
£20 - contribution towards books for the HEAL Paradise children's library
*If any of the above suggested amounts sound like donations/sponsorship you, your organisation, group or company might be willing to provide or raise funds for, please email me at jemking@hotmail.co.uk



Jem King is communications officer for both HEAL (Health and Education for All) and KISES (Kiranmayi Socio Educational Society). He has worked in journalism for over 35 years, first with a freelance press agency and latterly with Media Wales, part of the Mirror Group. He has volunteered and raised funds for many charities in the UK, India and elsewhere, including ChildLine, Operation Christmas Child, Zimbabwe's Forgotten Children and The Alzheimer's Society, as well as developing a successful campaign in Wales to raise many thousands of pounds for the 2004 Tsunami Relief Fund in south-east Asia.
More information:
Website: http://changing-lives-in-india.com/ 
HEAL website: www.healcharity.org
KISES website: www.kisesngo.org
IRCI website: www.irci.co.uk 
+ Read More
Hi
To help spread the word about Changing Lives in India a new website (
http://changing-lives-in-india.com/
) has been created and will carry news and updates of future progress and projects.
In the meantime, with the start of the new academic year in the UK and elsewhere, I am appealing to newly-formed and existing fundraising and Asian societies within all colleges and universities to consider supporting Changing Lives.
In addition to the programmes outlined on my GoFundMe page, I am seeking funding for two new projects as of September 2018:
1. Up to now, KISES UK has provided financial support for a Mobile School, Health Camps & Feeding Programme for children living on the Vijayawada Dump, but more funds are urgently needed to ensure this humanisation project can be carried forward and, indeed, expanded into the city's slum colonies to benefit hundreds more children.
https://d2g8igdw686xgo.cloudfront.net/22923586_153755115858371_r.jpeg
2. With more than 550 children from disadvantaged backgrounds receiving free education, healthcare, food and shelter at HEAL Paradise Village, there is a need for school buses to transport students to sporting, arts and cultural field trips. One sponsor has come forward to begin the fundraising process, but more funds are needed to provide the vehicles, drivers and fuel required.
https://d2g8igdw686xgo.cloudfront.net/22923586_15375509504078_r.jpeg
I would appreciate any help you can give in sharing this update.
Thank you.
+ Read More
A report from the new KISES website
www.kisesindia.com:
KISES India is delighted to announce the official launch of its Mobile School, following a brief inauguration ceremony at the Vijayawada city dump.
The school is at the forefront of a campaign to bring relief to marginalised children and families living and working on the dump, whose only means of income is from 'rag-picking'. This means that each day they sift through mountains of waste using bare hands and feet for small amounts of metal and plastic to sell to recyclers.
The mobile school is part of a wider programme which will include regular health camps and the delivery of clean drinking water and freshly-prepared food to the dump-dwelling community.
In attendance for the opening ceremony were KISES founder Mr Shoury Babu Rebba and Jem King, of KISES UK – a fundraising arm for the small Vijayawada-based NGO.
"KISES has achieved great things for some of the most overlooked and downtrodden members of Indian society since it was founded in 1999," said volunteer Mr King.
"We have worked with these families living on the dump for more than two years and this new Mobile School will hopefully herald a new beginning for all their children.
"We have an excellent young teacher to help introduce them to the world of education and doctors willing to come and meet the medical needs of people who live and work in the most dangerous and unhealthy conditions imaginable.
"This programme is so typical of the work KISES does with those often shunned by society and literally at the bottom of the food chain, so KISES UK is delighted to have played a part in making this possible.
"Potential donors and sponsors who are impressed by the efforts of Shoury and his wife Rajani should be aware that more projects are already waiting in the wings for funding to come along, while the mobile school will also need ongoing support.
"I would urge any companies worldwide with a social conscience to step forward and allow KISES to expand its operations for the benefit of thousands of the world's most needy and vulnerable people – and that goes for foundations, organisations and even individuals who think they might be able to help."
Other KISES projects already in the pipeline are a Mobile Health Clinic providing medical care to impoverished rural villagers in Andhra Pradesh, an Animal Rescue Centre and a Residential Care Hostel for children of fishermen who are forced to spend long periods at sea.
There are also plans to expand the KISES Mobile School Programme by acquiring additional vehicles in order to take classrooms into deprived and slum areas in Vijayawada.
+ Read More
Read a Previous Update