Elizabeth's Garden - Short film
$2,280
of $3,500 goal
Raised by
34
people in 42 months
A movie or a social campaign?

Both. Elizabeth's Garden is a narrative short film that tells the story of a 72 years old bullheaded nun, who, when faced with her imminent replacement as the caretaker of an aged graveyard, must learn to face the uncertainty of leaving her home. The film talks about embracing change and being comfortable with not having a plan, even in the twilight of your life.
Besides developing the short film for our MFA program in Cinema Directing and Creative Producing at Columbia College Chicago, we want to use this project as a way to contribute to a change in the perception of the elderly in today's society.
That's why attached to the movie we are going to launch a social campaign to sensitize the community towards the elderly, who are increasingly becoming a larger part of the worldwide population. As part of this campaign, we are going to distribute the testimonies of people older than 60 years old, who discuss the new beginnings that they have had to face at their age and what their dream projects are that they still want to pursue. This way, we will show a new side to the elderly.
How can I be apart of this?

You can support us in two ways. First, we need your financial contribution to make this movie a reality. Part of the funds of the movie come from personal funds, but for the other part we need your contribution. In order to make this movie, we need to raise $3,500. These funds are going to be invested in the two main items of the budget of this movie: Transportation and Craft and Catering. 
You can also help us by sharing and promoting this campaign. Our goal will be accomplished only if we can reach a large audience with the testimonies of these elderly people and with the story of the main character of this movie. We are not aiming to change the world (all at once), but we want to help to change the way we think about the elderly.
Who are we?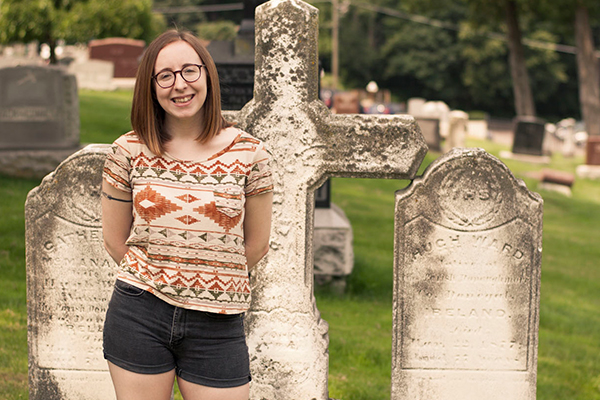 WRITER/DIRECTOR
Chelsea Rowan was born and raised in a small town in southern New Jersey. After graduating high school, and experimenting in a variety of creative fields, Chelsea became aware that her true passion was in film. She went on to graduate from the University of New Haven with a Bachelor of Science degree in Communication – Mass Communication and a Bachelor of Arts Degree in English – Literature. Outside of the classroom, Chelsea has worked on a number of personal projects and a handful of independent films. Chelsea currently resides in the Rogers Park area of Chicago.
Chelsea uses her stories to shine a light upon the nature of humanity in a way that shows each individuals importance. Existence is often individualistic, but Chelsea hopes to expand her audiences notion of existence into something more universal through the comprehension and acceptance of commonalities. Humanity thrives on coexistence, and through understanding everyone's stories, it makes the sameness of like all the more fascinating and bearable.
PRODUCER
Diego Sardi is a graduate student of the MFA in Creative Producing at Columbia College Chicago. He was born and raised in a rural region of Uruguay. While pursuing his Bachelor in Communications at the University of Montevideo, his passion became developing story ideas and having them come to life in film. Producing films: his calling. He graduated in 2012, with studies in film producing and organizational communication. After graduating, he received a Fulbright scholarship to pursue his graduate studies in film producing in the USA.
He has produced narrative fiction films and documentaries that received national and international awards. Some of his most recent works are a documentary co-produced with a South African production company and micro documentaries for UNICEF and the United Nations. As a filmmaker, he believes that the most impactful revolutions begin inside the individual. He is interested in telling stories that ignite the fire that lives within each person and inspiring them to believe in themselves, in the people who surround them, and in the transcendence of the life.
+ Read More
Be the first to leave a comment on this campaign.