Bulletproof Storm Shelters For Kids
$5.0M
goal
Campaign created
12 months
ago
Our Children Deserve Better Protection At School
On February 14, 2018, the way we look at school safety changed forever.  Seventeen people were brutally murdered by an active shooter at Stoneman Douglas High School in Parkland, FL.  This terrible tragedy, along with far too many others, has caused the American public to realize one very clear thing -
our children are NOT safe at school.
 Our children are constantly threatened by the worst of Mankind and the worst of Mother Nature.  Far too many of our children have lost their lives at school either at the hands of others or by insufficient protection from natural disasters, and that is unacceptable. 
Shelter-In-Place has created a solution to provide complete protection against active shooters, tornadoes, hurricanes, earthquakes, and explosives.  This unique design becomes part of the classroom, doubling as a quiet reading/tutoring space, and it is always 30 seconds or less away from students and staff.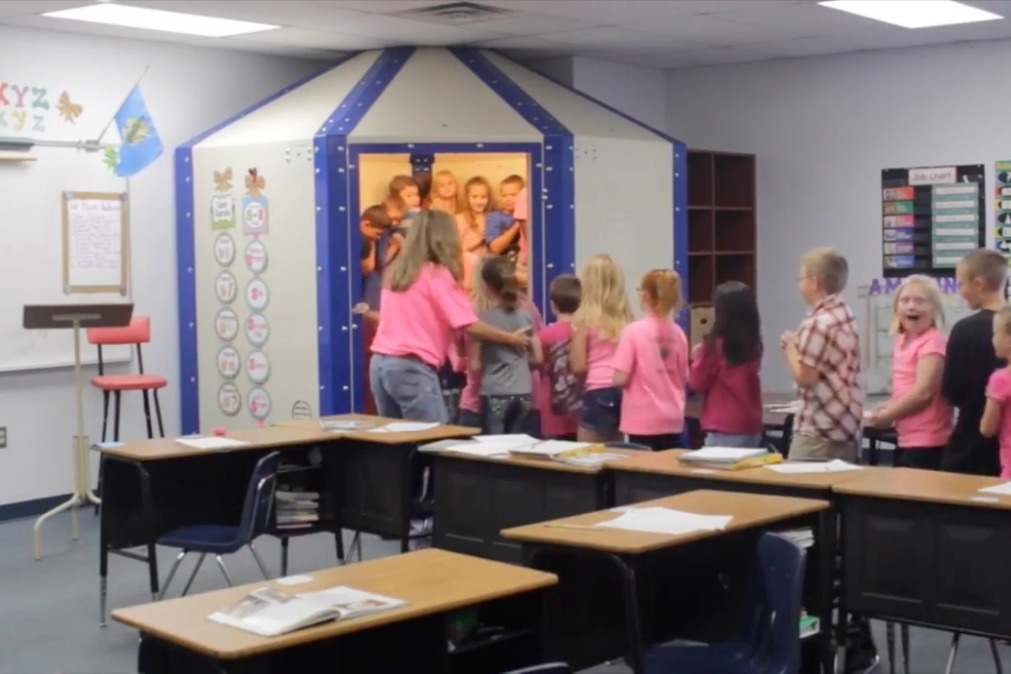 A Call-To-Action From Millions
On February 27, 2018, Shelter-In-Place posted a video on its Facebook page showing a solution that can protect students and staff against the primary threats while at school (watch the video
here
 ).  The video has been shared over 2.2 million times and has been viewed more than 67 million times.  Millions have expressed their excitement for the Shelter-In-Place solution, and have asked how they can help.  Here's how:
How You Can Help
Many schools do not have the budgets available to provide adequate protection for kids.  They need the help of their communities, government, and generous donors like you.  Every penny that we receive from this campaign will go to offset the cost of the shelters for the schools most in need. 
100% of your donation will go toward assisting schools in purchasing shelters.
 Once your donation goes toward a purchase of shelters, we'll keep you up-to-date with information about where your donation was used.  We'll send you information about the location of the shelter, including photos of the installed shelter(s), and how many students and staff you helped protect.
Your donation goes to not only protect kids and staff immediately but will provide protection and peace of mind to generations of students and educators.
Our Commitment
The funds we raise through this campaign will be meticulously managed and tracked so that every penny is stretched for maximum benefit.  In most cases, we will not be covering the entire cost for schools to acquire shelters; rather, we will supplement their existing funds to make your donations last longer.
A Community Effort
When shelters are installed, it's a community effort.  We work with local PTAs/PTOs to recruit local volunteers to assist in installing the shelters.  We always start by extending the invitation to the former and current members of our military.  We call this effort "One More Mission".  These men and women who have served to help protect our lives and freedom are perfectly suited to continue that effort in protecting our kids at school from domestic threats.  From there, we invite any parents, grandparents, or adult family members of current students to assist in the setup effort.  Our crews are always onsite to oversee, train, and ensure that the shelters are properly installed.
Sponsors
For those companies or individuals interested in donating larger amounts, or if you'd like to make a tax-deductible donation, we have established a 501(c)(3) to help facilitate those kinds of donations.  Please visit
www.shelterinplace.com/donate
 for more information. 
We sincerely thank you for your interest and concern in helping to protect our children.
The Shelter-In-Place Team
www.shelterinplace.com
+ Read More