breakthroughartprize
$1,625
of $5,000 goal
Raised by
19
people in 40 months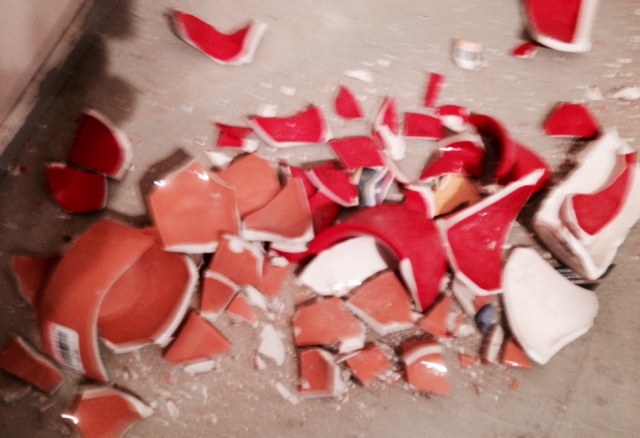 Hello and welcome to our very exciting project:  BREAKTHROOUGH, 2015!
My name is Laura Bennett.  I am a psychotherapist in Grand Rapids, Michigan, and the lead organizer of the program.  Our team also includes Randy Flood, M.A., LLP and artist, Mark Bird.  
 "BREAKTHROUGH:"   is a unique, collaborative community project that brings together the mental health and art worlds, and will culminate in an exhibit for Art Prize, 2015.  
The ultimate goal of this experiential project is to stimulate a community conversation to raise mental health awareness, fight stigma and promote emotional well-being through the individual acceptance and expression of one's authentic self.
Supervised by licensed mental health professionals, participants will be invited to engage in a safe and controlled symbolic ritual,  in the form of breaking ceramic dishes, or personal items.  
This ritual will be very personal and may symboloze different things for different people, such as:  Letting go of unhealthy behaviors or relationships, one's own "inner critic," moving through stages of grief, the healthy release of anger or frustration, taking control of crippling fear or anxiety, breaking free from rigid gender roles, etc.....whatever may block the breaking through to health and well-being. 
The purpose of this experience is NOT to perpetuate or encourage aggression, or merely to vent pent-up emotion as stress-relief.
Rather, the symbolic message of the experience is: That one must often deconstruct or "breakdown" old paradigms, without judging the breaking down process itself, in order to reconstruct a new healthier self and personal reality.  
To represent the concept of the reconstructed authentic life on the other side of such acceptance, the pieces of broken material, collected over several months, will be assembled into a large symbolic mosaic,  which will be the art prize entry.  There will also be an opportunity for the publicc to engage in breaking as part of the exhibit as well. 
This project will be a large undertaking with significant costs.   The project  organizers will donate their time and many materials will be donated.   However, funds are needed for:  print and web development, art studio rental, materials for the mosaic and exhibit itself, liability insurance, professional fees for videography, liability consultation, etc.  
Please consider making a personal or organizational donation.  Your support of this project will enrich our community and  may help to save lives by reducing the stigma that so often blocks  people from seeking mental health support and finding emotional peace.
Any unused funds will be donated to a local mental health organization to help fund reduced-cost services to those in need. 
Please check out our web site for more complete information!  
www.breakthroughartprize.com.
Thank you for your support!
Your project team,
Laura L. Bennett, MA, LLP
Randy Flood, MA, LLP
Mark Bird, Artist
+ Read More
Be the first to leave a comment on this campaign.