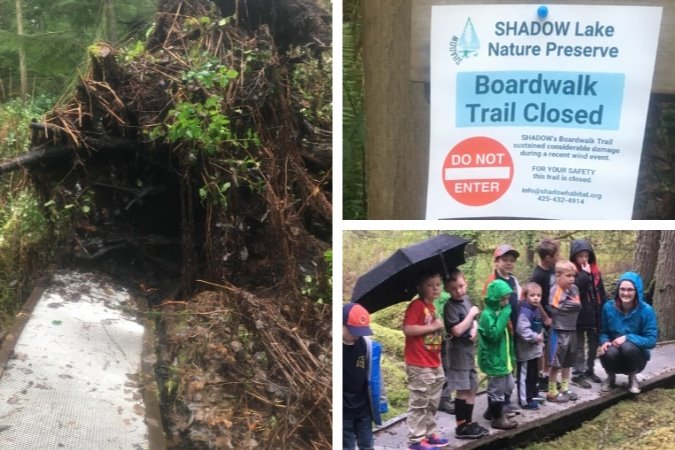 32
7
Save SHADOW's Boardwalk!
$1,410
of $15,000 goal
Raised by
32
people in 3 months
There are over 1,000 local students scheduled to tour Shadow Lake Bog this Spring, including every 4th grader from the Tahoma School District, and our Boardwalk trail is closed due to wind damage! Please save these student's field trips today!! Please chip in and help protect this unique learning opportunity for our students. 

This weekend's windstorm toppled trees and closed SHADOW's most popular trail, the Boardwalk, indefinitely. If we are not able to reopen the Boardwalk in time, this year's forth graders will miss their opportunity to tour Shadow Lake Bog and learn about how the last ice age shaped our region. 

The wind storm, whose gusts reached up to 60 miles an hour, was an unforeseen emergency. In unincorporated King County, outside the limits of any city, SHADOW's Office and many of our neighbors were without power for multiple days. The damage caused by this storm will be costly to repair! A lot of trees fell, making the Boardwalk unsafe for visitors.  

Beyond the children who learn at SHADOW, the Boardwalk is visited by over 3,000 local community members each year. It is a space for nature reflection and wetlands education. There are 12 brand new native plant interpretive signs being installed in the bog in 2019. Please help us maintain access to this vital green space!

"Shadow Lake is important to the community, not only ecologically, but also as part of its identity." 
- Sharon Leishman, Duwamish Alive Coalition

"From the moment we arrived it was a hands on learning environment.  My students were engaged and genuinely interested... The fifth graders of Kent Mountain View Academy truly felt like citizen scientists."
- Angela Jines, 5th Grade Teacher at Kent Mountain View Academy

Any additional funds raised above and beyond the cost of repairs will be put directly into SHADOW's Education Program.
+ Read More