6
59
BLADE Fan Film
$220
of $3,150 goal
Raised by
7
people in 15 months
"Blade: Remix" Set & Shots from the Girl Gang Shoot

Stillshots from the "Blade: Remix" Promo Release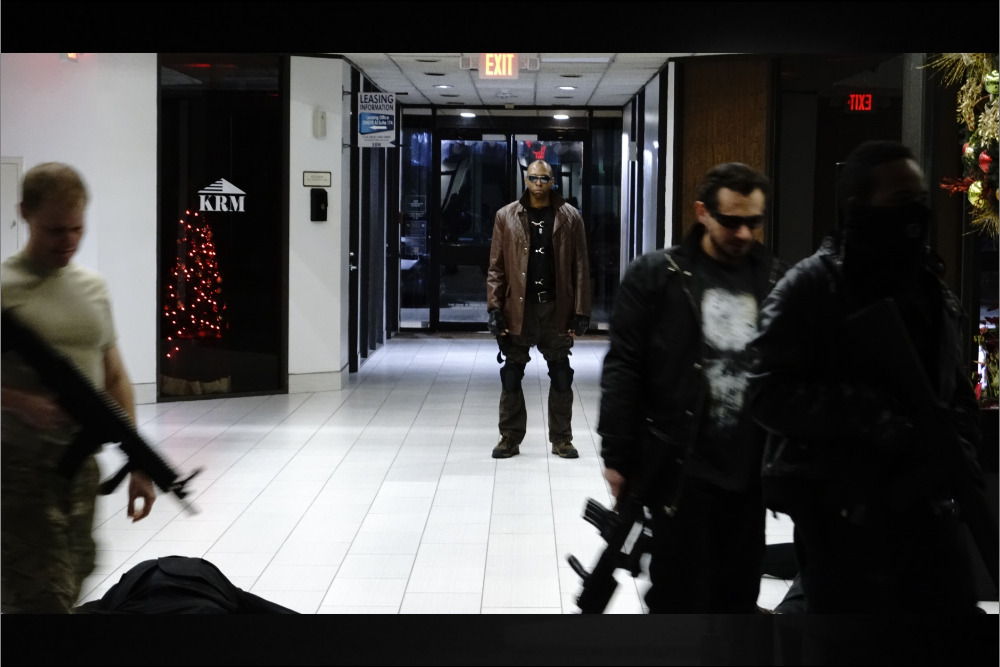 ***

This is a fan film production that pays homage to the creators of "Blade", and the character's source material.

This film will feature it all, with great action, comic heroes, martial arts, music, and of course the vicious vampires and even zombies on the scene. Of course, the drama will be heavy as our story's characters go about the business of fighting villains.

Wesley Snipes turned out a remarkable performance as Blade, the half-vampire and half-human hunter of vampires.
 
The Blade character actually has a Comic Book history dating back to 1973, with Dracula as his archenemy.



Our objective:


We seek to raise funds that will help with the production cost and post editorial of our new, 20 minute contemporary version, "Blade: Remix".
Afterwards, the film will be prepared in time for submissions to Comicon Festivals starting in March 2018.

We are also planning to produce follow-up episodes for an extended webseries.

A full Soundtrack is in the works to be released at the completion of this film, and we plan to do the same for each following episode.

The production is hard at work to deliver a high-quality professional show!





More about the production, the Production Team, and the Talent is posted towards the end of this description.

Right now we would like to get down to the "blood and bones" of Rewards and Benefits for your contribution:


We are also open for Reward suggestions, and of course, we have much appreciation and gratitude for those who give just to see the film.



There are various other ways you can be a part of this film production. We are asking that you let your friends and family know about this campaign. We also welcome referrals you may have or positive any positive advice, just drop us a note here in our GoFundMe inbox. Please share our campaign and see what others might think of what we are doing.

Visit us on social media:
https://www.facebook.com/atonepro/

We take pride in delivering on the highest level possible with great quality and value on and off-screen:


We seek to improve the entertainment and cultural landscape of the Gulf Coast Region where the talent is abundant but the opportunities are less. Since, according to Forbes.com, Houston and Austin are the 2 fastest growing cities in the US (check out the traffic), with Houston surpassing NY and LA as the most diverse, now is a better time than ever to not just attract audiences, but to build on the industry here as other cities and states have where they are. As we do with eac project, we will take full advantage of the illustrious sites and scenes of Houston. This production will open doors for some and advance the success of others, but all will progress in the end, including our favorite people, the viewing audience.




Some of the Film Team includes:

DIRECTOR
Marcus Muhd
John B. Tu Nguyen

PRODUCER
Marcus Muhd

CAMERA
Adrian Sanchez
Brian Neely
Steffi Grace

LIGHTING
Adrian Sanchez
Lakeisha Floyd
Rob Zambrano

SOUND
JaMarcus Creeks
Brian Neely

PA
Roynisha Holmes

PROPS
Rob Zambrano
Marcus Muhd
Antonio L. Vines
John B. Tu Nguyen

CHOREOGRAPHY
John B. Tu Nguyen
Rob Zambrano
Charles Viney, Jr.
Dominique Goff

STUNT TRAINING
John B. Tu Nguyen
Mark Dong
Matthew James Marler
Mathew Davis

MAKEUP
Rob Zambrano
Kat Woods
LaTonya Talton

VFX
Giang Le



Some of the Talent includes:

Marcus V. Muhd as "BLADE"


Nanae Volle as "STARBLAZE"


John B. Tu Nguyen as "AFARI"


Ron Harris as "MORBIUS"


Kat Woods as "WINTER BLADE"


Mathew Davis as "BANE"


James Matthew Marler as "DAREDEVIL"


Jalal Jamal as "HANNIBAL KING"


Antonio L. Vines as "HARDCORE"

Victor Gelsomino as "PUNISHER"


David Romo as "SOLOMON GRUNDY"

Islam Nabulsi as "LOBO"


Miesha Jordan as "NUBIA"


Derrick Haynes as "BARRACUDA"


Blake Briguglio  as "DRACULA"


Thanks for checking us out and for your generous help!

For more projects in development, check out:

Website
www.ATonePro.com/film

Facebook
https://www.facebook.com/atonepro/











+ Read More