Black Bottom Street View
$1,483
of $15,000 goal
Raised by
25
people in 22 months
Black Bottom Street View

Black Bottom Street View is a project to visualize Detroit's historic Black Bottom neighborhood, to build a platform for sharing family and community histories, and to promote the legacy of Black Bottom and the impact its residents have had on the city of Detroit and the whole of contemporary culture.

We are mapping the Burton Historical Collection's photographs of Black Bottom, so that visitors to our website will be able to explore the neighborhood digitally and contribute histories, memories and photos of their own. The site will include a searchable database where families can look up homes by family name and address. We will be hosting events in Detroit, and we are also making a book and an exhibition. Please sign up for our mailing list for announcements and information about upcoming events.

We are very grateful to have received a $15,000 matching grant from the John S. and James L. Knight Foundation, as part of its Knight Arts Challenge. That means that we need to raise $15,000 of our own by October 2017 to receive the grant. Your contribution will be tax deductible. Thank you for helping make Black Bottom Street View a reality!
The purpose of this project is to become a tool and a resource for Detroiters. Please contact us with comments, questions, feedback, and criticism—and please reach out if you're interested in getting involved.


About the Photographs

The Burton Historic Collection at the Detroit Public Library has a collection of photographs of every house in a large area of Detroit's Black Bottom neighborhood. Black Bottom, along with Paradise Valley, was the historic heart of Detroit's African American community. The photos were taken from 1949 – 1950 by the City of Detroit as part of the eminent domain process. In the early 1950's, the city demolished the neighborhood, calling it "slum clearance." Ten years later, the city demolished Hastings Street, Black Bottom's business district, and built I-375 in its place. Together, the Burton's photographs show a snapshot of life in Black Bottom right before it was demolished. The photos are available for public viewing at the main branch of the Detroit Public Library.


More Information

Find more at http://blackbottomstreetview.com
Facebook: https://www.facebook.com/blackbottomstreetview/


Emily Kutil is an adjunct professor at the University of Detroit Mercy School of Architecture, a freelance designer, and a member of We the People of Detroit Community Research Collective.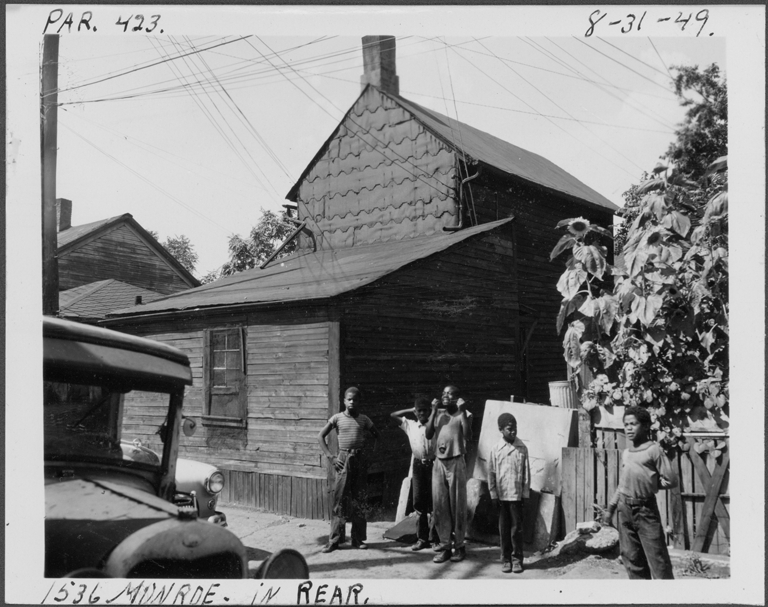 + Read More
Be the first to leave a comment on this campaign.