Bicycling Monterey Site & Projects
$5,710
of $10.6k goal
Raised by
91
people in 16 months
Who founded Bicycling Monterey, and why was it started? As  2017 begins, it's still the case that Bicycling Monterey's founder, volunteer Mari Lynch, provides  www.bikemonterey.org and all other Bicycling Monterey projects (click here for examples)  entirely unpaid. See "What People Say " about the Bicycling Monterey work.


Since 1981, Mari is a resident of rural Monterey County. Below, learn why she started Bicycling Monterey—and why we ten women who launched this fundraising campaign find her efforts so worthy of support

Why was Bicycling Monterey started? 

Bicycling doesn't just benefit people who bike. When more people bike, there are multiple benefits for the environment, public health, community relationships, economy, and more. Bicycling Monterey supports people of all ages and abilities with diverse interests in bicycling!

There is not yet an official bicycling coalition or alliance in the Monterey Bay region. To help fill in that gap, well over ten thousand hours—all unpaid—have been given by Mari from 2009 to date.

Bicycling Monterey is among local partners and allies of the California Bicycle Coalition, which celebrates this work, including in January 2012 (click here and scroll down): "Consistently advocates for bicycling. Major kudos to Mari for all her great work!" The League of American Bicyclists highlighted the Bicycling Monterey work in May 2015 (click here) by sharing this 2009 audio by Mari:  http://marilynch.com/blog/wp-content/uploads/2010/02/Were-All-Heroes-on-This-Bus.mp3. And the Alliance for Biking & Walking honored Mari as a national finalist for the Susie Stephens Joyful Enthusiasm award in 2014 (click and scroll down).  

OVERVIEW OF THE BICYCLING MONTEREY WORK

ACCOMPLISHMENTS since Mari founded Bicycling Monterey include the following and much more: 
First, her skills and dedication provided a vast amount of reliable, original content. Bicycling Monterey serves as an information hub for Monterey County visitors, estimated at over 8.4 million annually, and  the county's approximately 431,000 residents.  She created a 20-section Tips for Bicycling Monterey County guide; a 32-section Monterey County bike community leaders and resources  directory; and much, much more! In Bicycling Monterey's over 500 web pages of comprehensive resources,  readers find both inspiration and practical information.
Anneke Prins, a Sea Otter Classic  racer from the U.K.,  wrote: "Your site is really useful…It is, by far, the most comprehensive bicycle site for Monterey County…and regularly updated, which is rare." 

Bicycling Monterey's riding skills, safety, and CA bike laws  section (plus Monterey County ordinances on sidewalk riding and more) is popular both within and outside California.  Its Spanish-language resources compilation  is used by people nationwide and beyond. 

In addition, Mari educates and advocates  via media broadcasts and other public presentations, as well as direct outreach on the bikeways. Her education and advocacy efforts include local, regional, and state bicycling issues related to infrastructure improvements, legislation, and other topics.

Mari's radio broadcasts have included topics such as sidewalk riding; listen: 

http://marilynch.com/blog/wp-content/uploads/Biking-on-Sidewalks-KUSP-14-Jan-2015-broadcast.mp3

Award-winning transportation and sustainability leader Megan Tolbert wrote, "Mari is a genuine community steward. Her work with Bicycling Monterey is a huge public service to the region." 

Dr. Adonia Lugo, manager of the Bike Equity Network, wrote of Mari's bike advocacy: "You put your region's diversity front and center in your work."  

As reported by the Alliance for Biking & Walking (click and scroll down): "Mari doesn't wait until all conditions are right and funds are available. She just dives in and gets things done!" 
Here's a sampling of accomplishments.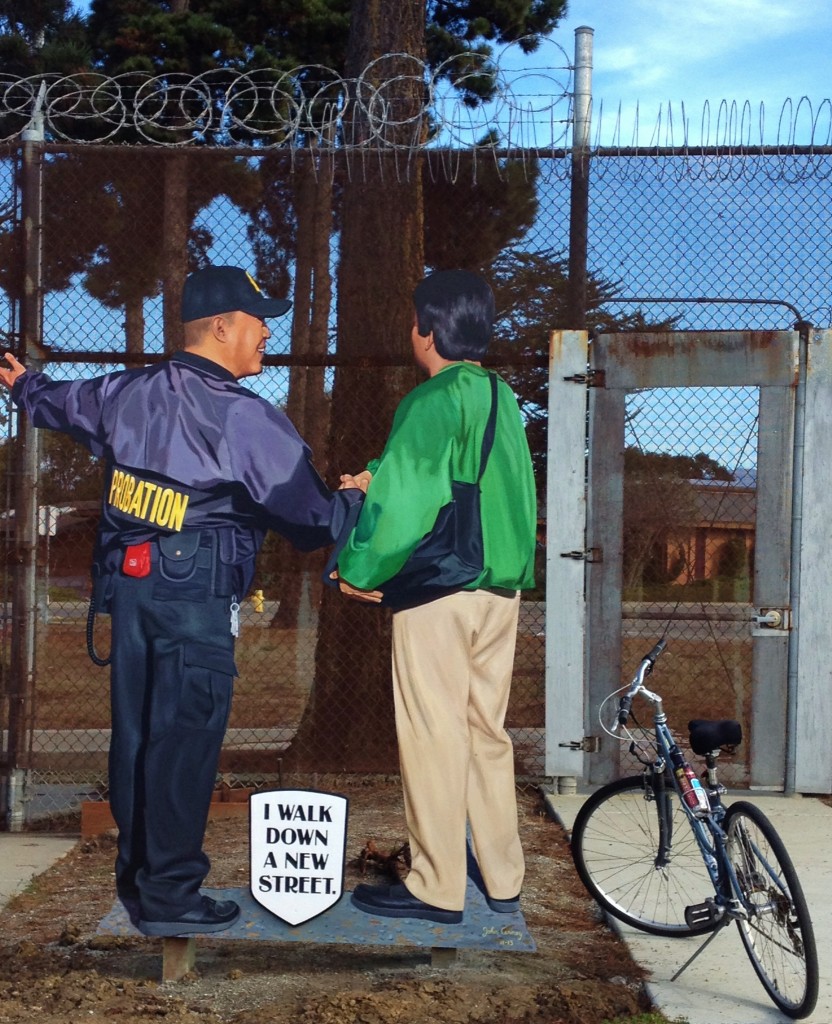 The Monterey County Probation Department Youth Center director had wanted to provide a bike repair class at the Youth Center, after seeing them so beneficial for incarcerated youth in other counties. He'd tried for a couple years, unsuccessfully, to find volunteers. When Mari learned that in October 2011, she immediately began with the many necessary preparations that resulted in the Youth Center bike repair class, and she launched the first series of classes in April 2012, thanks to the responsiveness of others (see that class post for details). Through July 2014, she continued as class coordinator and provider.  At that time, she was able to move into her current role of on-call supporter and class advisor, thanks to two dedicated instructors who'd volunteered with her there since 2012. Then in 2015, Mari added new bike ed at the Youth Center: occasional gatherings for the general population of residents there. This allows larger numbers of these local incarcerated boys to gain some knowledge and support that can help them engage in biking after release.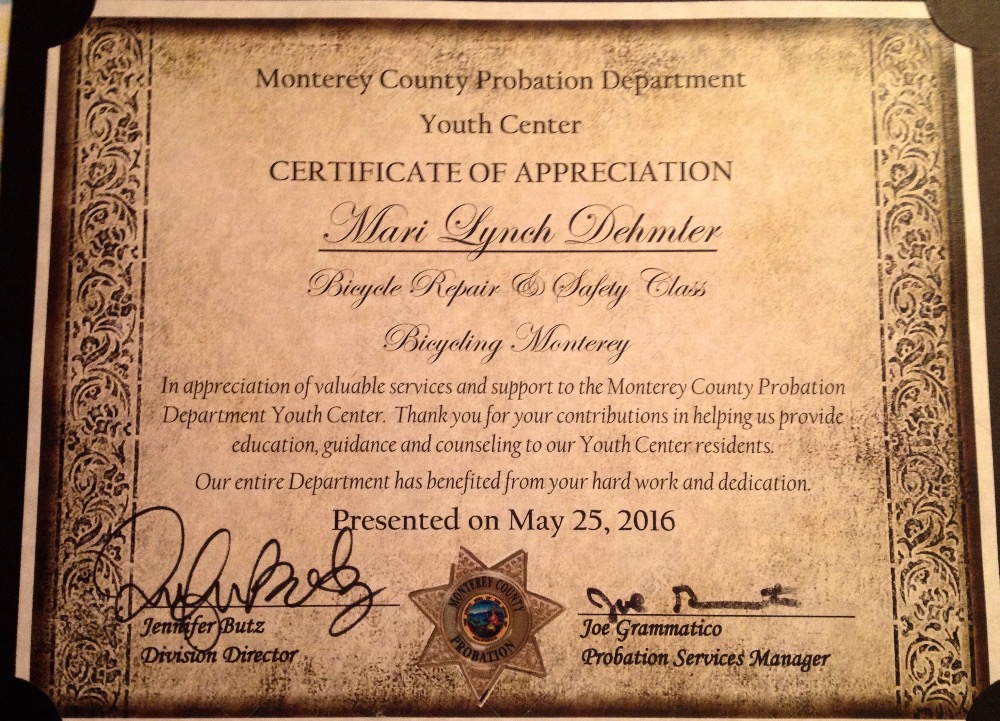 Another of Mari's accomplishments is The HER Helmet Thursdays Project ....

(Note: All photos in this HER Helmet Thursdays video were taken by Mari Lynch with two exceptions: Rich Tanguay provided the Heller Organic Estates photo, and Carey Beebe provided the Carmel Bach Festival photo.)

HER Helmet Thursdays, which she created and launched November 2009, gives 10-50% discounts at hundreds of participating Hotels, Educational and Entertainment spots, Restaurants, and related places, to males and females who help HER/Mother Earth by bicycling. HER Helmet Thursdays is a long-term project, not a short-term discount promotion; there's no scheduled end-date.  Check out the Quick Reference Guide's 11 pages of participating businesses and organizations to get just an idea of some of the work required of Mari to create and maintain HER Helmet Thursdays. Learn how that project began in this Monterey County Weekly Earth Day 2010 history. Below the project's 5th anniversary poster, watch a KSBW video from January 2010.

Again, Mari is entirely unpaid for all this work--including HER Helmet Thursdays.)



Much of Mari's volunteerism is "behind the scenes" work that many people are unaware of. Here's one example:

To support the successful launch in 2013 of the youth-led initative Ciclovia Salinas , Mari contributed hundreds of volunteer hours. She also gave additional hours in subsequent years to help promote or otherwise support the continuation of Ciclovia Salinas, which remains in 2016 Monterey County's only Open Streets. 

Listen to Mari's audio about Ciclovia Salinas: http://marilynch.com/blog/wp-content/uploads/Bikes-are-taking-to-the-streets2.mp3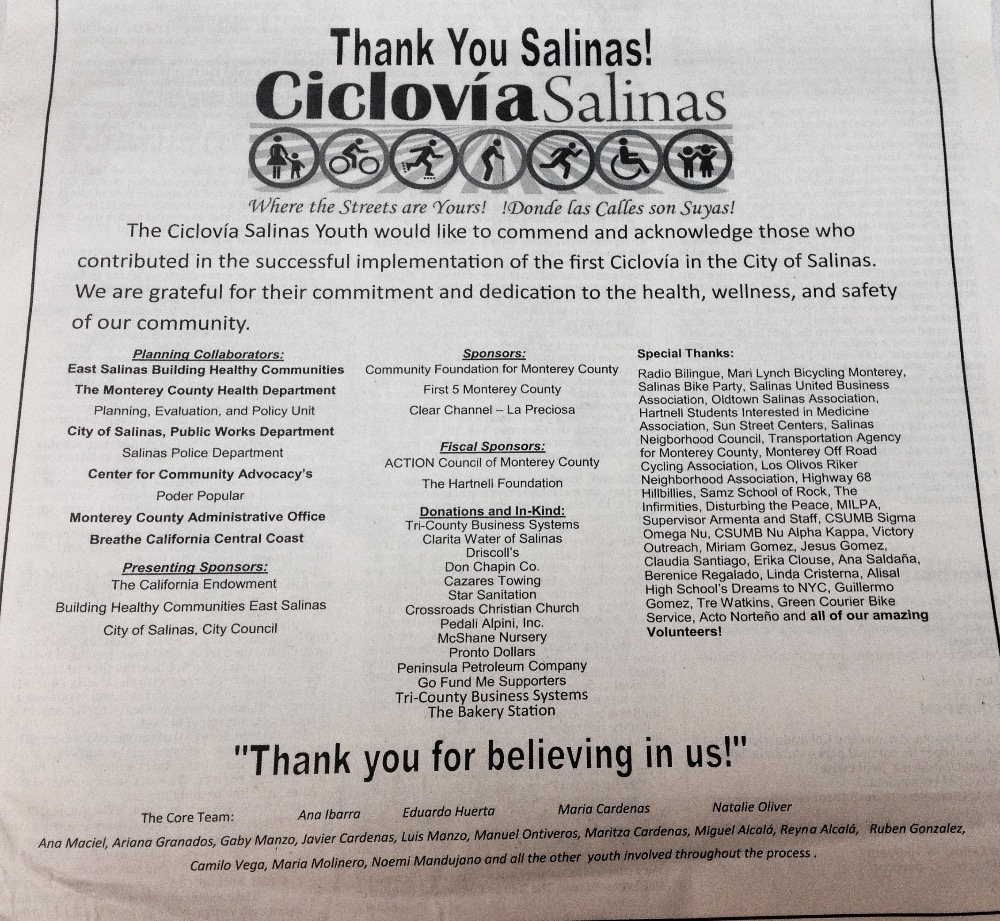 The Transportation Agency for Monterey County recognized Mari's work with a Transportation Excellence Award  (a non-monetary award) in January 2012.  Debbie Hale, Executive Director of TAMC, wrote that Mari "does so much for the community, in an informative and collaborative manner."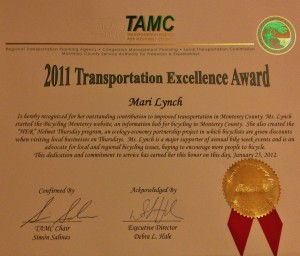 Susan Ragsdale-Cronin, who served as a Bicycle and Pedestrian Facilities Advisory Committee member for the Transportation Agency for Monterey County, wrote in a March 28, 2011 letter to the Monterey Herald of her appreciation for "the toil of people committed to transparent and honest work. For this, all of our community should look with admiration and gratitude to people such as…Mari Lynch (Bicycling Monterey)."

There have been no Bicycling Monterey fundraising events prior to this crowdfunding campaign. Some people have helpfully contributed project supplies  for the Youth Center bike class and other projects. Others have taken the initiative to make a financial contribution.  All these people are greatly appreciated! 

Nonetheless, the total of all financial contributions—from May 1, 2009 through December 22, 2015, the date we launched this campaign—was $3,236. That averages to one dollar and thirty-three cents ($1.33) per day for Mari's work the first 6 years and nearly 8 months.  [Update:  May 1, 2009 through November 18, 2016 contributions, totalling $8,141, raised the daily  average to $2.95/day.]

In addition to giving so generously of her time, Mari also personally pays the expenses of all Bicycling Monterey projects not covered by contributions. 

You may contribute via this Go Fund Me page, or you may make an "offline donation" via PayPal or check; click here for ways to contribute and related FAQS.

Mari considers it a privilege to have established Bicycling Monterey as a grassroots effort. Below, see some of the people who have benefited, while you listen to her 2009 audio about why she began this work.
Nevertheless, creating and maintaining Bicycling Monterey has required much personal sacrifice of her. Such a level of sacrifice cannot continue. 

Clearly there's been a lack of recognition that Mari is doing this work for free, which spurred us to launch this campaign.  

Mari works very long hours on bike advocacy. In Bicycling Monterey's second year, see what people were already recognizing--and they were talking about just the website alone!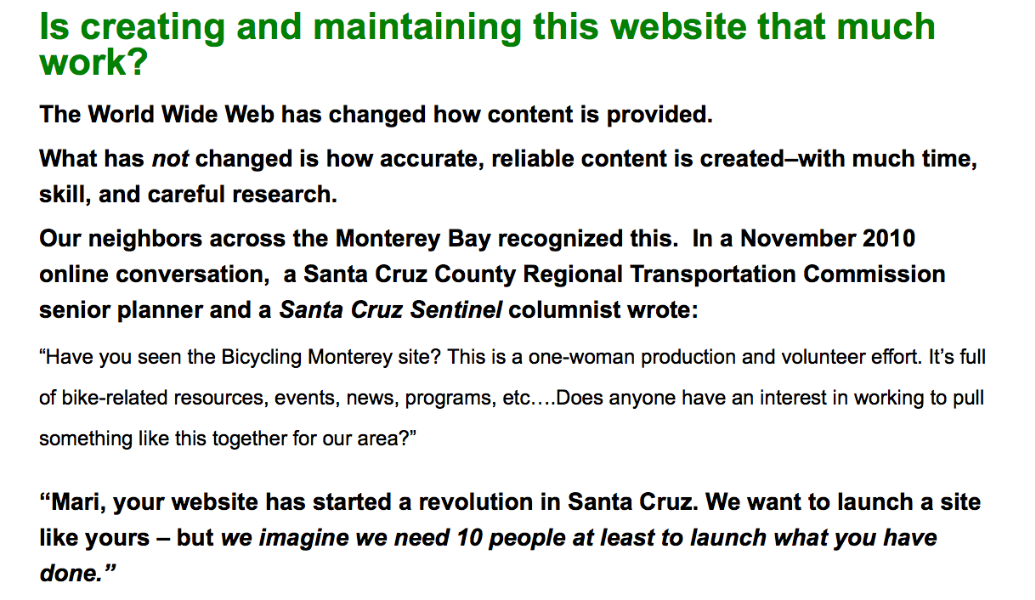 Yes, having a team of people would be much more reasonable than having Mari put in such long hours (and for free!). Our original fundraising goal included that we hoped to see Mari able to hire an assistant for some of the many Bicycling Monterey tasks.  

The wish list of other needs is long, including such expenses of this work as Internet technology and other professional services to printing fliers to outreach to more remote areas of the Monterey County.  For more info about the work contributions help accomplish, refer to the summary of projects.

We would love to see contributors give more than our set goal, to honor all that Mari has accomplished in these many years of work--entirely unpaid! And to also make it possible for her to move forward with some new Bicycling Monterey projects that have been on hold until the necessary funds are available.

Our original goal, set on 12/22/15, was  $82,500. As a local municipal official said, "That's a very reasonable amount for all that Mari accomplishes.  She is doing for us what our city used to do when we had the money to do it." (And he was referring to only one of the many cities, as well as others, that Mari does so much for--all as a volunteer.) Because that goal was not met by November 18, 2016 (just $5,285 had been raised), we revised the goal to $10, 570 / $10.6K; we hope you will help meet this reduced goal promptly.

If you wish, you may contribute anonymously. You also have the option of making a monthly contribution.

Prefer to contribute by check? At your request, your contribution can still be listed on this Go Fund Me page as an "offline donation"; click here  for how to pay by check or PayPal, and related FAQs.

Whether because you care about bicycling, about Monterey County, or about the Earth, or whether you want to pitch in for some other reason, your contribution is valued.

Thank you for contributing  whatever you can—$5, $25, $100, $1,000, $10,000 or any amount.
With appreciation from the women launching this campaign,
Laurel Thomsen
Charlotte Rozier Manis
Holly Heimer
Jacquelyn Smith Woodward
Kay Magenheim
Kathi Lares
Misty Koger Ojure
Sandi Overstreet Laney
Terrill Keeler
Also endorsed by Henrietta Stern, local bike advocate
********************************************************
VIDEOS
 In support of this campaign, Mari created six Bicycling Monterey videos for your viewing pleasure.  All six are available for viewing on BikeMonterey.org; click here. Rights to music in the videos were contributed, free of charge, by the musicians, Dan Frechette and Laurel Thomsen and Taylor Kropp. Below see the January 2017 release, with music by Taylor Kropp.

+ Read More
Update 2
Posted by Laurel Thomsen
29 days ago
Share
The Spring 2017 newsletter from Bicycling Monterey was released 3/25/17. See it on the home page at
www.bikemonterey.org.
May 2017 will start the 9th year of Bicycling Monterey, which includes
www.bikemonterey.org
and other
https://bit.ly/BikeMRYProjects
Bicycling Monterey serves people in Monterey County and far beyond. In our story here, learn why support this work. Founded by volunteer Mari Lynch, a resident of rural Monterey County since 1981, her Bicycling Monterey work remains an entirely volunteer effort. Please support! One-time contributions are appreciated, and we ten women who launched Bicycling Monterey's first fundraising campaign hope some of you will also consider setting up an automatic monthly contribution.
For FAQs and various options for giving, see
https://bit.ly/GiveFAQs
Questions?
https://bit.ly/ContactMari
+ Read More
Update 1
Posted by Laurel Thomsen
4 months ago
Share
In addition to the
www.bikemonterey.org
website, Bicycling Monterey projects are many:
http://www.bit.ly/BikeMRYProjects
Every month, thousands of people visit the website, and countless more benefit from other Bicycling Monterey projects.
December 22, 2016 will mark one year since we ten women launched the first-ever fundraising campaign for Bicycling Monterey.
Financial contributions from May 1, 2009 through December 18, 2016 totaled $8,201 (including the $5,345 at Go Fund Me).
See a list of contributors below.
Thanks again to all who have contributed, whether before or after our first fundraising campaign (Dec 22, 2015 - May 31, 2016). We hope you will join them, or if you've already given, that you will consider making another contribution. Any amount is appreciated.
Questions or comments? Please contact Bicycling Monterey's founder, volunteer Mari Lynch.
http://www.bit.ly/ContactMari
Here's to more people bicycling in 2017—resulting in stronger communities; environmental, economic, public health, and other benefits; and not least of all, increasing joy!
Listed below are financial contributors to Bicycling Monterey for the period of May 1, 2009 – December 18, 2016. For all additional contributors, refer to the Financial Contributors page in the About section at
www.bikemonterey.org.
*Asterisks* indicate repeat contributors
1. *Anonymous Contributors*
2. Adam Deleon
3. Anna Thomsen, L.Ac. Integrative Health Care
4. *Anneke Prins*
5. Benjamin Sun
6. Bettina Hotelling
7. Beverly Prowell
8. Bill & Debby Lynch
9. Brian Tomasini
10. Cammie & Steve Lynch
11. *Cath Tendler-Valencia*
12. Catherine Crockett
13. *Chris Flescher*
14. *Danielle Shillcock*
15. Delana Schneider
16. Drew Pearce, Drew Pearce Creative Services
17. *Edith Frederick*
18. El Migueleno Restaurant
19. Floann Lynch Martinez
20. Geoff Arnold
21. Grapes 'n' Grain, Salinas
22. Hans Ongchua
23. Hebard and Peggy Olsen
24. Henrietta Stern
25. Holly Heimer Natural Veterinary Rehab
26. Ivan for Mi Pueblo Supermarket, East Salinas
27. Jack Lamon
28. Jack Long and Janet Beaty
29. Jacky Luna
30. Jacquelyn Woodward
31. *Jan Valencia*
32. Jeff Lindenthal
33. Jeff Richman
34. John Shillcock
35. Judy and Ron Allen
36. Judy Marsalis
37. Kathleen A. of Maui, Hawaii
38. *Kathleen Jones*
39. *Kay & Sieg Magenheim*
40. Keith DeFiebre
41. Kera Abraham
42. *L. Robin Brody*
43. Lynn Hamilton
44. MacGregor Eddy
45. Mary Conway
46. Matthew Sundt, Old Capitol Books
47. Megan Tolbert
48. Michael Sestak
49. Nancy Sleeth and Matthew Sleeth, MD
50. *Nathan Dehmler*
51. Nathan Pierce
52. Pebble Beach Company Foundation
53. Renee Hardenstein
54. Rob Garcia
55. Robert Moon
56. Rosaleen Trambley
57. Sandi Laney
58. Scott Shillcock
59. Sherry Volmar
60. *Sierra Dehmler*
61. Stephen Bloch
62. Steve Cutcomb
63. Steve Matheson, All Things Promise Rings
64. Steve McShane
65. *Terrill & Robin Keeler*
66. The Go Fund Me Team
67. Tiffany Nicole Lynch
68. Tori Armen
69. Twisted Roots, Monterey
70. Valley Bikes, Salinas
71. *Velo Club Monterey*
72. *Vera and Jim Noghera*
73. Vid Raatior
74. Virginia Peterson
Below, League of American Bicyclists ("Bike League") United Spokes poster reflects philosophies shared by Bicycling Monterey. The League has featured Bicycling Monterey on their website:
http://www.bikeleague.org/content/whyiride-seeing-world-anew
The Californian Bicycle Coalition ("Cal Bike") also features Bicycling Monterey on their website; scroll to "Other Local Allies":
http://www.calbike.org/local_partners
+ Read More
Read a Previous Update
Be the first to leave a comment on this campaign.