Bicycling Monterey Site & Projects
$5,970
of $25,000 goal
Raised by
100
people in 26 months
Valentine's Day or any day is a great time to show some bike love!
Over two years ago, we 10 women (names below) launched this Volunteering and Service fundraising campaign for the Bicycling Monterey website  and projects, a grassroots collaboration founded in 2009 by an unpaid volunteer, Mari Lynch Dehmler. We encourage you to make a repeat—or first—contribution, in any amount, to help support the Bicycling Monterey work. Also consider setting up an optional automatic monthly contribution via Go Fund Me or PayPal. (To give by PayPal, or check, and for FAQs, click here .)
Can't contribute today? Even SHARING this page is helpful. For examples of personalized social media sharing, scroll down.

WHY SUPPORT THIS FUNDRAISER

Bicycling Monterey provides inspiration and resources for people who bike anywhere and also serves as an Information Hub for Bicycling Monterey County. As comments show (click here), it's appreciated by a wide range of people locally, regionally, statewide, nationally, and even internationally.

As 2018 begins, Bicycling Monterey founder Mari Lynch, a resident of rural Monterey County since 1981, continues to do all her work on the Bicycling Monterey site and projects as a volunteer. Since 2009, she has donated well over 10,000 hours of her time to Bicycling Monterey. It's been a labor of love for her county, country, and the planet we share. 

Photo below: Mari in 2009, the year she founded Bicycling Monterey . 



As Kera Abraham reported in the Monterey County Weekly's first special bike issue, May 12-18, 2011: "What started as Dehmler's [Mari Lynch Dehmler's ] personal blog [marilynch.com/blog ] two years ago quickly evolved into an umbrella website for all things two-wheeled in Monterey County."  Abraham described Mari  as "The Change Agent"— with a DIY ethic: "If there's something in your community that needs doing, you don't wait until all the pieces are in place. You just jump in and do it."

As of the start of 2018, Monterey County and the Monterey Bay Tri-County Region have no official bicycling coalition or alliance. Bicycling Monterey helps fill in that gap, e.g., by compiling a 33-section directory of bike community leaders,  https://bit.ly/BikeMRYResources

When Mari was selected as a national finalist for the Alliance for Biking & Walking's Susie Stephens Joyful Enthusiasm Award in 2014 , the Alliance noted:  "Mari doesn't wait until all conditions are right and funds are available. She just dives in and gets things done!" 
The Bicycling Monterey website and projects are award-winning work, as honored again in 2017. (Scroll to the end of this page for other awards and recognitions.)
Bicycling Monterey is a grassroots community collaboration and receives no local, state, or federal government funding. It's appreciated by many government officials, municipal and business leaders, and others. Some people volunteer time or contribute project supplies, which are appreciated.

As for financial contributions, individual amounts have ranged from $5 to $1,000, and every amount is helpful. However, not enough people are contributing. From May 1, 2009 through February 9, 2018, all financial contributions totaled $9,721 (the $5,970  at Go Fund Me + $3,751 additional contributions made via PayPal, check, or cash).

That averages to just over $3 per day.  This means — in addition to donating over 10,000 hours of her time — Mari has personally paid all expenses not covered by that $3/day.
Every contribution is included on the Bicycling Monterey website's financial contributors page. When a contributor prefers it, they are listed as Anonymous. Contributions made via Go Fund Me are automatically listed on this GFM page. If you prefer to contribute via PayPal or by check (click here for payment options and FAQs) and would like your contribution listed on the GFM page too, we'll be happy to add it at your request. (GFM refers to such contributions here as an "offline donation.") If you'd like that, simply include a note if mailing a check, or if contributing via PayPal, include a message there: "Please list my contribution on Go Fund Me too."

Have other questions? Phone Bicycling Monterey. 

Maybe you bike yourself. Or maybe you don't, but you recognize the benefits for EVERYONE when more people bike (such as reduced carbon emissions, reduced traffic congestion, improved public health, strengthened communities,  and benefits to the economy). There are multiple benefits of bicycling!

Whatever your reasons for supporting the Bicycling Monterey site and projects, your help is greatly appreciated.
Thank you from the women who launched this campaign,
Laurel Thomsen
Charlotte Rozier Manis
Holly Heimer
Jacquelyn Smith Woodward
Kay Magenheim
Kathi Lares
Misty Koger Ojure
Sandi Overstreet Laney
Terrill Keeler
Also endorsed by Henrietta Stern, local bike advocate

Below are EXAMPLES OF PERSONALIZED SOCIAL MEDIA SHARES / SHOUT-OUTS by David, Steve, Richard, Jan, Kelly, Megan, Cyclelicious, Karen, Velo Club Monterey, Larry, Nathan, and Ted. Note: It isn't essential to include a personal message when sharing, as the people below did. Simply click "SHARE" (for Facebook) or "TWEET" (for Twitter)  from this GFM page,  and an automatic, generic social media post will still get the message across.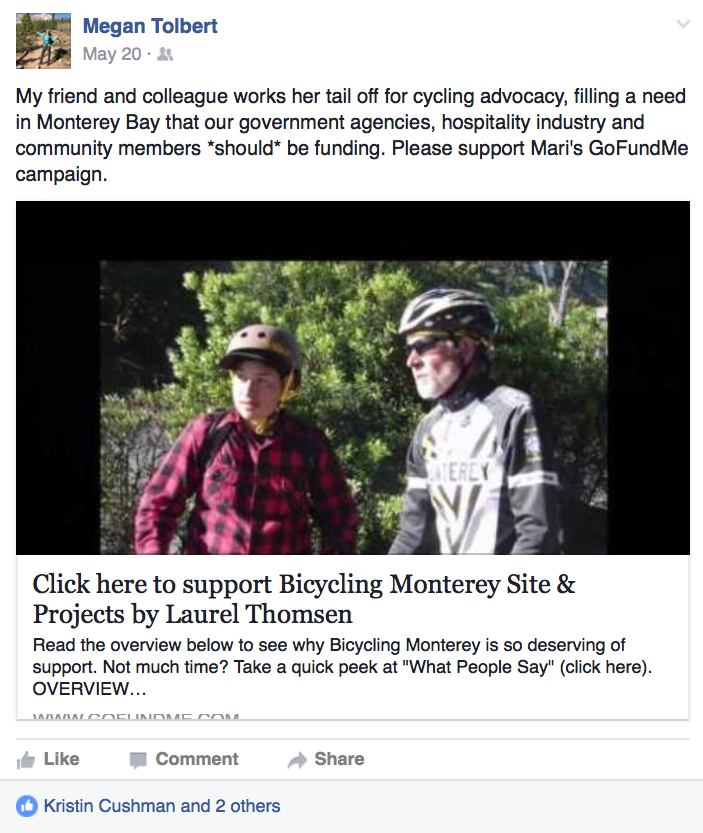 JUST A REMINDER why we launched this fundraising campaign: 

As the Sustainable Monterey 2009 Facebook post  (below) indicates about Bicycling Monterey's HER Helmet Thursdays Project, Mari has been doing the Bicycling Monterey work since 2009—as a volunteer. In 2017, she is still entirely unpaid for the work of the Bicycling Monterey website and all Bicycling Monterey projects !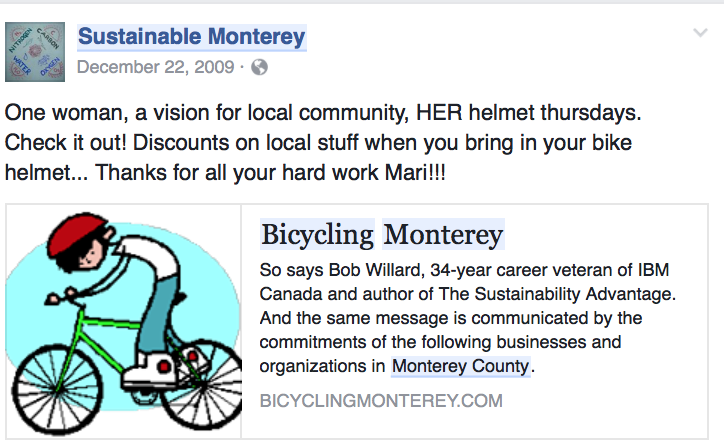 Below, some AWARDS AND RECOGNITIONS received by Mari for her Bicycling Monterey volunteerism 2009-2017.

Note: None of these awards or recognitions included any monetary award or other financial compensation.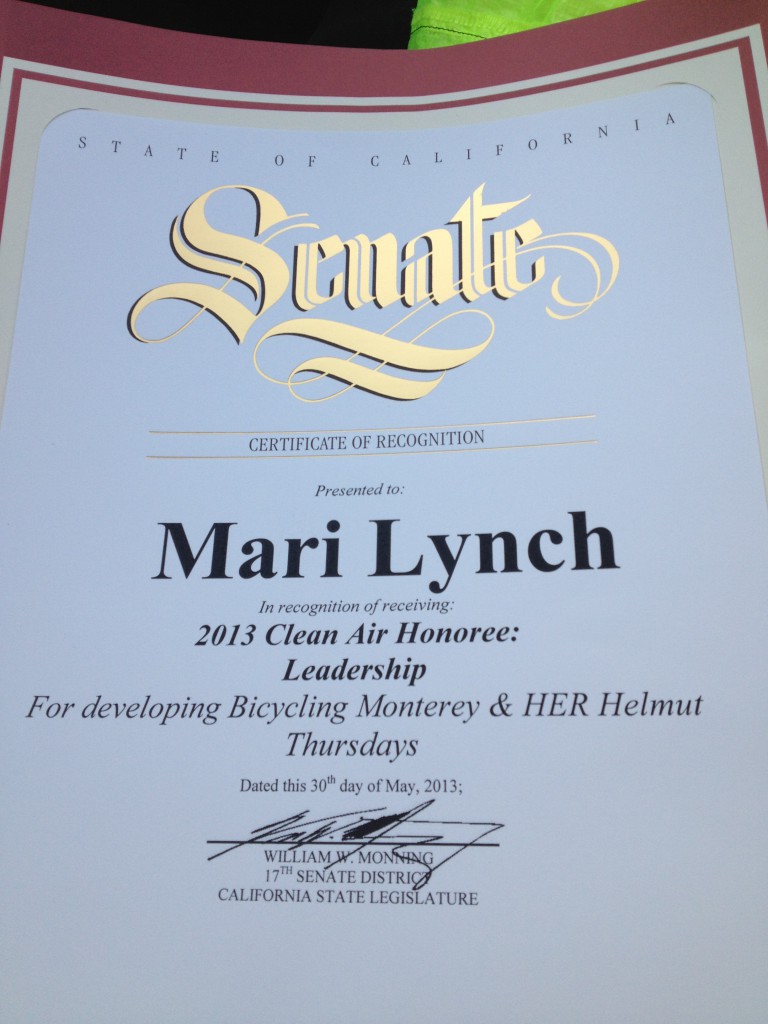 Thanks again to all supporting  Bicycling Monterey's fundraising campaign by contributing and/or sharing. 
From the women who launched this campaign,
Laurel Thomsen
Charlotte Rozier Manis
Holly Heimer
Jacquelyn Smith Woodward
Kay Magenheim
Kathi Lares
Misty Koger Ojure
Sandi Overstreet Laney
Terrill Keeler
Also endorsed by Henrietta Stern, local bike advocate




+ Read More
Be the first to leave a comment on this campaign.