Bicycling Monterey Site & Projects
$6,680
of $36,500 goal
Raised by
107
people in 44 months

May 1,  2019 marked the completion of a decade of Bicycling Monterey volunteerism by founder Mari Lynch. It also marked the completion of this crowdfunding campaign. To contribute after May 1, please go to the Bicycling Monterey website and contribute via PayPal or by check (click here). Thank you.

Below, learn why we ten women encourage your support for the Bicycling Monterey site and projects.

*************************************************************************
Comments about the Bicycling Monterey work of founder Mari Lynch, an unpaid volunteer for ten years, include: There's no one who does more for cycling and cyclists in Monterey County."—Velo Club Monterey; "Mari, your website has started a revolution in Santa Cruz. We want to launch a site like yours – but we imagine we need 10 people at least to launch what you have done."—Karen Kefauver, Santa Cruz cycling columnist;  and comment below by Santa Cruz County Regional Transportation Commission bike-ped committee member Richard Masoner.
For more comments about the Bicycling Monterey website,  www.bikemonterey.org, and other Bicycling Monterey projects, click here (or for a few comments, scroll down). 


FAQS: Every contribution to Bicycling Monterey is listed on the site's financial contributors page. When a contributor prefers it, they are listed as Anonymous. Beginning May 1, 2019 (the end of this crowdfunding campaign), please contribute via PayPal or check; for details, and  FAQs, click here .

ABOUT BICYCLING MONTEREY: Bicycling Monterey is a grassroots effort that includes numerous projects —in addition to the website,  www.bikemonterey.org. The site provides inspiration and resources for people who bike anywhere and also serves as an Information Hub for Bicycling Monterey County.  Bicycling Monterey is a local partner of the California Bicycle Coalition and is recognized nationwide and beyond as a reliable resource, including by organizations ranging from League of American Bicyclists and People for Bikes to the Monterey Bay Aquarium. 

OUR GOAL: While we appreciate Mari's generous spirit, it isn't reasonable to expect one unpaid volunteer, Mari, to continue making tremendous personal sacrifices to provide such a highly praised and award-winning  public service. Contributors of project supplies  and volunteers over the years have certainly been appreciated. Nevertheless, the daily average of total financial contributions from May 1, 2009 to May 1, 2019 was just $3 a day. We hoped to raise that to $10 a day, in recognition of all that Mari accomplished over Bicycling Monterey's first 3,650 days, and to provide support for this work to continue into a second decade. Many people don't realize that this has been an entirely volunteer effort by Mari, and that Bicycling Monterey has had no paid staff.

WHY CONTRIBUTE: More people bicycling brings multiple benefits—even for people who do not bike—from reducing carbon emissions and traffic congestion to improving public health to strengthening communities. Mari Lynch Dehmler has done all  her Bicycling Monterey work for ten years as an unpaid volunteer. In addition to donating well over 12,000 hours of her personal time, she has also paid all expenses of the website and other Bicycling Monterey projects not possible to pay from the modest amount of total financial contributions received since 2009. That includes Mari paying expenses for public outreach; the HER Helmet Thursdays Project; bike equity efforts; bike education for incarcerated youth; education and advocacy on infrastructureand other local, state, and national bicycling issues; Open Streets support; and other projects .

WHAT PEOPLE SAY: The Bicycling Monterey website and projects are widely acclaimed by visitors and residents of Monterey County, as well as people far beyond. 

ABOUT MARI: Mari  was born near Chestnut, Illinois, where her parents then farmed. She is an alumna of Southern Illinois University, where she was a President's Scholar. Mari has been a resident of California's Monterey Bay Region since 1976, and resides since 1981 in rural unincorporated Monterey County. Mari has a son and daughter, both born and raised in the Monterey Bay Region.

We are pleased to know Mari well and to encourage your support for the Bicycling Monterey website and projects. We first launched this Volunteering and Service crowdfunding campaign in Dec 2015. We set a new fundraising goal for the 10th anniversary, May 1, 2019, and on that date,  this crowdfunding effort is completed. For later updates about Bicycling Monterey, please phone Mari anytime.

Thank you from the women who launched this campaign,
Laurel Thomsen
Charlotte Rozier Manis
Holly Heimer
Jacquelyn Smith Woodward
Kay Magenheim
Kathi Lares
Misty Koger Ojure
Sandi Overstreet Laney
Terrill Keeler

Also endorsed by Henrietta Stern, local bike advocate

See Mari in a KSBW video introducing HER Helmet Thursdays,  which grew to include hundreds of Monterey County businesses and organizations  giving discounts to people who bike. That's just one of many Bicycling Monterey projects!  Click the following link to watch the KSBW video on Youtube: https://youtu.be/0VSPKEW9eJA?t=15  . 

Image below: Poster for May 31, 2019 Bike Night, a meet-up hosted by Mari for local incarcerated boys. Mari also founded the bike class series at the same location (the Monterey County Probation Department Youth Center); that series completed its 7th year in April 2019. Click here to learn more.

Bicycling Monterey PROJECTS 2009-2019 include the following and more. For project details and photos, click here . 
1.     Education and Advocacy Regarding Infrastructure and Other Local, State, and National Issues Affecting People Who Bike.
2.     Public Outreach to Increase Awareness of the Multiple Benefits of Bicycling.
3.     Discounts to Encourage Bicycling: The HER Helmet Thursdays Project.
4.     Bicycling Equity Efforts—Including Outreach to Spanish Speakers, to People Not Online, and to Low-Income Individuals.
5.     Foster Positive Relationships with Law Enforcement Professionals: Pro-Active Relationship Building between Law Enforcement Agencies and People Who Bike.
6.     Founded Bicycle Education Program for Incarcerated Youth, including Monterey County's First High School Bike Tech Class.
7.     Provide General Bicycling Education for Incarcerated Youth / Bike Nights at the Monterey County Probation Department Youth Center.
8.     Serve as Information Resource and Support for People Anywhere, as well as for Monterey County's Tourists/Visitors and Local Residents—By Phone and in Person, as well as Online.
9.     Build Community / Foster Relationships within and apart from the "Bike Community."
10.   Website: Create and Provide over 660 Posts and Pages of Original, Carefully Researched Content, including Thousands of Original Photos.
11.   Promotion of Monterey County Biking or Bike-Related Activities, Events, Meetings, and More.
12.   Support for Open Streets Events.

For lots more comments about the value of the Bicycling Monterey site and projects, click here .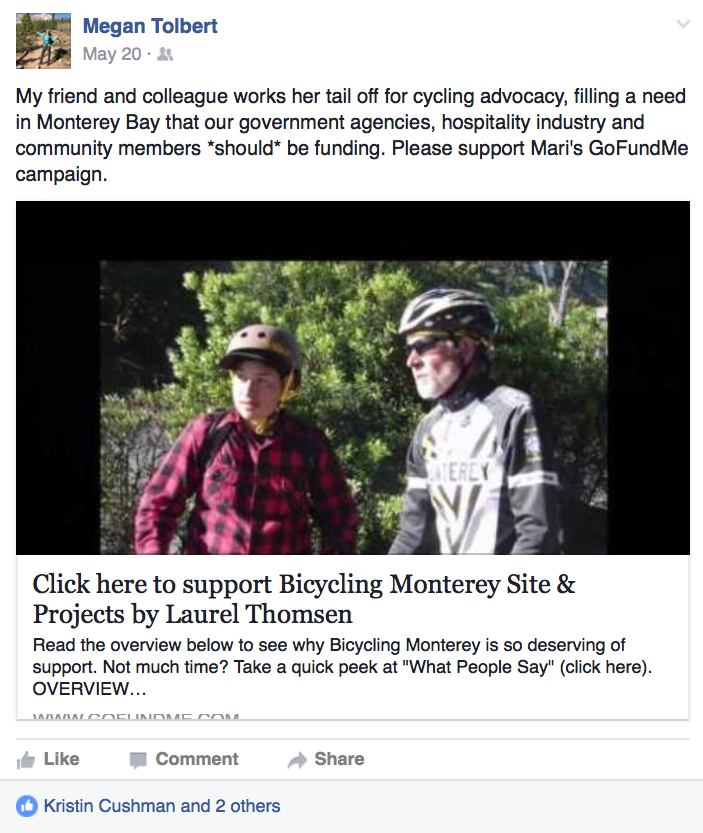 Photo below of Bicycling Monterey's founder is by Scott MacDonald © 2010 by the Salinas Californian. Used by permission.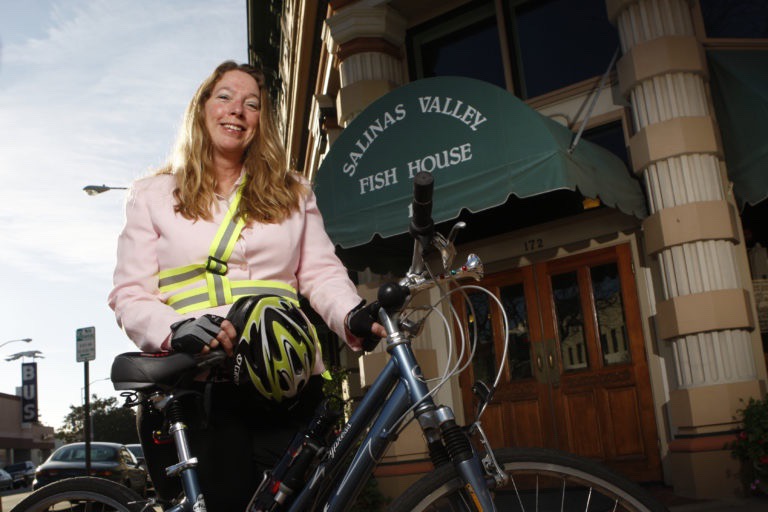 For FAQs and how to contribute via PayPal or check, click here. See the complete list of financial contributions; click here.

Questions? Phone Bicycling Monterey anytime.


+ Read More