Mother of 5 hit by Biden motorcade!
$1,250
of $25k goal
Raised by
21
people in 5 months
Gina Cherwaty from Wilmington Delaware is a very good friend of mine and I am writing this one her behalf. She was hit on October 31st Halloween morning by Vice President Biden's motorcade at around 8:30am on her way to work as a dental assistant in Wilmington. After the accident she was in shock and asked a Secret Service person who hit her and she was told "no comment". She was then instructed to move her car so that Biden did not have to be delayed. Her injuries were not attended to before being told to move her vehicle.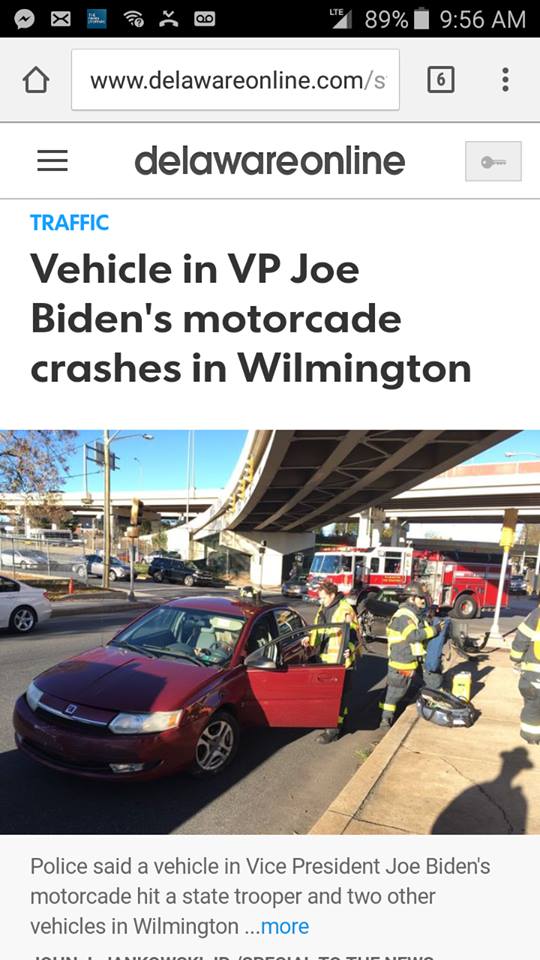 Gina is the nicest, soft spoken and yes attractive 40 year old mother of 5. She's struggled like many to get by, working tirelessly during the day and going to school at night to become an attorney.
She and I became friends ironically over another car I was selling about a year ago. Since then I have remained a good friendship with her.
Gina had not been on vacation in close to 15 years. Finances left her unable to do much more than survive. In fact she's facing $60,000 in unpaid student loans. She needs an additional $3500 to pay her tuition to finish her law degree.
 had invited her to join my family in Florida in July of 2016. While in Florida she was hit with devestating news. Her two youngest children age 9 and 10 contacted her saying daddy won't wake up. The two children had found their father on the floor of his bedroom dead under suspicious circumstances. Her vacation was abruptly cut short as she jumped on a plane and flew home to take care of her children.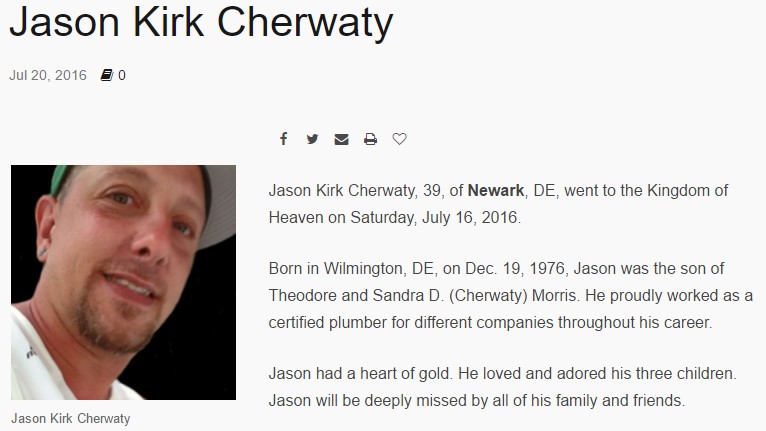 Her life was immediately and forever changed. Two of her children had lived with her ex-husband and two children lived with her in a small 2 bedroom apartment in a bad part of Wilmington Delaware. Her one child is an adult and not living at home anymore. She was forced to move into a larger house and took care of all 4 children by herself while still working and trying to go to school to better her life. The rent is higher than she was previously paying and what's worse it is only a temporary fix as the owner is now selling the house in March of 2017
To understand her life you need to look at her financial situation. She works an assistant job at a dental office while taking classes at night to become a lawyer. She's only 4 classes shy of her bachelor's degree.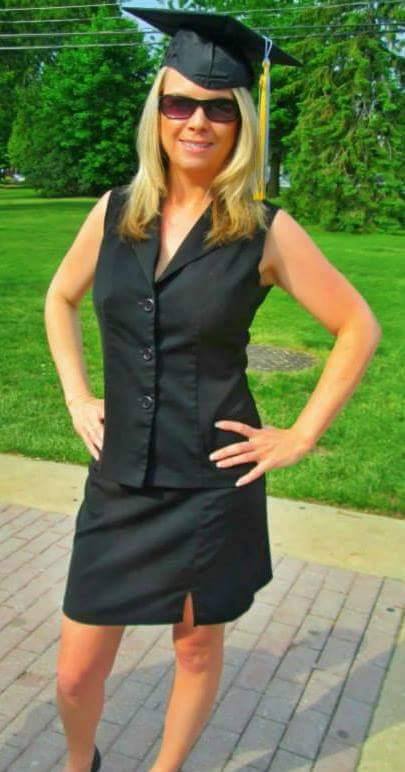 All of which went on hold when her husband was killed. 
Two weeks after he died her car's engine blew up which left her without transportation. She began using public transit or walking to get to work in a very dangerous part of Wilmington. She managed to use what savings she had left to purchase a used Saturn in late October.
On Friday October 28th Gina went to the DMV in Delaware to register and tag her car.  now she was back on the road and able to get to work easier. 
On the morning of October 31th Halloween Gina went to work with her new, used Saturn.Three cars were stopped at a light. To her left was a marked Delaware State Trooper, she in the middle, and car on her right all stopped at the red light. The light turned green and all three cars proceeded forward when a speeding vehicle, driven by Homeland Security plowed into all three cars. The homeland security vehicle had run the red light leading the Biden motorcade. They did not have lights or sirens going to indicate they were proceeding without stopping.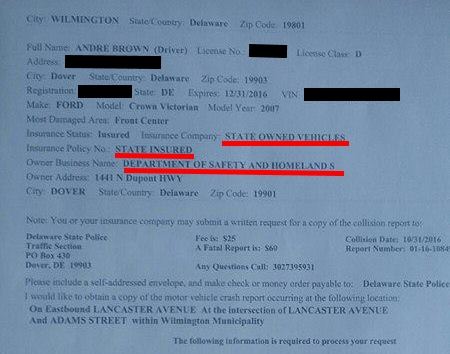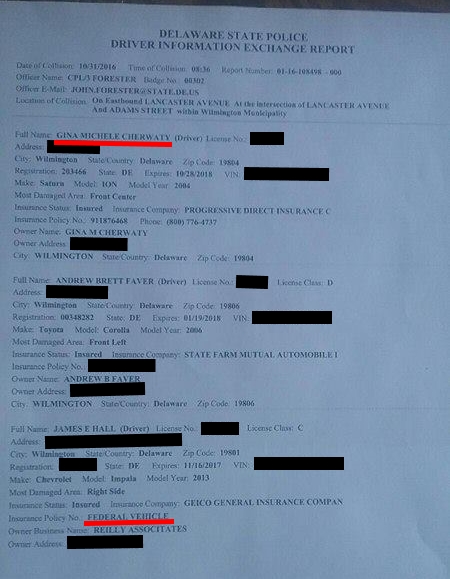 Gina's little red Saturn was totaled and she was seriously injured!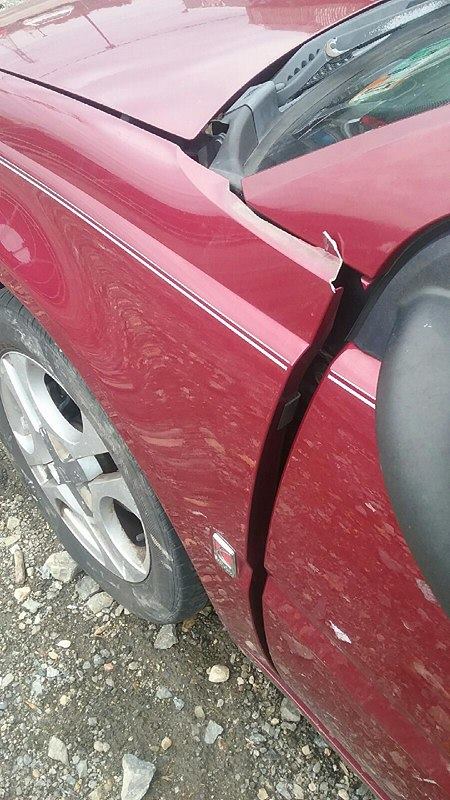 After the accident, Gina was in shock and exited her vehicle. She asked a secret service agent who had hit her and his response was "no comment". She was then ordered to go back into her vehicle and move it to allow the rest of the motorcade including Biden to pass. Biden did not get out to see if anyone was injured by his motorcade. In fact Homeland security ordered Gina to move the car before and ambulance even arrived to check on her condition. Though she exited her vehicle Gina was in fact seriously injured.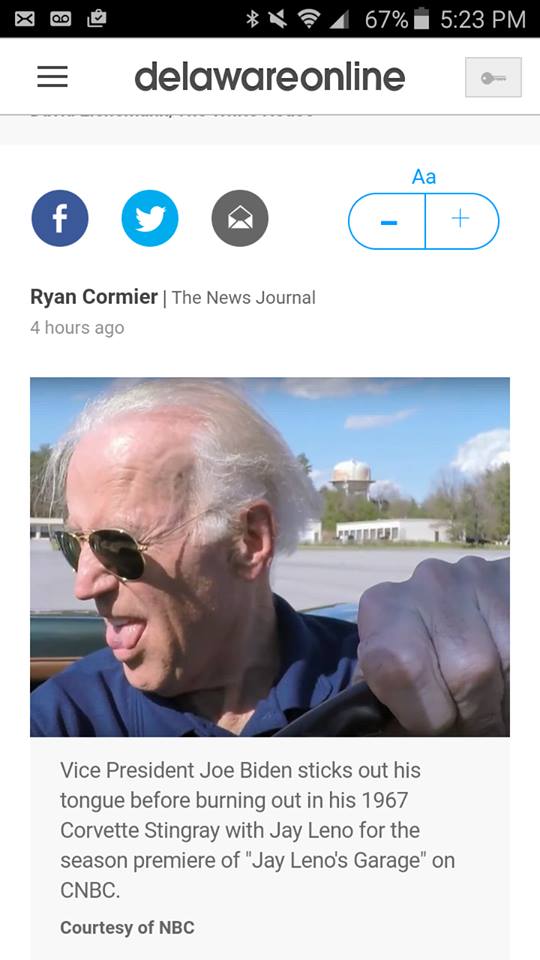 Days latyer Biden commented to Delawareonline: "I shouldn't say this on television - I like speed" said Joe Biden while doing burnouts and racing around in a classic Corvette on the Jay Leno show.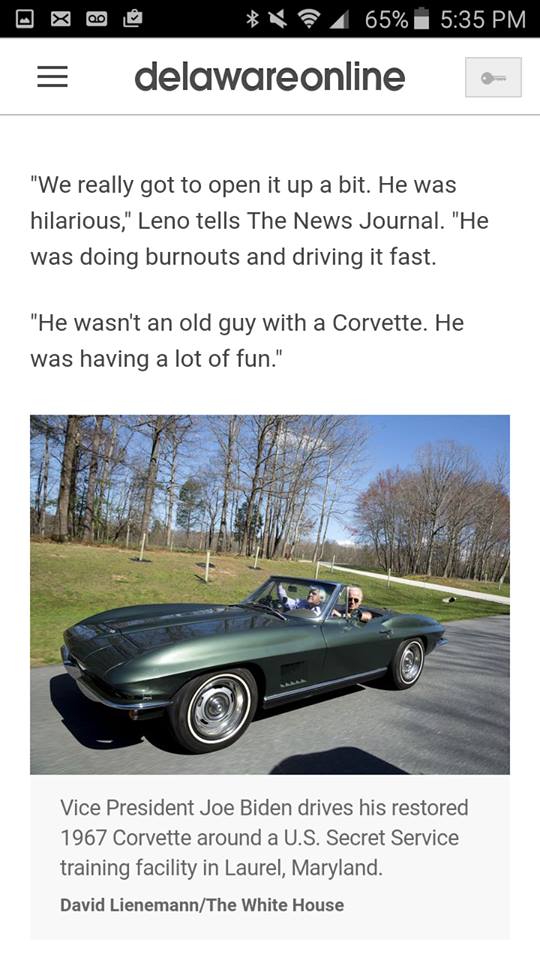 Delawareonline otherwise known as The News Journal recently announced its endorsement of Hillary Clinton.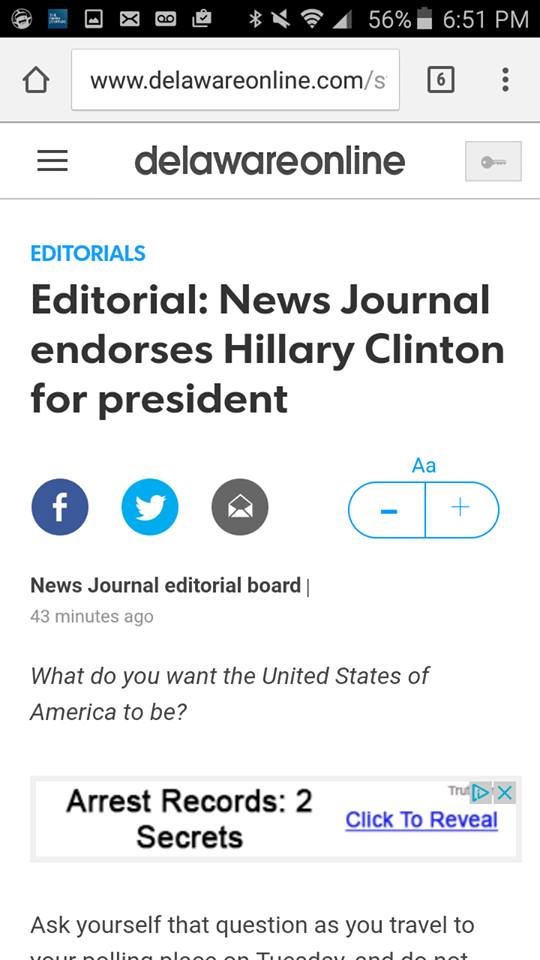 In the article regarding the Leno show they commented "Don't judge Joe Biden's driving skills based on his motorcade's recent crash in downtown Wilmington." Making a joke of the incident in which a woman was hospitalized. NOT COOL! They are laughing while a woman's life is destroyed. No one from Biden's camp even checked to see if she was alright. it's digraceful but the media didn't do anything because they were so biased and this got swept under the rug. Well it's wrong!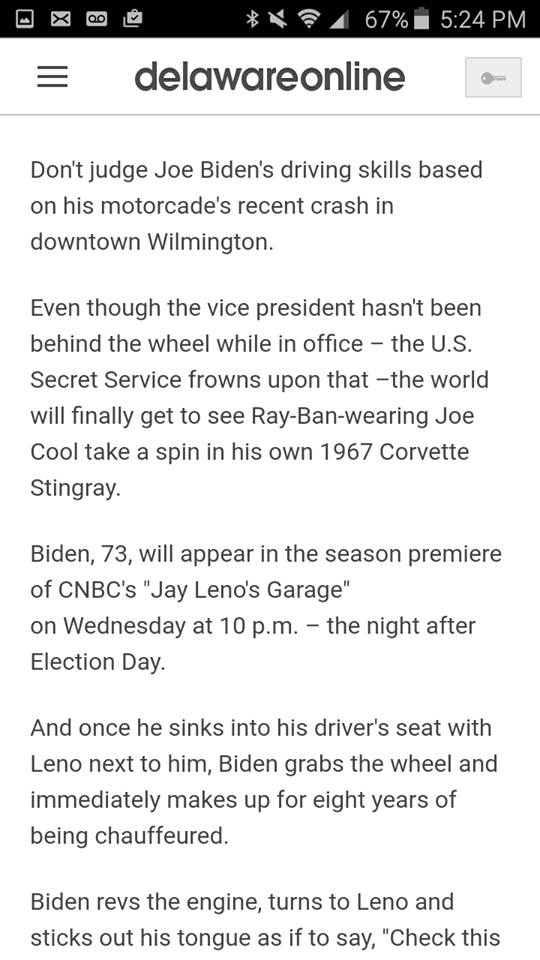 Gina worked 4 days a week making $14an hour trying to support an $1100 a month while still going to school but now taking care of  4 children. 
Now here is where it gets even worse! Gina was fired because she can not work. Her boss didn't care why she she couldn't get to work, she just fired her.  That's not all, Gina has no health insurance! She's going to be fined the $2000 for being too poor to afford it along with everything else she can't afford. She's got one paycheck left to cash which is a little over $400 to live on and now she's out of work.
On top of that they towed her vehicle at the scene while she was taken by ambulance to the hospital where she underwent a cat scans and an MRI. Based on those finding they referred her to a specialist for her injuries: Doctor Kennedy Yalamanchiliwho who promptly turned her away because she lacked health insurance. It's almost unbelievable right?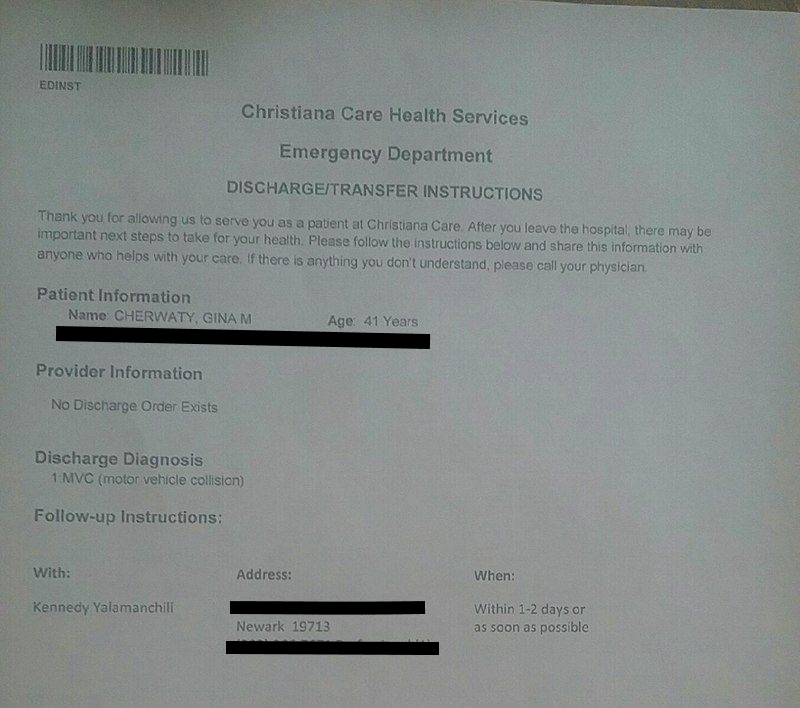 We aren't done yet. After being released her mother drove Gina to the lot where the car was towed and GINA had to pay the $170 to get her car out of impound, otherwise she would have had to pay a daily lot charge in addition to the tow. She is out of pocket for medical bills, medications, work loss, injuries and will soon be receiving a hospital bill well in excess of $20,000 for the first hospital trip.
Since then Gina has had seizures and vomitting spells and was readmitted to the hospital. She's been diagnosed with post concussive syndrome. She's received herniated disks in her neck and pinched a nerve to her right arm.   
What has the government done about it? NOTHING. Not a single call from anyone. Only a very small story was written in the News Journal. The media didn't bother with it, because who care's that homeland security and Biden's motorcade wrecks a hard working single mom's life right?
I'm personally outraged by this. Gina is the sweetest hard working single mom I know. She has never caught a break, she's got no help and the world keeps pushing her down.I felt compelled to get her story out there. People need to know what our government did to her. She needs our help.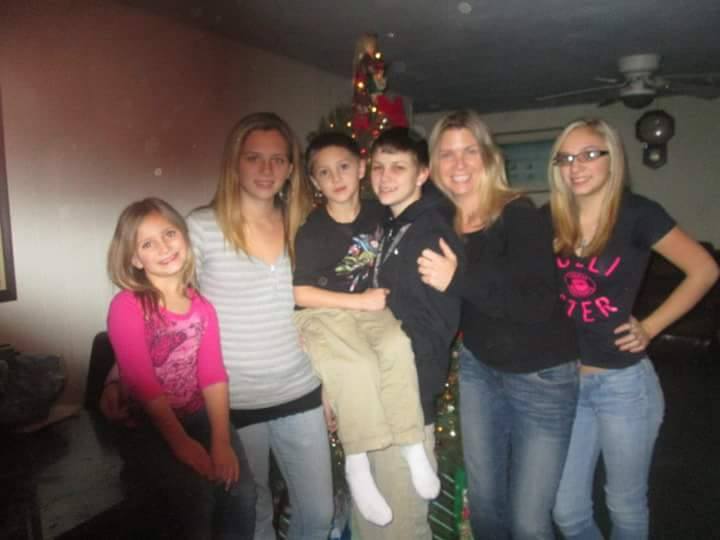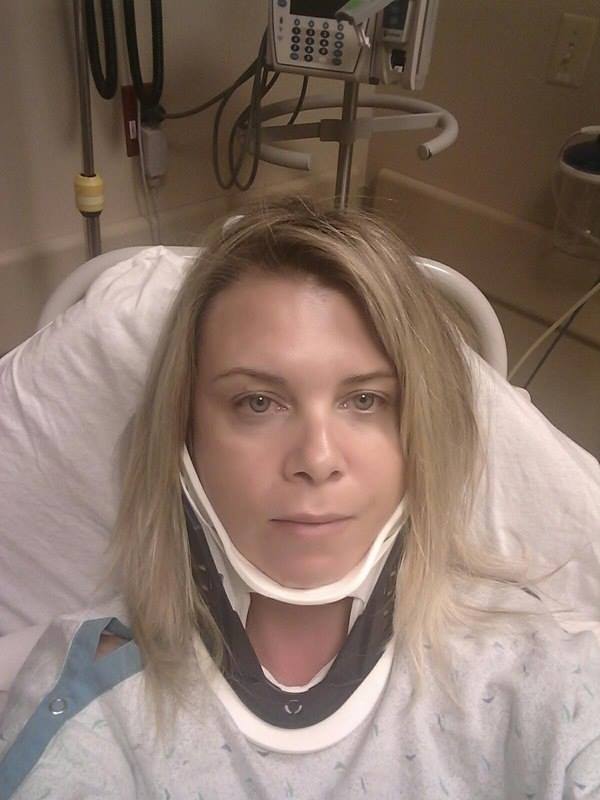 She needs your help. Our hope for this gofundme account was to ease the expenses she will have with medical bills, taking care of her children and hopefully supporting her through the complation of law school. Anything you can contribute will help.
Even if you can't help her financially, you can help by sharing her story and getting the word out to others.
Thank you to everyone that contributes!
+ Read More
Update 2
Posted by Jason M Fyk
4 months ago
Share
Gina has now been out of work since the accident. Gina has now been facing even more terrible news. on December 13th 2016 her father passed away as well. her mother is the only surviving help Gina has for her 5 children.
It's staggering how much she has endured and still remains optimistic. Please help us by sharing her story.
+ Read More
Update 1
Posted by Jason M Fyk
5 months ago
Share
It would seem Georgia Bender is the typical liberal defending their corrupt heroes to the end. Nothing of what was said is inaccurate. Biden's motorcade hit a woman that was already down on her luck in life and has done NOTHING to remedy the circumstance. Notice she has no profile picture!
+ Read More
Read a Previous Update