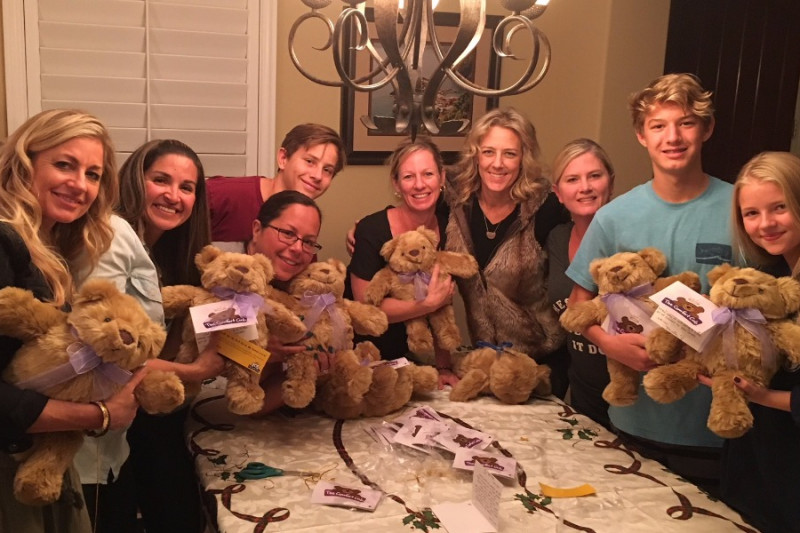 68
5
Bear Hugs for Vegas
$6,140
of $7,500 goal
Raised by
68
people in 13 months
Fundraising now for  Survivors in San Diego who attend the In Cahoots Support Group.  With the money raised so far we have donated over 135 Cubs for those experiencing trauma from the worst mass shooting in US history!  But more is needed.  Over 100 more Comfort Cubs have been requested for the group in San Diego and more have been requested for Las Vegas too. 
Send a healing therapeutic Bear Hug, The Comfort Cub,  used at every hospital in San Diego!   My name is Marcella Johnson and after my son passed away, I started The Comfort Cub Program. We provide therapeutic teddy bears for those who are suffering from grief and trauma. This teddy bear is specially weighted and intended to feel like holding a newborn. While the initial intent of the Comfort Cub was for child loss, evidence has discovered that this cub provides profound relief for any type of traumatizing event.
When we heard of the tragedy in Las Vegas, we packed our car full of Comfort Cubs and drove from San Diego to Las Vegas to give Comfort Cubs to all of the families who lost a loved one. Las Vegas family services will be hand delivering the cubs directly to these loss families for us. But, while we were here we realized that the suffering goes way beyond these 59 families. There were 500+ injured and 22,000 in attendance, all who experienced trauma.
Our thought was how can we help bring more comfort and healing to all of these people? We have 1,000 Comfort Cubs in our warehouse and we want to get them into the arms of those who are hurting. The Comfort Cubs are always given away for free to those who are in trauma. However, the cubs cost us $39.99 to produce. We are hoping we can find enough folks to help us cover our costs of the cubs. That's where we got the idea for a "Bear Hugs for Vegas" campaign.
This is one of the biggest tragedies we have ever been involved with. Previously, The Comfort Cubs have been hand delivered to the families at Sandy Hook Elementary School and at Umpqua Junior College in Oregon where they were well received.
These teddy bears are not just cute, plush toys but there is a science behind them. Due to deep touch pressure, holding the weighted Comfort Cub triggers the brain to release the neurotransmitters dopamine, serotonin and oxytocin, which causes the body to relax and feel calm.
They are used at top hospitals across America such as Mass General and UCLA. The San Diego Police Department also uses them in their Trauma Intervention Program.
Any amount you are able to donate is GREATLY appreciated. Help us reach our STRETCH GOAL to get one in the hands of all the victims from Las Vegas. Thank you so much and God Bless!
+ Read More