Ayudemos a Nory, guerrera del cancer de mama
$3,003
of $6,000 goal
Raised by
105
people in 3 months
Soy Mariam Obregon y soy Venezolana, soy sobrina de Nory Ferrer.  Nory Ferrer 
es una mujer de 67 años que reside en
Venezuela
, fue diagnosticada de
cáncer de mama
a sus 62 años y lleva 5 años luchando contra esta terrible enfermedad. Su experiencia ha sido muy difícil, su seno fue operado en el 2014 y tuvo muchas complicaciones en su proceso.
Hoy en día se ha vuelto muy difícil mantener su estabilidad puesto a que muchos de los medicamentos necesarios para controlar su enfermedad, no se consiguen en Venezuela. 
Nory estuvo varios meses sin tomarlos y ahora esta sufriendo las consecuencias. Hace unos meses se diagnosticaron
lesiones de cáncer en los huesos.
Y hoy en día tiene una
insuficiencia hepática aguda 
en la que incluso, es riesgoso que permanezca en casa. Los doctores indicaron que en su condición actual debe estar
HOSPITALIZADA
, pero por no tener el dinero, este no ha sido el caso.
Por esta razón pedimos ayuda 
económica
 para poder hospitalizarla hasta que se logre estabilizar, también para poder costear el tratamiento del cáncer y de su hígado.  Se requieren muchos estudios y procedimientos que son bastante costosos, para esto, necesitamos el dinero, esperamos contar con su apoyo y oraciones.
Nory ha sido una mujer muy alegre, fue maestra y directora de varios colegios, siempre ha sido una persona feliz, dispuesta a ayudar y a sacarle una sonrisa a quien sea. Una mujer noble, luchadora y que jamas ha sido capaz de hacer sentir menos a alguien mas, para ella, hay espacio y luz para todos.
Hoy Nory te necesita, si no puedes apoyar con dinero, solo con DIFUNDIR, contarle a un amigo o simplemente, ponerla en tus oraciones, para nosotros es suficiente.
Hoy por mi,
mañana por ti. Otro método de pago que puedes usar es:Banesco:
0134-00032-60031-0622-36
C.I: 7805474
Alejandro Quintero Gonzalez (Esposo) 
Paypal:
alejandroquintero_g@hotmail.com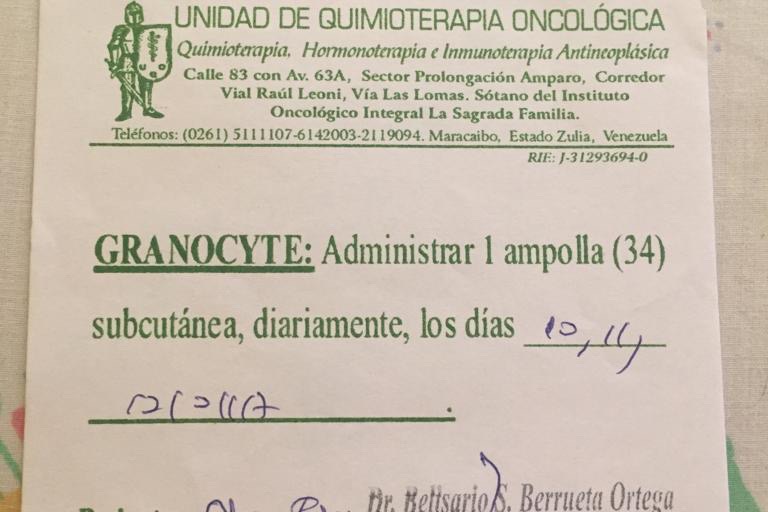 Hello, I am Mariam Obregon and I am of Venezuelan nationality, currently residing in Colombia. My aunt, Nory Ferrer, continues to live in Venezuela and at this time, was diagnosed with acute liver failure. Because of this, I decided to open a GoFoundMe for their benefit. Nory Ferrer, is a breast cancer fighter. At this time, we need to stabilize it and that can only be achieved by hospitalization, the cost of hospitalization is very expensive, for this reason, we are asking for help: To be able to hospitalize it until its levels are stabilized, to pay for the treatment for its liver and the treatment your breast cancer If we do not act fast, my aunt may pass away. In order to withdraw the money, we will use the bank account of an aunt who is a North American citizen, Sikiu Angulo, she will take care of withdrawing the money and making it reach Nory Ferrer. She will withdraw the money and will send the money to your city, Nory Ferrer by bank transfer.


+ Read More