65
8
College tuition
$9,000
of $12,800 goal
Raised by
69
people in 6 months
Help Felipe Continue His Military College Education - 5 semesters down 3 to go!
Hello all, thank you for taking your time and efforts to fund the conclusion of my bachelor's degree.  Your contribution to my college education will allow me to take a step closer to graduating in 2020 from Norwich University with a bachelor's degree in Psychology with a concentration in Neuroscience and a minor in French.  I hope to serve in the American military and eventually hope to focus my professional efforts towards researching non-pharmacological approaches in the treatment of mental disorders. 
Immediate Need - Back Tuition Balance.
I am hoping to raise $ 12,800 to help me pay for the next 3 semesters at Norwich University. 
How you can Help
1. Please donate on gofundme now!
2. Please spread the word by sharing on social media platforms!  
My Story
I am Felipe Soeiro Weisheimer, a 22-year-old student from Porto Alegre, Brazil. My journey to the United States started in 2013 when I was a 17-year-old boy with the American Dream locked In my sights.
I was offered a scholarship at Word of God Christian Academy, a nationally recognized basketball power-house.  In a leap of faith, I packed my bags and moved, by myself, to Raleigh, North Carolina to attend high school and play basketball.  After graduating from WOGCA in the top 10% of my class and spending a year rehabbing a torn ACL and brushing up on English at Wake Tech, I decided to attend Norwich University, the Military College of Vermont.
Military College of Vermont
Norwich University is the second oldest military college in the nation and the birthplace of ROTC (Reserve Officer Training Corps).  Since 1819 Norwich has transformed boys into men and girls into women by combining a regimen of Spartan military training and lifestyle with a focused academic curriculum.  Norwich University has provided the nation with citizen-soldiers who have been able to positively impact society for almost 200 years. 
Why I choose a Military school
Early on I concluded I wanted something other than the traditional college basketball experience.  By choosing to attend Norwich, I knew I would be stepping out of my comfort zone.  I decided that the leadership opportunity and the opportunity for personal challenge and development out-weighed the temporary discomfort, spartan lifestyle (barracks and dining hall) and feet of snow that accompany the Norwich experience.  I have had some second thoughts about the snow. 
My career at Norwich
Each freshman class at Norwich University is known as the "Rook" class. As "rooks" we had to refer to ourselves individually as "this recruit" and followed an intense daily routine of military training in conjunction with normal college classes.  Rook cadets are trained by military staff and a group of upper-classman cadets known as the "cadre." The cadre are a carefully selected group of Junior and Senior cadets who have excelled in every aspect of the academic and military regimen at Norwich. They are responsible for leading incoming freshman into the moral, physical and intellectual transformation that occurs over the course of the rook year at Norwich.  My Cadre staff were a unique group of men and women who taught us how to; follow, lead, be self-reliant, be respectful and thoughtful of others and most importantly, TO NEVER GIVE UP.
My cadre's impact on me was profound enough that it motivated me to strive to be selected for cadre my Junior year.
On the picture below is my Freshman year "rook" Platoon with our cadre at the top of the anchor after hiking up Paine mountain. 
From Recruit to Cadre
Present year, 2018, and I was chosen to be a Cadet Staff Sergeant for a Platoon of 22 recruits.  Together with other 9 cadet leaders we oversee every detail of our 22 rooks military and academic experience.  My experience as cadre has been incredibly rewarding. to be able to help shape the next class of cadets and influence them to reach personal plateaus of academic, personal and military success, that they did not think was possible a few months ago, is truly gratifying.  To watch this transformation, happen before your eyes and to be a part of it is absolutely electric.  This experience has been a once in a lifetime opportunity and has taught me a great deal about myself and people in general.
On the picture below it is present year 2018 and myself and the cadre staff stand at the bottom and our platoon is above us. This picture was taken during Thanksgiving dinner, a tradition a Norwich University.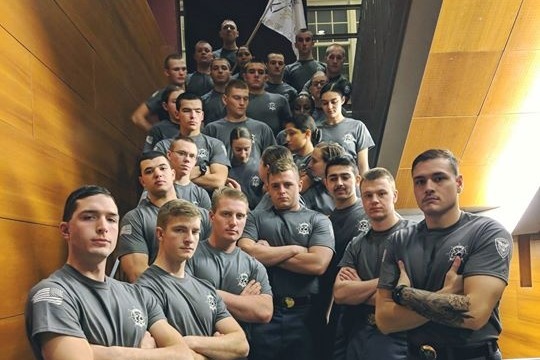 Education Funding so far
I receive several generous scholarships from Norwich and work in a facility operations work-study position 15-20 hours a week but am faced with a gap of around $8000 a semester I need to make up.  
I have a current 3.2 GPA which allows me to receive 2 separate scholarships for academic excellence.  
How you can Help
1. Please donate on gofundme now!
2. Please spread the word by sharing on social media platforms!
+ Read More
Update 2
6 months ago
Share
more pics.
+ Read More
Update 1
6 months ago
Share
Pictures.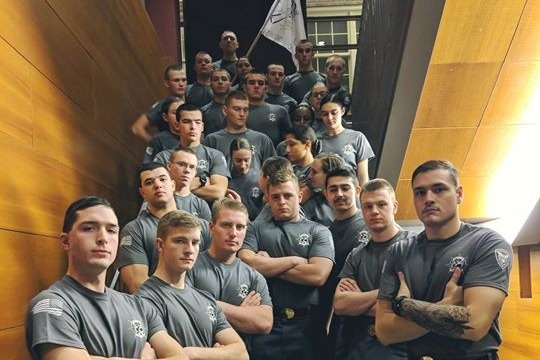 + Read More
Read a Previous Update