5
7
Healing HEARTS Center Studio/Cabins
$180
of $250,000 goal
Raised by
5
people in 7 months
WE ARE…


WE ARE A RECOGNIZED as a Federal 501 (c) 3  NON-PROFIT Charity


Your financial Gift will build a Healing - Hearts Retreat/Studio Space in the South Mountains of North Carolina, where we will also have Open Studio days allowing any Community Organization, Business, School Group or Individual - come together to create works of art to share with others in need.
Retreat Guests will be able to sit & listen to the whirl and hum of Mountain water; while sitting on their own little private porch,  on their own section of the
"LITTLE RIVER,"
off of their own "TINY CABIN" on a designated 5 acre track of wooded land & wildlife.  
Through out the Healing Hearts Retreat - there WILL BE many more places to sit by the river to relax, write, draw & nap to delight. 
 There are several garden areas for Praying and Meditation.  
No matter what or whom your higher power, you find a beautiful calming place for yourself.  We have the Happy Buddha … 
The Zen Station - along with plenty of other private areas to come...
There is a get away space for you to listen to the healing &
calming of your
heart between - our soulful heart enriching activities.
In the warm summer months,  we have a beach where you can swim, tube or let the minnows help you with a peddy.  
A mind altering Labyrinth will open all possibilities in this area - by beginning in the east and following the carnal directions.  
The area to the left side of the road will be our sports/activity & recreation area - with basket ball, volley ball, kick ball...
To the right side of the road - we will build the "TINY CABINS" along the "LITTLE RIVER," just past the beach area
Just over the bridge, to the left, is where the STUDIO/Class-Room/Bath House with a Screened Porch will be built. 
On the end side of the studio - It will house an indoor in recreational room - with a library, along with a community kitchen area to cook and a picnic area to
snack/e
at while listening to nature sing.  There will be a special section/platform to stargaze and sit around a bonfire where stories will be told, healing and memories will be made & instruments will be played.... 
As our guests depart - they will be able to visit our store and purchase a memento of their healing process and memory of such a great Healing Hearts Experience.  We also have trailer and we will travel to provide workshops for your community... 
DO NOT DOUBT OUR COMMITTMENT
- 
We have come a long way in just a few years -
Just L
ook at what we started with … 
Look what we accomplished in a month … 
and look at where we are at in a couple of years! We have the Vision, We have the courage - WE JUST NEED YOUR HELP!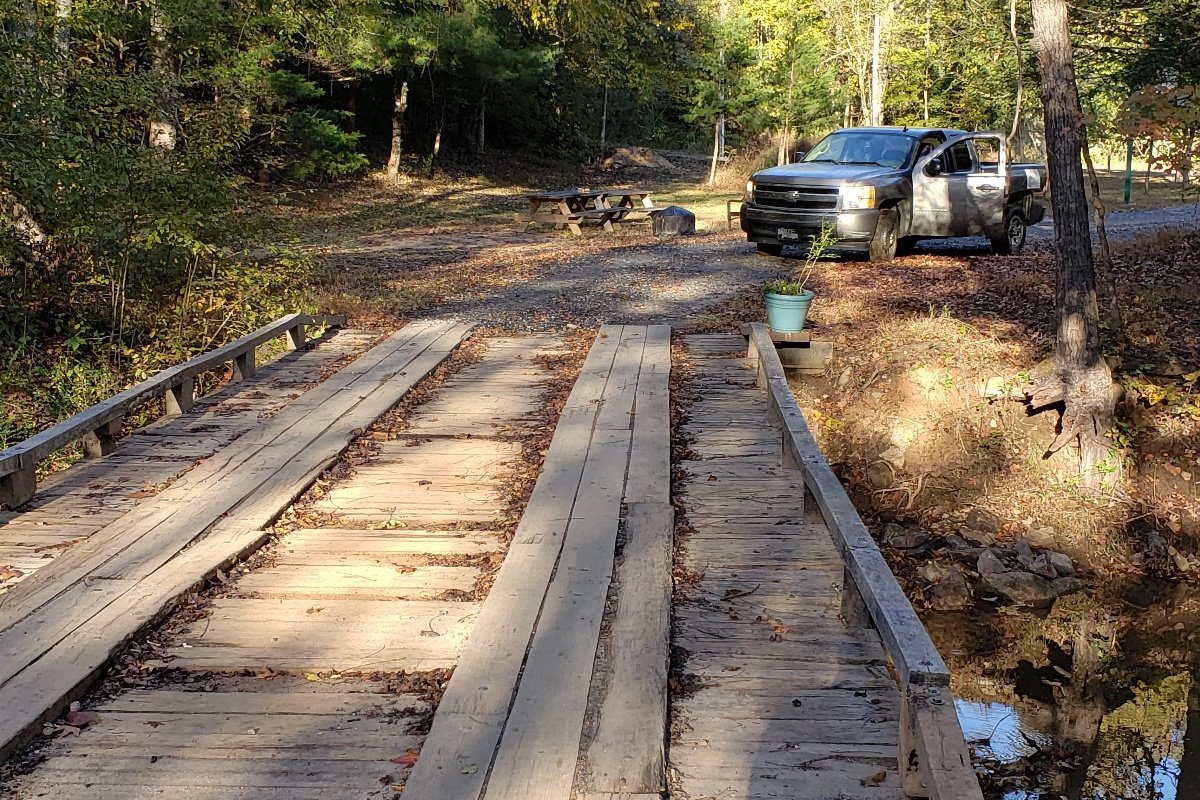 WITH YOUR HELP - WE CAN BE UP AND RUNNING BY NEXT FALL - 2019/ Spring of 2020
My name is Kimberly Lajzer- I am the VISIONARY for this Non-Profit and project.  I am a 25 year veteran Art teacher.  I have Taught in the prison system, public school & @ a private, residential Deaf School Program. 
Art 4 a Purpose . Org came out of a vision during my healing/recovery process from child abuse...
Please visit our web site @
www.Art4aPurpose.Org
Make the time to explore & STOMP OUT CHILD ABUSE with Art 4 a Purpose . Org
I LOOK FORWARD to working with - all of the great souls that will walk across the bridge & all the wonderful MEMORIES that will come from this Healing Hearts/Retreat Center.  I already cherish the great works of art that will be shared with communities all over this world!
We will be forever graced by all who step over this "ELEPHANT CREEK" bridge, crossing the "THE LITTLE RIVER" We are ready to LET THE HEALING BEGIN - PLEASE DONATE TODAY!
Thank you for believing & donating to this vision, because of you - WE PROMISE - WE WILL SHARE BEAUTY & HEALING WITH THE WORLD!
Check back often as we update pictures of our progress!  
Aho                      
COME VISIT US & WE'LL SEE YOU IN THE CREEK! 


+ Read More
Update 2
1 month ago
Share
The Little River runs through it and will be viewed from the front deck of each of the 8 cabins.
+ Read More
Update 1
1 month ago
Share
Full moon over sacred land where the butterfly's flow as freely with color as the fall leaves. The only thing missing us YOU! :)
+ Read More
Read a Previous Update