Women's Sexual Wellness Event
$1,425
of $5,000 goal
Raised by
9
people in 32 months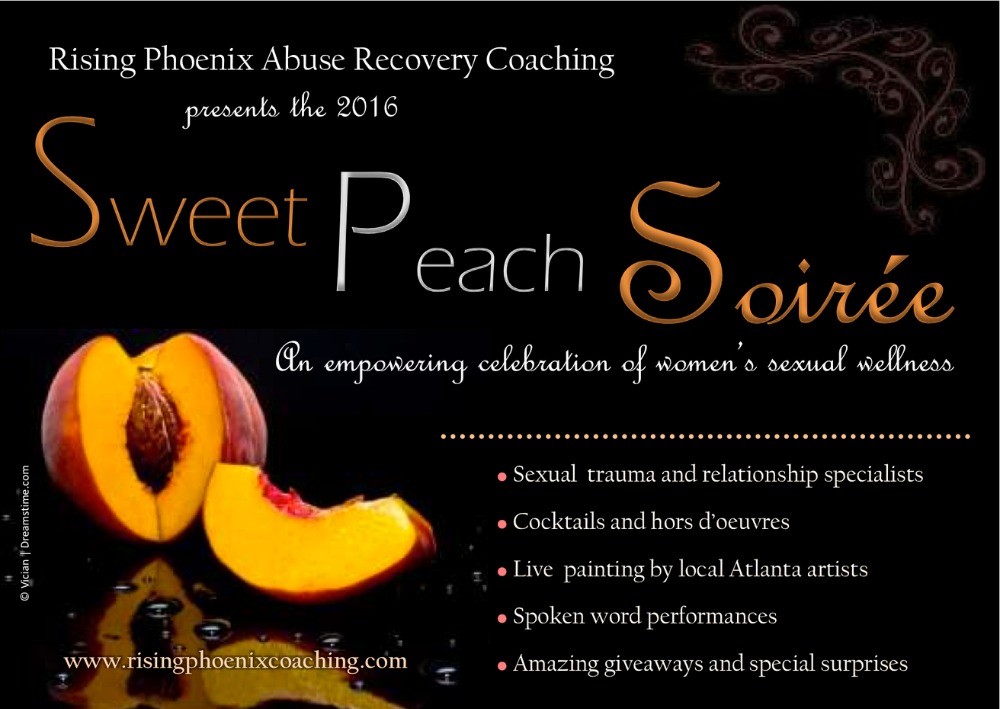 2016 Sweet Peach Soirée
An Empowering Celebration of Women's Sexual Wellness

Hi! My name is Benir Pierre and I'm the founder of Rising Phoenix Abuse Recovery Coaching , a full-service coaching practice that specializes in empowering survivors to overcome the long-term effects of physical, sexual and psychological abuse through survivor advocacy, support, and educational outreach.

I was inspired to create Rising Phoenix after years spent picking up the broken pieces of my life after abuse , and realizing that my journey could serve as a beacon to others on the same path. I am passionate about bringing healing to our community by creating conversations about the things we're too afraid to discuss.


A Call to Action

I'm reaching out to you today because the Black community is experiencing a sexual health crisis. Of the one in four women who will be sexually abused in her lifetime, Black women account for nearly 20%, with more than 55,000 new cases every year.  These are our mothers, our sisters, our aunties, and our babies.

This type of abuse not only preys on the mental and emotional well-being of its victims; childhood sexual abuse is a leading risk factor for HIV.  According to the CDC, HIV rates in Atlanta are nearly as high as third world countries , with Blacks being disproportionately affected.  

It's time to wake up!  Our people are dying!  We can no longer afford to turn a deaf ear and blind eye to this problem.  Our women, our children...our families...are dying!


A Healing Celebration

As part of our efforts to increase awareness around these issues, we will hold the Sweet Peach Soirée: An Empowering Celebration of Women's Sexual Wellness, on October 15, 2016 in Atlanta, GA. The purpose of this inaugural event is to foster dialogue that promotes healing from the trauma of sexual abuse, assault and intimate partner violence, and to address the disproportionate impact of HIV in the black community.

Although we will be tackling some very serious issues at the soirée, this ain't your granny's workshop!  This one-of-a-kind event will feature:
·         A panel of well-respected sexual trauma and relationship specialists
·         Cocktails and hors d'oeuvres
·         Live painting by local Atlanta artists
·         Spoken word performances
·         Amazing giveaways and even a few special surprises


Please make a contribution today

The estimated base cost of the Sweet Peach Soirée is $5,000, which includes venue rental, production of promotional materials, refreshments, decoration, audio/visual production, security, and artist/panelist honorariums.  

This empowering celebration will reach an audience of more than 100 women in our community who will take part in a one-of-a-kind night of healing, sisterhood, and self-expression.

You can help us make this event a reality. Please make a contribution today.
 

Here's how else you can help us

·         Spread the word about our GoFundMe campaign!
·         Purchase tickets to the 2016 Sweet Peach Soirée when they go on sale
·         Join our mailing list and follow our blog at risingphoenixcoaching.com
·         Like and follow us on Facebook   and Twitter
·         Share our content on social media
·         Become a Rising Phoenix contributor and share your own survivor story. Send your submissions to info@lifeofarisingphoenix.com.
+ Read More
Be the first to leave a comment on this campaign.