Apoyemos a Marianella
$1,790
of $3,500 goal
Raised by
61
people in 8 months
(Scroll down for English version)
Mi nombre es Marianella Pelaez, joven venezolana luchadora aguerrida con muchos sueños y metas por cumplir vivo en la gran Caracas, junto a mi esposo desde hace 6 años. soy estudiante de derecho próxima a graduarme. actualmente soy mama de un hermoso bebe que tiene apenas un mes de nacido.
Hace tres 3 años y medio atrás fui diagnosticada con un tumor en lóbulo parietal izquierdo de mi cerebro el cual fue operado con éxito extirpando y cauterizando el 99% del mismo, operación que dejo como efectos secundarios: perdida de sensibilidad y fuerza motora en el hemisferio derecho de mi cuerpo, dificultad leve para hablar y escribir entre otros , sin embargo, la biopsia del mismo arrojo que se trataba de un tumor maligno llamado Glioblastoma Multiforme grado 4. el cual debía ser tratado con 30 sesiones de radiación de alta densidad y 50 tomas diarias de quimioterapia en capsulas (TEMOZOLAMIDA DE 100 y 20 mg.), afortunadamente para esa época en mi país Venezuela aun se podían conseguir las medicinas y pude cumplir con los 6 seis ciclos iniciales y los 3 ciclos posteriores anuales, sin embargo, con la milagrosa noticia de mi embarazo se me dijo que iba a ser de alto riesgo para ambos, riesgo que decidimos afrontar, gracias a Dios mi hijo nació sano y fuerte sin contratiempo, pero al realizar el chequeo posterior, recibí la desagradable y triste noticia de que tuve una recaída pots operatoria en donde según la resonancia magnética arroja que hay recidiva (crecimiento progresivo) en el lóbulo parietal izquierdo y adicional a ello tengo un lecho con posible lesión tumoral en el lóbulo occipital.
Para contrarrestar esto el medico me indica que debo comenzar inmediatamente a tomar TEMOZOLADIMA 100Mg para frenar el crecimiento del mismo y cortar la cadena de ADN del tumor y evitar la ploriferacion del mismo dentro del cerebro. donde requiero de medicinas como : Esteroides anti edema cerebral, Diuréticos, Protector gástrico, y La quimioterapia en capsulas.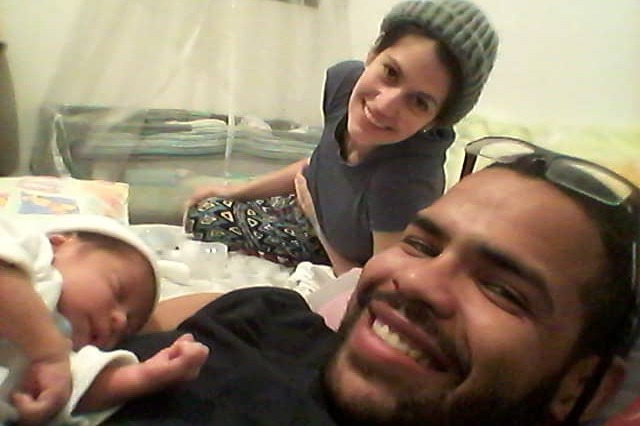 Mi esposo y familia han conseguido los diuréticos y protectores gástricos y estamos a la espera del esteroide anti edema, sin embargo A pesar de los infinitos esfuerzos realizados no conseguimos la quimioterapia para cumplir mi tratamiento. acá no se consigue por los medios tradicionales, y la opción que me queda es traer la medicina desde COLOMBIA- PERU o Argentina o Rep. Dominicana,
Requiero con carácter de urgencia 55 capsulas de TEMOZOLAMIDA de 100mg. para comenzar mi tratamiento oncológico ya que debí empezar a inicios del mes de julio y sin embargo para la fecha no he podido iniciar el mismo  debido a la escasez de medicinas que sufre mi País.
Agradecería enormemente toda la colaboración aporte , apoyo y donación que puedan realizar en este medio para así poder adquirir este medicamento que tiene un alto costo monetario en $dolares fuera  del país. se requiere de 3.500$ dólares aproximadamente para la adquisición de este medicamento y de otros adicionales mencionados anteriormente para así poder afrontar esta difícil prueba de vida.
Les estaré enormemente agradecida por cualquier aporte y donación, quiero vivir y ver crecer a mi hijo, deseo estar sana para poder atenderlo cuidarlo y protegerlo y este medicamento es de vital importancia para que eso se pueda cumplir.
http://hagamoselbien.org/marianella/
NOTA: Información solicitada por gofundme:
1-. El beneficiario de esta recaudación es Marianella Pelaez, paciente con cáncer, venezolana, con domicilio en San Antonio de Los Altos, Estado Miranda, Venezuela, Celular del Esposo James es: +58424-2214427.
2-. Jorge Martinez venezolano, amigo de Marianella Pelaez y su esposo James Torres, con domicilio en San Antonio de Los Altos, Estado Miranda, Venezuela, es presidente de la Fundación Hagamos el Bien, registrada en Venezuela sin fines de lucro, y  es el encargado de organizar la campaña, editar y grabar videos, redes sociales, página web, entre otros.
3-. Los fondos recaudados serán transferidos a una cuenta bancaria en CHASE JP MORGAN en EEUU a nombre de ROSALBA PAULICK, venezolana, residente americana, amiga de Jorge Martinez, quien será la persona beneficiaria para el retiro del dinero recaudado, dichos fondos serán luego transferidos a una empresa de farmacia para la adquisición de medicinas  55 capsulas de TEMOZOLAMIDA de 100mg, cada caja contiene 5 capsulas, y tiene un costo aproximado de $200 (USD) cada una. Posiblemente se use la empresa Faramatodo Colombia para la compra de estas medicinas.
https://www.farmatodo.com.co/
--------------------------------------------------------------------------------------------------------------------
My name is Marianella Pelaez, a hard working Venezuelan dreamer who lives in Caracas and has been married to my husband for 6 years. I am also a law student about to graduate and the mother of a beautiful six-month-old baby.
Three and a half years ago, I was diagnosed with a tumor in the left parietal lobe of my brain. Even though 99% of the tumor was removed , the operation caused a few side effects, including loss of sensibility and mobility in the right hemisphere of my body, and difficulty to speak and write.
After performing a biopsy, the doctors discovered that I had a malignant tumor called a grade 4 glioblastoma multiform that needed to be treated by 30 sessions of high density radiation and 50 daily doses of chemotherapy capsules (TEMOZOLAMIDE 100 and 20 mg).
At that time, it was possible for me to get the medicines in Venezuela and complete six initial cycles of treatment along with three annual post treatment cycles.
However, I found out I got pregnant, and my doctor told me that both my baby and I would be at high risk. My husband and I decided to go on with my pregnancy, and thank God, our baby was born healthy and strong. After having the baby, the doctors performed a magnetic resonance on me.
Unfortunately, they found that I had suffered a post-operatory relapse and that there was a recurrence (progressive growth) in the left parietal lobe in addition to a possible tumor in the occipital lobe.
To counteract this, the doctor advised that I should start taking TEMOZOLAMIDE 100Mg immediately to stop the growth of the tumor and cut its DNA chain in order to prevent its proliferation within the brain.
Therefore, I now require to take steroids against a cerebral edema, diuretics, antacids, and chemotherapy capsules.
My husband and family were able to get a hold of some diuretics and antacids, but we are still waiting for the anti-edema steroids and the chemotherapy to continue my treatment.
Unfortunately, it is impossible to get medicines in Venezuela, and the only option I have at this moment is to get them from Colombia, Peru, Argentina or Dominican Republic. I urgently need 55 capsules of TEMOZOLAMIDE 100mg. to begin my oncological treatment since I should have started it at the beginning of July, but it has been impossible due to the current crisis going on in Venezuela.
I would greatly appreciate your support by donating any amount of money that can help me purchase the medication I need. Approximately $3,500 is required to purchase the medicines and other additional drugs to help me overcome this terrible medical condition. I will be enormously grateful for any contribution or donation you can send.
I want to live and watch my son grow, I want to be healthy so I can take care of him. This medication is of vital importance to fulfill my dream of being a mother.
---------------------------------------------------------------------------------------------
Para ver récipes e informe médico ingrese en 
http://hagamoselbien.org/marianella/
Hi 
NOTE: Information requested by gofundme:
1-. The beneficiary of this collection is Marianella Peláez, patient with cancer, Venezuelan, with domicile in San Antonio de Los Altos, Miranda State, Venezuela, Cellular of the Husband James is: + 58424-2214427.
2-. Jorge Martinez from Venezuela, a friend of Marianella Pelaez and her husband James Torres, residing in San Antonio de Los Altos, Miranda State, Venezuela, president of the "Hagamos el Bien" Foundation, registered in Venezuela nonprofit organization, and is in charge of organizing the campaign, edit and record videos, social networks, web page, among others.
3-. The funds raised are transferred to a bank account in CHASE JP MORGAN in the US, a name of ROSALBA PAULICK, Venezuelan, American resident, friend of Jorge Martínez, who will be beneficiary of the withdrawal of the money, these funds will then be transferred to a pharmacy company for the purchase of medicines 55 capsules of TEMOZOLAMIDE of 100mg, each box contains 5 capsules, and has an approximate cost of $ 200 (USD) each. Possibly the company Faramatodo Colombia is used for the purchase of these medicines.
https://www.farmatodo.com.co/
+ Read More