Podcast on the War on Drugs
$6,000
goal
Campaign created
10 months
ago
Think the War on Drugs is a failure? Realize opioids have destroyed lives? Fed up with Big Pharma? Understand the importance of cannabis reform? Think drug policies have ruined millions of Americans? Want to end corporate prison systems?
This Go Fund Me is for you!
Hi! My name is Annie Rouse. I'm a US Fulbright Scholar and author, producer and narrator of the podcast series, "
Anslinger: The untold cannabis conspiracy
 ." The podcast is
TRUE STORY
that unravels the War on Drugs and
why we have prohibited cannabis while proliferating opioids.
The podcast investigates the life of
Harry Anslinger
, Chief of the Federal Bureau of Narcotics from 1930-1962 and
America's First Drug Czar
. Few people know about Harry Anslinger, but
his decisions have influenced war, prison systems, civic unrest, the opioid epidemic, Big Pharma and life as we know it.
The podcast is a compilation of 10 years of
research in government archives
across the U.S. I lead the audience through time with narration and expert interviewees as we investigate Anslinger and the untold cannabis conspiracy.
Earlier this year I launched Season 1 with over 3000 downloads and an
audience across 20 countries
. The downloads are growing each day and Season 2 is just around the corner!
BUT everything I have done up to this point has been self-funded.
I love creating and sharing this important piece of history, but it is expensive and time consuming.
Your financial support would help me continue to produce the podcast and continue to investigate this important topic!
Give today and support this cause! Your donation not only helps me produce this podcast, but also helps educate the world so we can collectively put an end to the ridiculous drug enforcement tactics put in place under Harry Anslinger.
Thank you for support!
Annie Rouse
Me - "loosening up" in the studio before one of the initial recordings.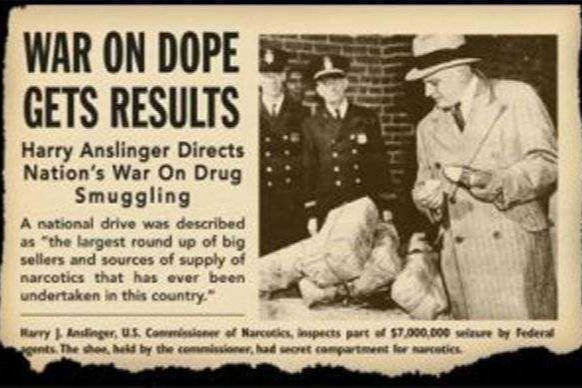 Harry Anslinger's largest drug bust. The photo was the inspiration for the podcast art cover.
Artwork for podcast
Promo video
+ Read More