151
7
Anne Miller's Trauma Fund
$16,751
of $28,000 goal
Raised by
153
people in 2 months
Since brevity is not my gift, if you prefer the "just the facts, ma'am, here they are. The full story is below the bullet list.
To sum this request up:
• One of the stories I've shared through my years in writing and speaking was of my sexual abuse when I was sixteen. The man who abused me was a 25-year-old youth pastor.
• I learned that this man was not appropriately reported to law enforcement by the organization who investigated him internally (in 2007) and found him to have abused me. This man was also given a chance to resign instead of being terminated (which I was led to believe).
• Within days of me learning he was not reported and he resigned, I reported him to both CPS and law enforcement. I have been working with them over the last six weeks as they conduct this man's criminal investigation.
• This amount of "re-hashing" what happened in my interviews with law enforcement has caused the trauma to resurface in my life, hitting my mental health very hard. In the last few months, I have been extremely anxious, depressed, and at times, wishing I was not alive.
• I need very specific help that my general counseling and psychiatry appointments cannot provide.
• My family and mentors and treatment team (including me) have determined Onsite's Milestones Trauma Program is the best place for me to get this help. 
I start treatment on Tuesday 5/15.
• This help costs $28,000, of which we have $2,000 (we just put a downpayment on a house before this happened which exhausted most of our savings).
• I cannot make the SBC or its ancillary organizations or the criminal who molested me for six months pay for this.
• I am afraid that if I do not receive this treatment, I will not be healed or be able to serve others in any capacity that is meaningful. I honestly fight to find the energy to leave my bed most days and it is getting worse and worse.
****
The Full Story:
If you read any of my books or my blog, you know that
I was sexually abused in 1996, when I was just 16 years old. The man who did this was a 25-year-old seminary student and youth pastor in the Southern Baptist Convention
. You also did know I did not recognize it as abuse until I was his age in 2005.
I graduated high school a year early and assumed I was more mature than I was. I saw it as a relationship gone bad since I was compliant in it (consent does not apply as I was too young). But when I was 25 and I saw a 25-year-old coworker working with 16 year old students, I had a stunning and horrific revelation.
Almost immediately after I recognized it as abuse, I went to a church counselor within my SBC church where I worked who told me to work on my forgiveness and that to do anything about it would do more harm than good to the body of Christ, the church. I followed that counsel and that is what I did. 
A year later, in 2006, at the suggestion of my counselor, I wrote my abuser a email letter saying I forgave him for what happened. He never responded.
I felt somewhat free but constantly haunted by flashbacks of the experience triggered by things that reminded me of him.
I began writing more about the experience of forgiving him for my local church newsletter and as a result, I had a friend come to me with her own story in 2007. Since we both were in the same denomination, I told my friend where my abuser worked–in a position of leadership within one of the many autonomous organizations in the SBC. I did not know her father worked with the same organization. She told her father who in turn told the organization.
That organization confronted my abuser with this and he denied it.
They conducted an investigation that lasted months. I had to tell them every detail of what happened. I did not know then, but what I experienced was revictimization. At one point, my body went into shock during the investigation.
 The internal investigation within the SBC concluded that this man DID sexually assault me, a child, when he was 25 and I was 16 years old.
From their report that both he and I received:
• [Criminal's name] engaged in an inappropriate sexual relationship with Anne [Maiden Name] in 1996-1997.• Anne [Maiden Name] has suffered as a result of the sexual relationship with [Criminal's name] and continues to struggle with shame and guilt.• [Criminal's name] was not truthful with the Assessment Team and [Organization Name] personnel about the full extent of the relationship he had with Anne [Maiden Name].
I was told a few days later that the man was no longer working with this autonomous organization. I was under the impression he was terminated from the position for obvious reasons.
When I asked this organization directly, I learned he was not terminated and was given a chance to resign
. I then asked the legal counsel for this investigation if they reported it to law enforcement, as is mandatory in Texas. They did not because they did not believe that is what I wanted. What I wanted doesn't matter.
It is and was required by law for them to report it. The law says this is a felony.
Yet they did not report it.
This man presently serves in a position of leadership with more stature and responsibility than before. [Update: As of June 17, 2018, this man is no longer employed by this organization.] 
When, over the course of the last decade since the internal investigation, I asked how it was possible,
I was told to "let it go" because to dwell on it or to desire what the SBC termed "reconciliation" (what the law and what I consider is justice) would cause me more harm than good.
In 2010, I was diagnosed with PTSD because of this abuse and was hospitalized at a trauma-specific psychiatric hospital for a month to work on healing from this and other issues that stemmed from it
. This treatment was incredibly effective and allowed me to write and speak and engage as you know me. It allowed me to find healing and to find me again. It allowed me to share that hope and healing with others during my tenure as a religious writer and speaker.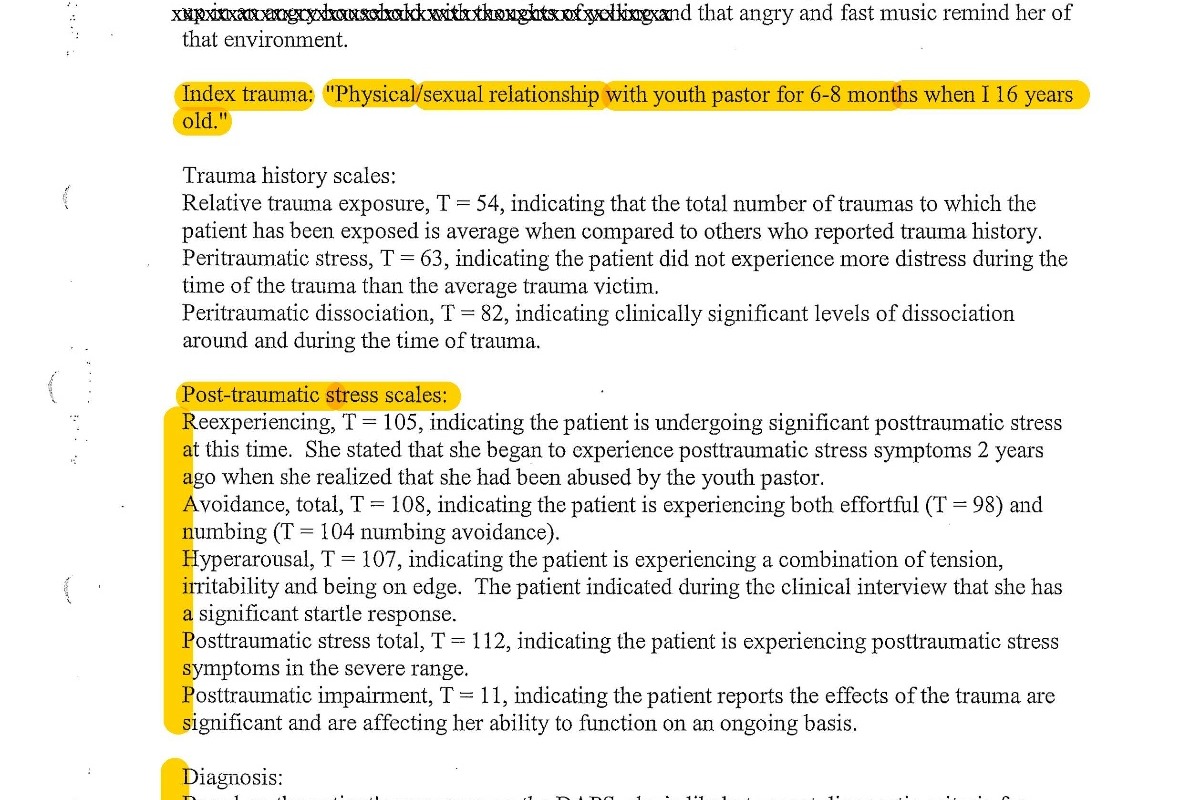 When I learned this crime was not reported, I reported it. On both occasions, within 24 hours, the authorities followed up with me and are pursuing this man for a criminal investigation.
They said they don't care if it happened 22 seconds, 22 months, or 22 years ago. It's a felony and justice needs to be served.
I have been working diligently with the crimes against children (CAC) unit task force of this police department over the last six weeks. I had no idea the trauma would resurface as it has. I even joked with some of the detectives about how much counseling I had; I thought I would be okay.
I have never been so wrong in my life.
This experience has shaken me to my core. I am eternally grateful for the CAC unit, the DA, and others involved and am grateful for all they have done and continue to do. However, in working with them, I have had to re-live many moments of my abuse. I knew this was a risk but one that I am willing to take. I've also suffered from the shame and guilt for NOT reporting this sooner because I realize there are likely other victims that I could have saved if I would have gone to the authorities first and not the church.
The courage it took to come forward to law enforcement may be admirable, but I now understand why more victims do not come forward.
My anxiety has rendered me a shell of who I was. There have been many days in the last month where I cannot leave my bed, where I am medicated to the max just so I don't return to the level of shock and dissociation I have previously experienced. I went to a short-term psychiatric hospital. I explored a partial hospitalization program locally. I have been faithfully seeing a psychiatrist since even before I went to the police. I thought I was prepared to handle this, but my level of re-experience trauma is beyond stable.
It breaks my heart beyond words to hear our 21-month old daughter playing in our living room with her dad or her grandma while I stay in our bedroom unable to move. Every time I hear "Mama?" and the response, "Mama's sleeping" makes me not want to continue living. Please know I am safe. I am not suicidal although I have had suicidal ideations and that is why I am seeking this help urgently.
I am afraid if I do not get the help I need soon, I will never get me back again. My daughter will never have her whole mama and my husband will never have the woman he married back.
After talking at length with counselors, my family, my spiritual family and law enforcement, we have concluded that I need to be stabilized in an inpatient trauma facility.
Instead of going to the hospital I went to in 2010, we have decided that Onsite's Residential 30-day Trauma Program in Tennessee
 is the right place for me to find this healing my heart and mind so desperately need. I will start treatment on Tuesday, May 15, 2018.
Before this all happened, Tim and I were saving to buy a house so that we can give our daughter a safe neighborhood to live and learn and love in as the Dallas housing market is exploding. We had just paid our down payment on our house which now only leaves us with a little bit of savings when all of this happened. We will be using what money we have to help pay for treatment, but the total cost for the 30 days is $28,000. They are willing to work with me on this cost, and I want to let them know I am fully invested in my treatment and they deserve to be paid for the necessary and exceptional work they do.
I am asking for help. For any support you can provide.  That doesn't necessarily mean money, but money is needed.
I think the SBC and the organizations for which this man worked, and the man personally should be held responsible for paying for this treatment and any other treatment I need for the rest of my life. However, the statute of limitations for the civil part of my abuse is long gone. I can not sue them for treatment costs.
I have pushed Tim, my best friends, and my advocacy group so far back against asking for help publicly. It seems opportunistic and wrong to me, but I have been assured this is the right thing to do and so I trust those that are thinking with a clearer mind than mine.
We can contribute $2,000 to this out of our own money. I need to raise $26,000 to cover the cost of the treatment. The cost of transportation, the cost of childcare, the cost of my husband having to take off from work, the cost of me losing work...these are all costs we can absorb, although they are a sacrifice.
You all have given so much of yourselves to me and my family through the years and I pray this does not feel as if I am taking advantage of you.
Thank you for reading this, and for your prayers, and if you can, your donation.
With love,
Anne Marie Miller
Author of Mad Church Disease (by Anne Jackson), Permission to Speak Freely (by Anne Jackson), Lean on Me, and 5 Things Every Parent Needs to Know About Their Kids and Sex
Former Blogger at FlowerDust.net, AnneMarieMiller.com
+ Read More