Ally's Medical Fund
$3,925
of $8,000 goal
Raised by
194
people in 46 months
Hi, my name is Ally Newbold and I'm a 22 year old living in Philadelphia, PA. I moved away from home and have been *financially* independent for about 6 years now. For work, I travel with bands tour managing, selling merchandise, photographing and making videos. I love my job and it makes me so very happy. I get to do what I love and I get to support hundreds of talented musicians. At home, I attend shows photographing bands for a living and I have a part time job at a sandwich shop in the city to pay the basic bills. I am in the process of graduating college at the University of Central Florida with a Bachelors in History with a focus in Pre-Law.

On March 12, 2015 I was returning to work for the first time in a few weeks after returning from a lengthy US/Canada tour. I have been taking the same bike route to work for a while because these roads have bike lanes, which is supposed to make it safer for me to get to where I need to go.

To get to work, I take two streets. On my way to work, I was biking in the bike lane down 40th street in Philadelphia heading South. 40th street has trolley tracks in the one lane as well as parking on both sides of the street and a bike lane on the right hand side of the street (as you can see in the photo below). While I was biking down 40th street, I approached a massive 'pothole' that took up the entire bike lane. Before I recognized the size of this pothole, it was too late for me. I flipped into this pothole and landed on my bike, crushing my face into the pavement.



As you can see, there were no indicators of this hole. There were no cones, no caution tape, nothing for me to be aware of this giant hole that I fell straight into.

The car that was on my left hand side stopped and helped pick me up off the ground. I did not black out, but I was extremely dizzy for the next hour or so. I was bleeding down my arms, my wrists have minor fractures and there was some damage done to my nose. Unfortunately, my front teeth (7,8,9) all have fractures in them with the nerve being exposed.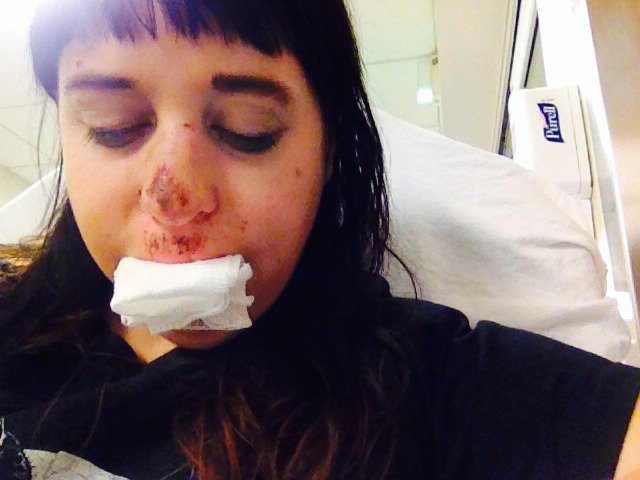 I spent about 16 hours in the hospital and clinic with several tests done including x rays, a cat scan, and shots. I have some temporary fillings on my teeth and once the swelling goes down, I will be receiving caps on my teeth.

Unfortunately, I don't have health or dental insurance and the bills are already beginning to pile up. Any help at all would be greatly appreciated. Thank you so much for reading this and I appreciate your time.
+ Read More