Help fund Freedom Of Joyce Media
$555
of $11,117 goal
Raised by
6
people in 55 months
Love cannot not exist without freedom. Love is freedom.
Dear family, friends, and listeners of the Freedom Of Joyce show. Last year at about this same time, I was taking my first Freedom Of Joyce promo pics outside on my friends balcony. The goal was to get my facebook page up and running before my birthday. At this point "Freedom Of Joyce" was just a concept. The idea was to have a radio show that explores all aspects of freedom from the introspective, cultural, and the universal perceptive. Activists. spiritualists, comedians, musicians. and people from all walks of life will be sharing their stories and opinions highlighting the personal empowerment within all us.
Freedom of Joyce is presented on a multimedia platform which includes radio, live-stream. and a one woman comedy show with the same title.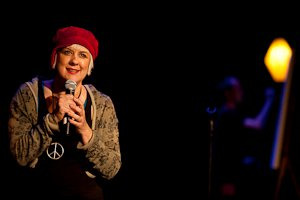 For those of you that I may have been out of touch with in awhile, there is evolution to my creative adventure. Here is a brief paragraph that I use in my press kit to explain the inspiration for Freedom Of Joyce.
"Tere Joyce was your typical American stand-up comedian who's goals, life, and career existed in the matrix of Hollywood. Until one day, she found herself staring at the barrel of a gun during a federal DEA raid in a doctor's office located near a California medical marijuana dispensary. The experience was a catalyst for Joyce to examine her government, politics, media, and the one percent."
To read more about my activsim, stand-up comedy career, and past radio broadcasting experience please
click here
.

One year later, not only is Freedom Of Joyce a radio show on Revolution Radio at
www.freedomslips.com,
but it also broadcasts live from the 
Time 4 Hemp Global Broadcasting Network
and iHeartRadio, and replays on
Awake Radio US
, Awake Radio UK, and
These Changing Timez Radio
. To see Time 4 Hemp show page click
here
. You can check at my blog at
www.freedomofjoyce.net
.
A lot has happened in a year's time, and I am grateful and rather amazed at the progress, but this progress had come with a price. All of the work, booking shows, editing, creating the Freedom Of Joyce blog (sponsored by The Liberty Beacon) and being a guest on various new media shows and getting the word out has left me with vary little funds to live on. Food and gas are a precious commodity, as well as safe housing.
Now, here's the good news. An accomplished radio producer who had also worked in film and television is interested in working with me. We are looking at possibly syndicating the Freedom Of Joyce Show on terrrestrial radio, and also developing my One Woman Freedom Of Joyce show into a full-fledged tour. We are both interested in educating with information that engages thought for postive solutions, and there is no better way to do it than with compassion and humor.
Here is what I need to make this all happen. I currently live in Vancouver WA and I will need to go back to Los Angeles to work with the producer, and develop the Freedom Of Joyce one woman show. I need funds for gas, food, and potential lodging on the way down. My friend Craig Elle is so kind to let me stay with him rent free for awhile, while I am getting things off the ground and secure advertising for Freedom Of Joyce media. This is only a temporary solution and I certainly do not want to outstay my welcome. I am looking to raise enough money to eventually rent a room or offer someone some dollars for letting me couch surf for a bit. I also, need funding for equipment. I need back up computers, cameras, a good microphone, ipad, etc. I often livestream protests and interviews on location. I literally, have just one laptop, that I feel is wearing out a bit, not sure how long it will last, and I am recording from an HD webcam taped to the back of my computer. Oh, the wonders of duck tape!
Below are videos of Freedom Of Joyce media, including a portion of my stand-up comedy that will be included on the Freedom Of Joyce Show. Just want to let you know what you are investing in. My birthday is July 4th, and I wish nothing more than to be gifted the opportunity to manifest Freedom Of Joyce media to the next level. Thank you for your support. I get by with a little help from my friends. 
Social Media Censorship & Aliens from Univere 17
Opening monologue for the Freedom Of Joyce show. Host Tere Joyce contests the validity facebook's removal of youtube videos of Revolution Radio interviews from her account, Youtube's corporatism making youtube no longer a place for the common folk and independent artist. Plus, alien contact via skype, and her life long synchronicity of the number 17.
My mom Joyce Beamer was a guest on this show.
Funny comedic improvisational interview with Sgt. Det. Harry Palmer Jr. Retired.
Living off the grid in Colorado with Roger Landry founder of The Liberty Beacon.
Livestream of Portland Protest and Rally for International Day Against Police Brutality
The Lighter Side of Freedom-Missing CEO Found. Performed by Tere Joyce and written by Steve Cook
Stand-up comedy that will become a part of Freedom Of Joyce One Woman Show. This is my most popular video on youtube to date.
I also do a really fun radio series called Adventures Of Charlie Danger Private Detective with William Samsel of the Samsel Report on Revolution Radio. Here is the first episode.
+ Read More