8
21
Agua Nicaragua: Well Repairs+School
$1,280
of $10,000 goal
Raised by
10
people in 10 months
Nicaragua Water & School Mission Trip - Feb 2018
- Repair 2-3 broken water wells- Paint village school & provide backpacks and resources$1,000+ of Non-GoFundMe funds already received! Donations are tax deductible! 
Dear Friends,
 A group of us from Portland, Oregon are planning another trip to
El Transito, Nicaragua
in February 2018 to repair several water wells in the village, which has been struggling to find a source of abundant, clean water for several years due to chronic drought conditions.
We're also collecting backpacks and school supplies for the school children of the village, who often go without these crucial learning tools due to their cost. In fact, their school does not even have electricity!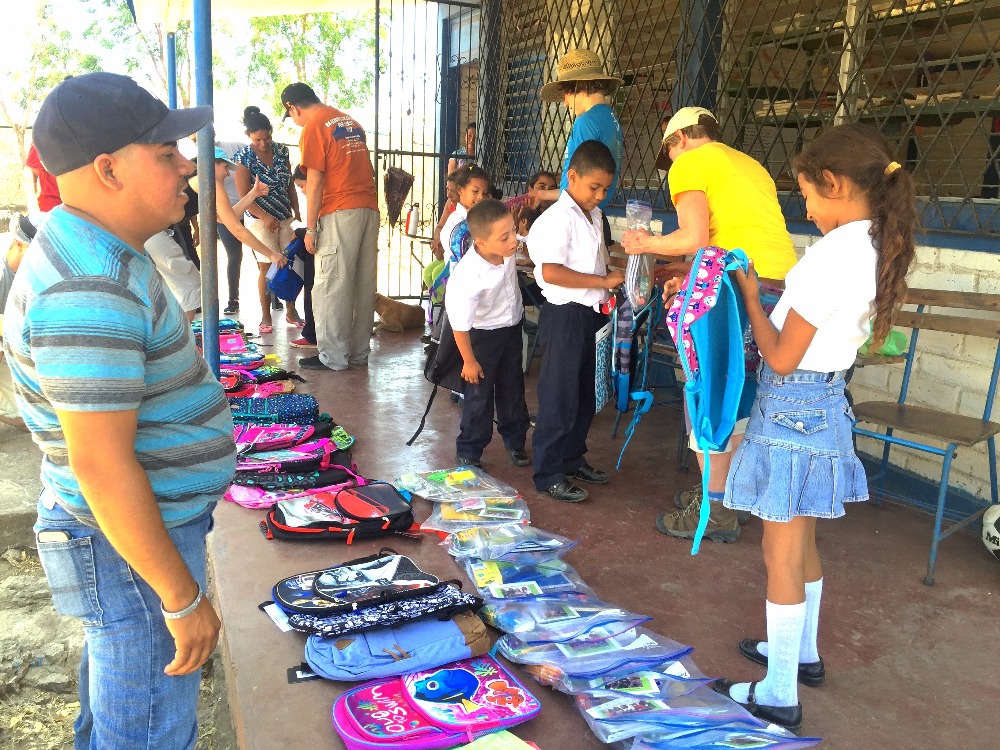 Last year, with your generous support, we were able to drill a water well at a school and repair another water well at a village elder's home, which functions as a neighborhood gathering center.
It's amazing that something we take for granted is so needed in this village. Many think that government programs and international charities have largely eliminated this need, but that is not the case!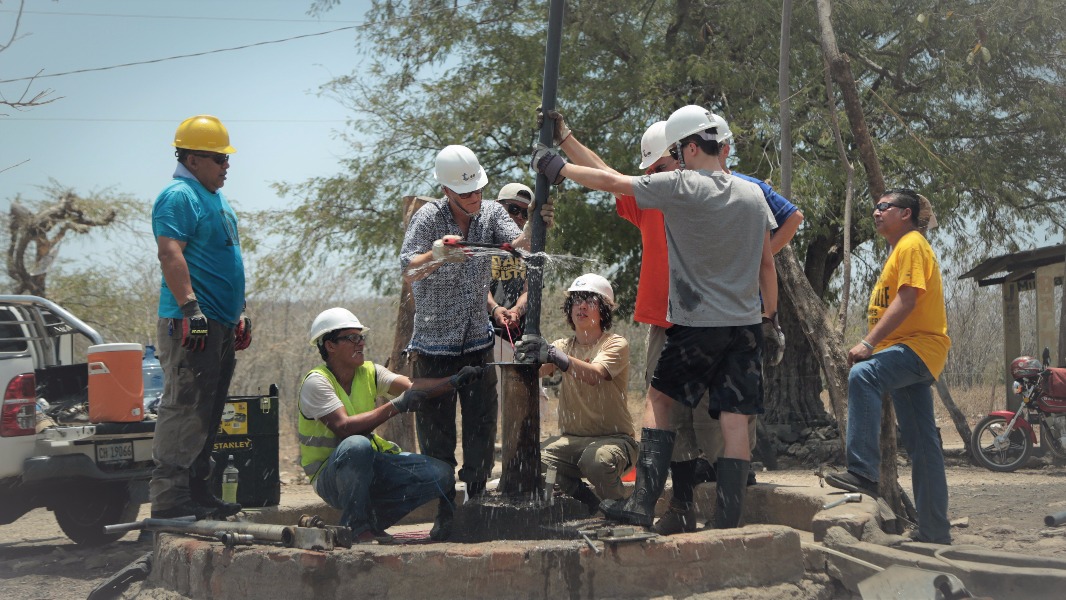 There are many villages in Central America where something as simple as a few gallons of clean water can be a two- to three-hour walk from the village each way! Can you imagine walking six hours a day just to get cooking or drinking water?
We also delivered 40 new backpacks full of much needed school supplies, purchased and collected by our church and community members. The childrens' faces were bright with smiles as they proudly displayed their own unique backpack filled with opportunity.
In addition, we put a nice bright new coat of paint on the school, taught a class on good hygiene, and threw a commemorative piñata party to celebrate the school's new water well.
The joy we all felt as we watched the children pump fresh, clean water out of the well for the first time was our biggest reward.
One of the most amazing aspects of this mission is how little money it takes us to make a huge difference in the health, comfort, and security of a village. The cost for repairing two to three wells is $6,000-$7,000. We estimate the cost of a backpack filled with supplies is roughly $25 (or  $1,000 for the 40 kids). We're planning on putting another $1,500 towards paint, lumber, and construction supplies to enhance the community center as well.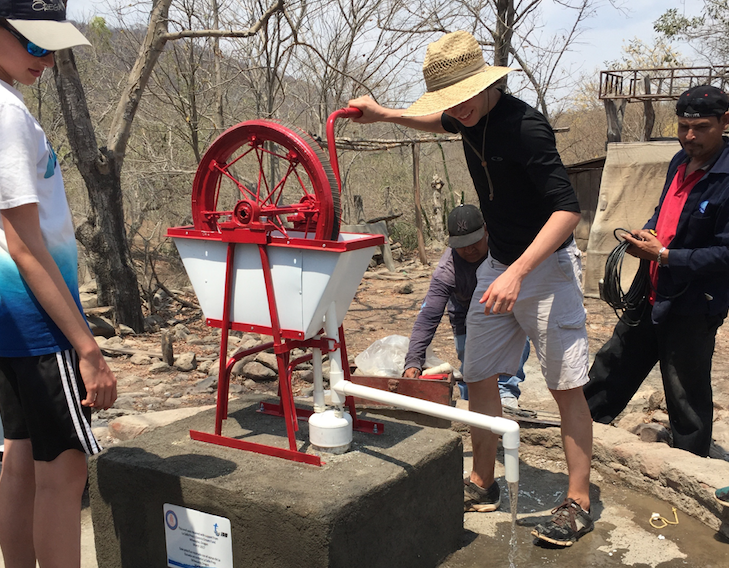 Members of our team are planning on covering their own travel and lodging costs if necessary, although if we raise more than our minimum goal, you'll be helping defray those costs for the group, allowing us to plan additional trips in future.
Our goal is to make this an ongoing mission with a revolving group of micro-funders, mission volunteers, and other sponsors, and to expand the effort to other communities in need of these crucial resources. We're also working closely with
Jesus Based Ministries
, a Nicaraguan faith-based charity working to identify and prioritize the villages and districts where this need is most sorely felt.
Here's how you can help:
We set up this gofundme page to collect
donations large and small
from supporters in Portland and around the world. Our primary goal is to raise $10,000, which will pay for parts to repair three or more wells, and install a special pumping system that uses a modified bicycle frame.
We're focusing on deploying the
simplest technology available
, which doesn't rely on electric motors, batteries, solar panels, or gas engines, so that maintenance is as simple and inexpensive as possible. Past experience has shown us that the
bicycle-based pumping system
is the most reliable way to get clean water to as many people as possible as cheaply and simply as possible.
Any funds that we're able to collect beyond the $10,000 will help us defray our own travel costs, lodging, and expenses, which are estimated at about $1,500-2,000 per person. A grand total of about $20,000 would pay for all of it—the water well repairs, the backpacks and school supplies, the paint and construction materials to improve the community center, along with our travel and lodging costs. That would be
AMAZING
! Would you consider
helping us
?
We plan to put a plaque on each well we repair. We will also produce a video and photo gallery of our trip so you'll be able to see all the happy faces when the first buckets of clean water are pouring out of the newly repaired wells and the students receive their new backpacks full of school supplies.
Moreland Presbyterian Church
, of Portland, Oregon is our home base, and can provide a receipt for your tax-deducting charitable donation. Please click below to make your tax-deductible donation by paypal or credit
card.
You can also send a check directly to
Moreland Presbyterian Church
(
indicate "Nicaragua" in memo line
). Checks can be mailed to Connie Miller, Moreland Presbyterian Church, 1814 SE Bybee Blvd, Portland, OR 97202. 
Thanks for joining us and spreading the word . Please forward this to anyone you think might be interested. We really appreciate it!
+ Read More
Update 1
9 months ago
Share
Bring Water Back!
This February we are returning to Nicaragua to fix broken water wells, repair a village school and play with the kids. Thanks for considering making a tax-deductible gift to help!
Here is quick video of last trip.
+ Read More