Adrian's Battle Against Leukemia
$38,836
of $75,000 goal
Raised by
477
people in 39 months
Adrian's Story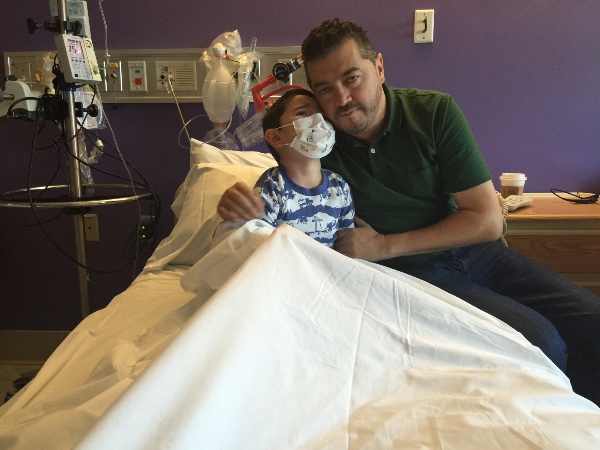 On July 25th 2009, my wife and I met for the first time and it was love at first sight. Soon after we got married we started planning to have a family. On July 29th 2011 our one and only son Adrian was born. Adrian brought so much life and joy into our lives and we couldn't be happier. Adrian was a healthy little man full of life and energy.
On July 24th 2015, after 5 days of fevers, we took Adrian to the doctor and requested blood work to be done on him. The very next day the doctor called us with the results. Adrian had an abnormal blood count and the doctor instructed us to rush him over to the emergency room for further testing.
While at the hospital, only 2 days before Adrian's 4th birthday, he was diagnosed with cancer in the blood (Acute Lymphoblastic Leukemia).
After 2+ weeks at the Children's Hospital, Adrian's condition has been stabilized through intensive sessions of chemotherapy and drug treatments. Unfortunately, Adrian is still very weak and in major discomfort due to the adverse reactions of the chemotherapy, not only that but he is also required to be in isolation due to his compromised immune system. A simple common cold can be life threatening to Adrian. Due to his current condition the doctors recommend treatment that will last approximately three and a half (3.5) years. 
How You Can Help Adrian?
Leukemia is a stubborn and difficult disease, even with "great" medical insurance the cost of treatment is more than most families can manage.It requires a substantial amount of emotional strength and financial resources. 
An incredible amount of family, friends and even good Samaritans have reached out to us to give us a helping hand and shown their support.
My wife and I are two hard working individuals, but for now we have to put work on hold to ensure that we can spend every possible minute that we can by Adrian's side. Words cannot explain the pain and stress that this tragedy has put us under, that's why we have made a promise to help other families and children going throughthis long and painful battle.
All we want for our son is to have a bright and healthy future. Please consider "paying it forward" to help us ease the financial burden for Adrian's recovery.
Sincerely,
Adrian Parada
Ramiro Parada
Teresa Espinoza
+ Read More
Make sure you get in touch with the Leukemia and Lymphoma Society. They have a TON of patient support options!
+ Read More
Our family will pray for your beautiful child's full recovery.
+ Read More