Youth and Police Initiative
$1,360
of $35,000 goal
Raised by
12
people in 29 months
Hello everybody. My name is Lonny Bingle co-founder of the gospel music group, Andrus and Bingle. Grammy winner Sherman Andrus and myself began singing together in 2002 with our latest album, "A Servant's Heart" appearing on the 2014 Grammy ballot multiple times. We have toured the world together bringing a message of hope and reconciliation through music and word to those who are in need.
Personally, I have been very involved in the Spokane community as a life-time resident. With the exception of my military service, I have lived here my entire life. My singing partner Sherman Andrus lives in Oklahoma City and has been extremely involved in many local community projects as well. 
Recently, I have been involved with a group of individuals who are concerned about the plight of racial relations in our nation and have seen the effect of young people who are uncertain about their standing within the community and especially with those who serve us as Police officers. Sherman and I were introduced to a program called the Youth and Police Initiative (YPI) which seeks to build bridges between the Police who service us and at risk youth. This program has had many success stories and is a worthwhile cause. 
Here is just one thank you letter from a young lady who is a recent graduate of YPI.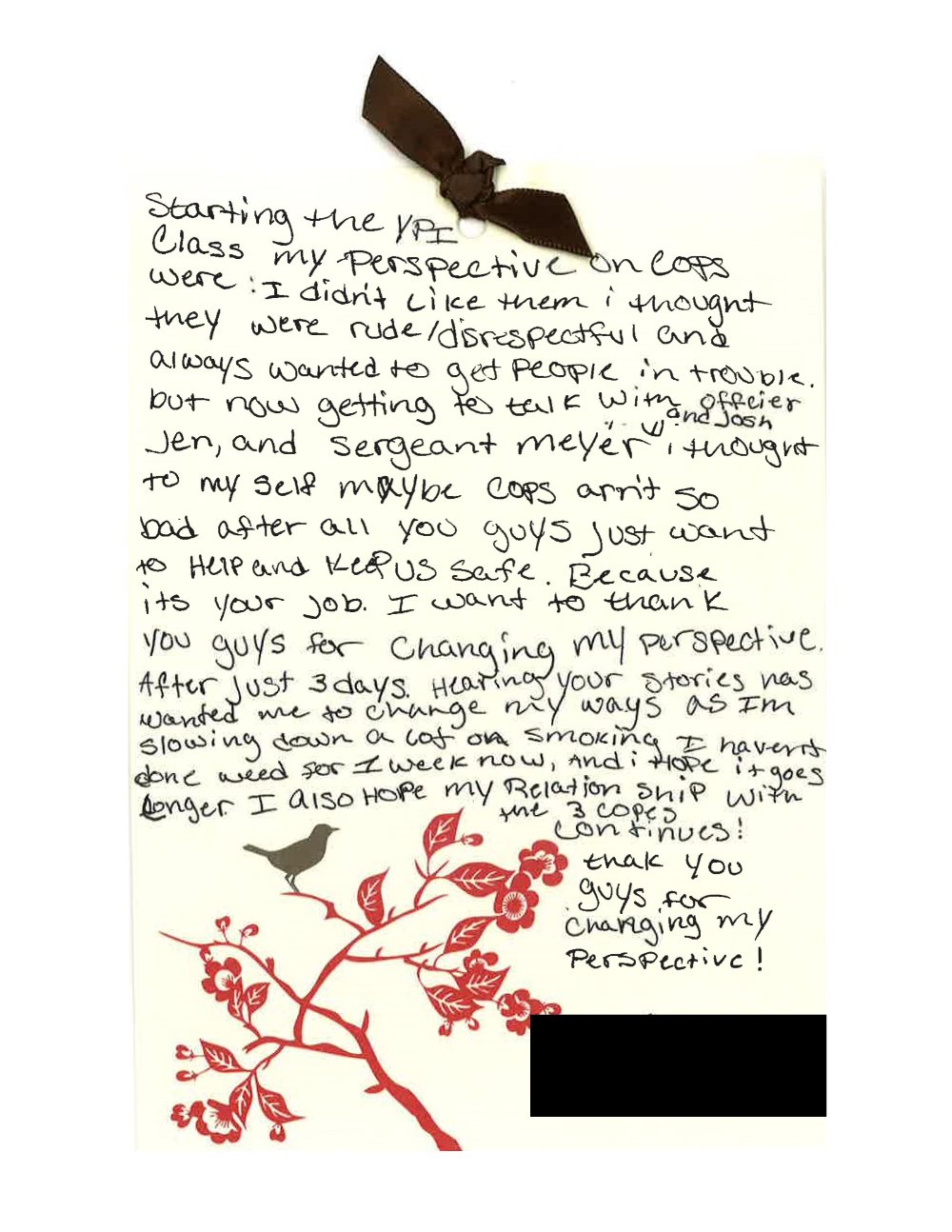 Take a look at a recent story from our local news that describes how Police are endeavoring to do all within their power to assist those who many would only see as a threat. This young man's contribution as a public service to YPI is powerful. These videos are a bit lengthy, but are well worth watching to see the impact that YPI can have on our youth.
http://www.kxly.com/news/spokane-news/illegal-drugs-police-intervention-and-a-life-changed/39271006?item=0
http://m.kxly.com/news/Illegal-drugs-police-intervention-and-a-life-changed-Part-Two-of-Two/39273106
Sherman and I decided that the vision of YPI was a reflection of our own purpose in bringing together those with different backgrounds with the intent of destroying the barriers whether racial, socio-economic, gender or any other demographic which so easily divides and is destructive. 
With these thoughts in mind, we decided to do a benefit concert with 100% of the ticket proceeds going towards YPI. Sherman and I are donating our time and efforts towards this worthy cause. However, we do have expenses that will be incurred to conduct a live concert while recording a live album. Our desire is to produce a great product that will have an ongoing profitability for YPI to help it remain fully funded. We have nearly 70 performers (most of whom have donated their time and efforts) that will be involved in the concert September 22-23, 2016 as well as the complete support of the Spokane Police Department and the Honorable David Condon, Mayor of Spokane, emceeing the evening.
We are deeply honored to have the support of the "Service Station" venue in Spokane, Washington which has donated their facilities for rehearsals and the live concerts (about a $10,000.00 value). In addition, Mission Control Records will be recording the evening at cost (another substantial donation). GC media will be doing the video production also at cost. Moody radio has signed on to provide on air interviews and advertisements at no cost. We would like to offset the expenses for those in our band who are coming and giving of their time and talent (Sherman and I are taking none of the proceeds personally). The funds will allow us to present a first-class music experience to many who would not be able to afford such an event as well as helping to raise funds for YPI. 
Sherman and I will be eternally grateful for those who help us with this tremendous program known as the Youth and Police Initiative (YPI), however the impact of this night on the lives of hundreds of Young People would be hard to imagine let alone quantify. We are believing that our fans, and those who believe in this program will be able to raise all of the funds necessary (along with our corporate sponsors). If each one of our friends donated just $10.00, we would more than hit our goal. Here is a song that reflects our commitment to support worthwhile efforts such as YPI and we would love to have you join with us to fund this powerful youth program.
God bless you for your support and most of all, we covet your prayer support as well. Please pray that these concerts will be a blessing to all who have the opportunity to attend or hear via CD and DVD. We could not adequately thank you for your support, but please know, we are sincerely appreciative.
Sherman and Lonny
Andrus & Bingle
+ Read More
Be the first to leave a comment on this campaign.