The Catherine Salvi Fundraiser
$2,790
of $5,000 goal
Raised by
87
people in 39 months
Sweet Catherine (she preferred to be called Kathy) Born in Milford mass on 12/10/89 she was a very outgoing, bright young child, very much into her fashion and loved to bake. On the evening of December 13, 2013 she was severely injured in a domestic violence dispute . She was taken to Landmark Medical Center where she was then transported to Rhode Island hospital due to the extent of her injuries. Rhode Island hospital immediately realized that the extent of her injuries were life threatening. Currently Kathy is fighting for her life. So far she has been prepared to have surgery to alleviate the swelling and fluid build up on her brain. She has been and still is sedated and put on a ventilator to help her breathe. Kathy's fate is in god's hands right now.
Please pray for Catherine and her family right now and support them in any way you can.
A little bit about Kathy. She moved to Woonsocket when she was 12 and she started to make a very special group of friends that to this day are here for her. She met Emmanuel Algarin 3 1/2 years ago . then 2 years ago they had a baby boy together. They started their own life together and had their own home, which held their secrets for no one knew what was happening. Then on December 13th, he assaulted her and she is now at Rhode Island hospital in critical condition, fighting for her life to be able to be with her son once more. The man who did this to her sits in ACI prison awaiting sentencing.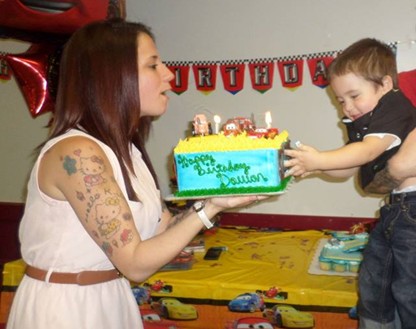 Her two year old sons name is Davian. Davian is her life. He's a sweet little boy. Right now her family and friends are taking turns shifting between nurturing this little boy and being by her side.
Kathy loved to help people and "no" wasn't usually something she said. It's no wonder that when the doctor's initially shaved Kathy's head her friends were worried that when she would come to, she would first want to see her loving child and second want to fix her hair, so they too made a movement "Team Kathy" and went to a local salon to have their heads shaved as well. Kathy is loved by all.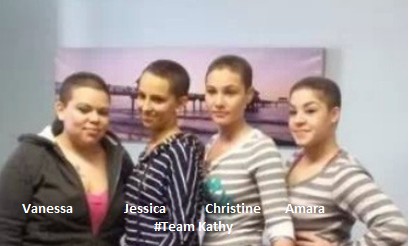 We, Kathy's friends and family are here today to ask for help raising money. The money raised will support Catherine's medical costs, bills and help support her young child & other items such as cards, candles, balloons can be mailed to or dropped off at. We will try to keep everyone updated as well. Please donate and share and most of all, if you know someone or of someone that is in a difficult situation please take the time to talk to them and help them out!
Thank You
The Mane Spot
Spa, Beauty & Personal Care
30 MAIN STREET
Woonsocket, Rhode Island 02895
(401) 767-7811
+ Read More