5
5
SensoryPlayCtr for ALL Kids Orlando
$250
of $25,000 goal
Raised by
3
people in 9 months
LOCATION - Now Open - 
Choose your Package, Donate and Redeem at center
2154 CENTRAL FLORIDA PKWY B2 ORLANDO, FL 32837
407-203-0303 - Open M-F 10-6:00pm-   Sat 10:00 to 5:00 pm.  Sunday's party room available upon request
SUNSATIONALLKIDZ.COM  -  
https://vimeo.com/283141663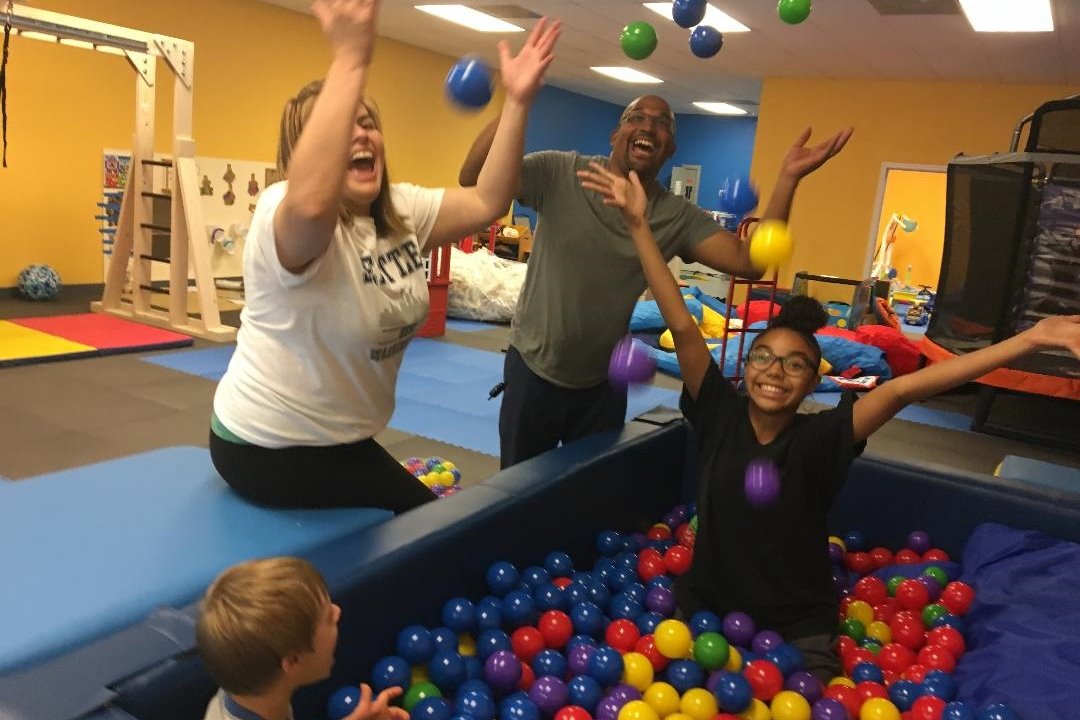 Welcome to Sunsationall Kidz Gym in Orlando, Florida an indoor playground and sensory gym  for kids and adults of all abilities.  After 5 months of intense
Orange County permitting and unexpected county requirements
  our company finally opened its doors at the end of July.  We are proud to say we our the first-of-our kind in Central Florida.
We have received an overwhelming response from parents of children of different abilities thanking us for opening our doors.  Kids can be kids, parents can find resources and network.   It is judgement free zone and most importantly,  we are sensory friendly ALL year long! Several organizations have approached us to partner and we are feeling the love in such a short period of time.  Thank you!!
The indoor play space includes a sensory touch wall, rock climbing wall, ball pit, various occupational therapeutic swings, arts and craft area, and sensory friendly toys.   We are expanding services to offer Occupational Therapy, Parent Enrichment classes and Music Therapy.  
Our Inspiration:  Christopher.  Our mission to serve our community and help others connect.
We are Mark Faubert and Li-Yun Poventud, parents of Christopher and have developed SunsationALL Kidz Gym, LLC as an inclusive facility for children of all abilities in the Central Florida community.  "We want to bridge the gap between home, school, and therapy with a fun and multisensory environment that has programs to improve confidence in social interaction, self-esteem, physical activity, mobility and communication."  Mark is a graduate from Auburn University with a degree in Marketing and Li-Yun holds a Bachelor Degree from Kaplan University in Health and Wellness.  Christopher is "the Boss Baby" and welcomes everyone to the gym.  He is a loving soul with a beautiful smile that will met your heart.
The new playground is parent/caregiver led and open all children  ages 6 months to 12 years old - (Adults can pre-schedule visit for available times.)  Open play is available M-S 10:00 am to 6:00 pm.  Come in for a fun pass of 90 minutes or monthly memberships.  In addition, children who receive physical, occupational, or applied behavioral therapies can use the gym as a supplementation facility as well as a fun daily play environment. 
We are seeking support to  purchase more equipment, build a  full quiet sensory room, hire personnel, marketing and expand.
Choose your Package -
COMMUNITY PARTNERS, Donate and Visit us to Redeem
____________$10 donation per child up to 90 minutes open Play  (includes admission of 2 parents)
____________$25 Sensational  T-shirt  (specify shirt size)
____________$25   -  3 Gym Visits 
____________ $50 Company Shoutout / Facebook and Instagram
____________$55    1 month access pass (M-F)
____________$30 Grand Opening Tickets
____________$
255 up to 10 kids B-day party and access to facility and pizza, drinks
  2 hrs play ($375 value)
____________$240 6 months full access ($330 value)
____________$400 Meeting/Event Room for 3 Hrs   - ($700 value)
____________$500   12 months of playtime (Valued at $660) 
CORPORATE PARTNERS
Corporate Sponsorships are Available:
PLATINUM $5,000 +
Ex: ______________________ (Your Company Name HERE)
​Sensory Room / Sponsor Dark Room
Wall recognition entrance
Logo in our Website and link to yours
Plaque with your company name next to equipment
Sponsorship of 2 children open play for 12 months
Your corporate logo in all Sunsationall collateral as partner
USE OF CONFERENCE ROOM (CAN HOLD UP TO 50 PEOPLE) in addition to facility play space
host a building night for you and your employees
Grand opening tickets
Promo gift bags w/ corp logo
SILVER
Wall recognition $3000+
Sponsored Ball PIT ( Your Name HERE)
Wall recognition entrance
Logo in our website and link to yours
Plaque with your company name next to equipment
Sponsorship of 3 children open play 6 months
Grand opening tickets
BRONZE - $1500+
Ex: Indoor Soft Play
Wall recognition entrance
Logo in our website and link to yours
Plaque with your company name next to equipment
Sponsorship of 1 child for 6 months open play
Grand opening tickets
Please join us on this wonderful cause.   
Thank you and God bless!
Mark Faubert and LiYun Poventud-Faubert
Co-Founders
Sunsationall Kidz
2154 Central Fl Pkwy B2 Orlando, FL 32837
407-203-0303
Follow up on Facebook and Instagram at SunsationallKidzGym and preview client testimonials. 
Community partners have graciously offered to provide testimonials and references.
+ Read More