Save Kilimanjaro
$2,180
of $1.0M goal
Raised by
5
people in 9 months
Defending A World Treasure

A new report from the United Nations Programme says that the Mt. Kilimanjaro region is one of the most threatened ecosystems on earth. Its collapse will displace millions of people and contribute to the extinction of several endangered species, including elephants, lions and rhinos. The report bolsters our plan to promote reforestation, sustainable agriculture, forest conservation and wildlife conservation strategies to save this fragile region from collapse. We need your help.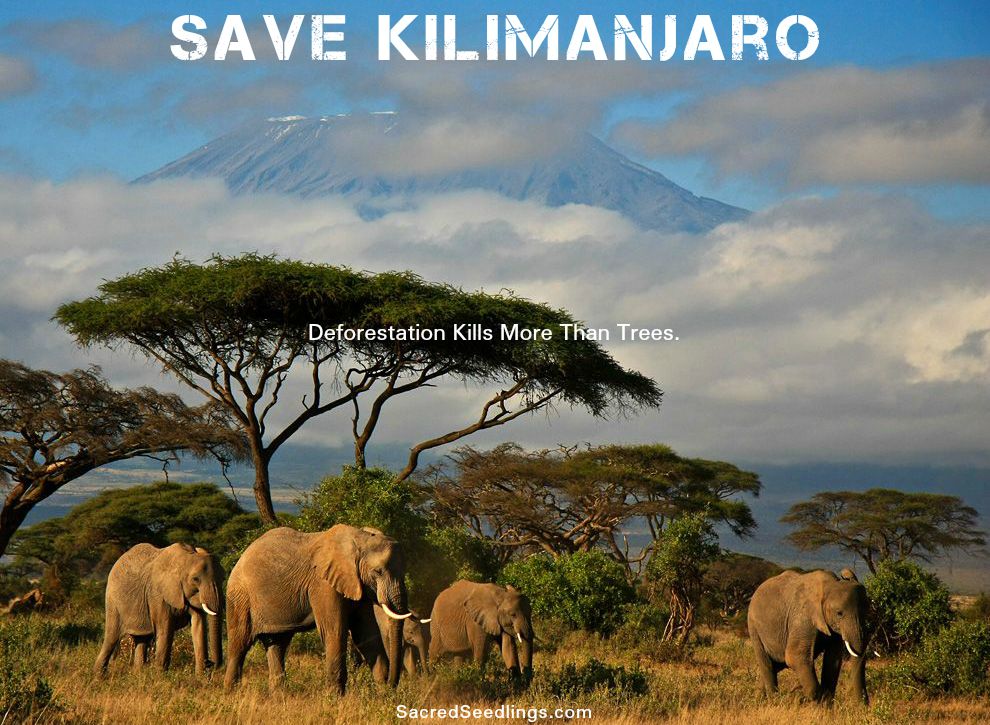 The UN report says that reforestation is one of the best ways to defend this vital region. We're taking an even more comprehensive approach that will enlist the support of thousands of local stakeholders.
"The damage done to these ecosystems is depriving people of the basic building blocks of life," said Erik Solheim, head of the UN Environment agency.
Mount Kilimanjaro, the highest mountain in Africa, is facing several problems, including shrinking glaciers, rampant wild fires and deforestation. As climate change intensifies, it is essential to stop the downward momentum.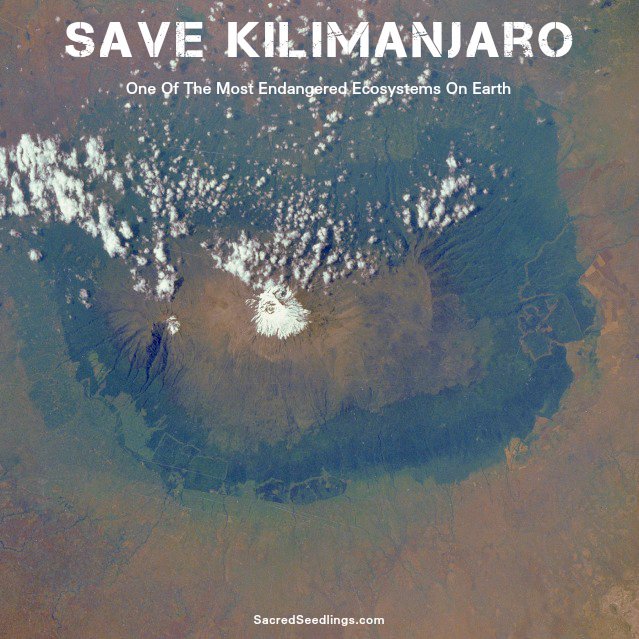 Leaders across East Africa asked us for help. They have comprehensive plans that can defend watersheds, biodiversity and the future of the region. The Tanzanian government supports the plan and has contributed three large plots of land for the nurseries. 
Ecosystems around the world are under assault like never before from deforestation, climate change and wildlife poaching. The collapse of any ecosystem impacts life around the world--especially when the ecosystem is an anchor in Africa's greenbelt. To defend this critical ecosystem, we need: 
1.
Volunteers
--desktop to mountaintop.
2.
Donors
and
Sponsors
.
3.
Ambassadors
. Please share this link with friends, family, media and companies via social media and email. Please ask your employer, suppliers and clients to contact us about sponsorship.

The Problem


The greater Kilimanjaro region of Tanzania and Kenya is one of the most threatened ecosystems on earth. Millions of people and several endangered species depend on this ecosystem for survival.
Tanzania has already lost more than half of its elephant population to poachers since 2007. They could be wiped out entirely in just a few more years. Deforestation is contributing to the threat because the loss of habitat brings humans and wildlife into more conflict over food, water and space.

The Solution
Stakeholders across East Africa have comprehensive plans that can defend the greater Kilimanjaro region. They plan to defend the ecosystem, biodiversity and the future of the region. This investment will benefit the entire planet, while preserving a world treasure. 
Our first project helps the
Mellowswan Foundation Africa-Tanzania
 defend the greater Kilimanjaro ecosystem. They will plant more than 10 million new seedlings, create local jobs, promote sustainable agriculture and wildlife conservation with multiple strategies.
They will start three large greenhouses and nurseries to produce the seedlings. Hundreds of local stakeholders will help plant and care for the trees. 
The seedlings are indigenous species that can help restore the integrity of the ecosystem, while helping sustain rural communities.
We will include an urban forestry program that will help street kids generate food and income. The urban canopy can help capture pollutants and water runoff, while making the cities more resilient and energy efficient.
Wildlife


In addition to the looming humanitarian crisis, conservationists are demanding more efforts to protect endangered species now. In a letter published July 27, 2016 in the journal BioScience, 43 wildlife conservationists warn that elephants, lions, rhinos, gorillas and many other species will become extinct without urgent intervention, which must include habitat conservation, community engagement and more. 
"We will soon be writing obituaries for species as they vanish from the planet," said authors from Wildlife Conservation Society, Zoological Society of London, Panthera and many others. Extinction is a slippery slope.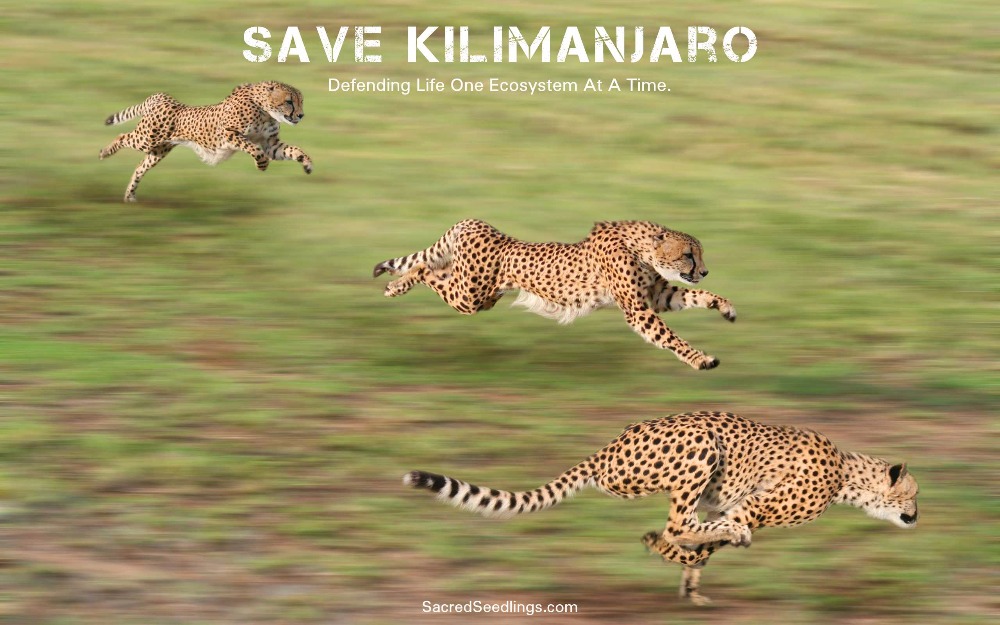 REWARDS
Donate

- Donate
$5
 or more and we will list you on our
website
. We will promote that dedicated page on social media The page will never come down.
- Donate 
$50
or more and earn an equal number of seedlings planted in the name of your choice (plus the benefits listed above).
- Donate 
$100
or more and we will place the name of your choice in a time capsule on Mt. Kilimanjaro. We will establish an opening ceremony 50 years from now (plus earn the benefits listed above).
- Donate  
$500
or more and earn a personalized digital postcard from local stakeholders. They will hold a sign thanking you with Mt. Kilimanjaro and/or wildlife in the background of your (plus earn the benefits listed above). 
- Donate 
$1,000
or more and earn a dedicated a memorial forest in the name of your choice. It will include a reforestation area with 1,000 trees. A family will adopt each memorial forest for care and harvesting. We will send the GPS coordinates to you when determined (plus earn the benefits listed above).

Sponsorship


Crossbow Communications (USA) is donating its time to help recruit and reward
sponsors.
They will help turn your support into a global showcase, while further positioning your organization as the leader in your industry. Consider developing cross-promotions and fundraisers to make a bigger impact.
-
Silver
: Invest 
$10,000
or more to become official sponsors of the "Save Kilimanjaro" program. We have graphics available for your use. We also will issue a media release in your relevant markets. We will help convert your investment into a global showcase and a branding opportunity.
-
Gold
: Invest 
$100,000
or more and have a greenhouse and nursery dedicated in your name with full recognition, including permanent signage, a dedication ceremony, media releases, posts, social media recognition and more. Top sponors can claim the carbon credits for the program.
-
Platinum
: Invest
$1 million
 and earn sponsorship exclusivity and all benefits listed above.
Please spread the word to corporations, associations and foundations. Please contact Gary Chandler at
Crossbow Communications
  for more details.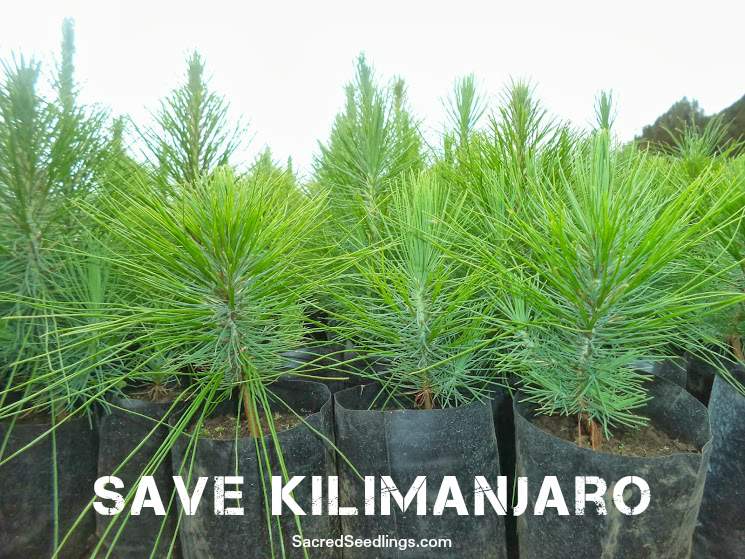 Timeline

We can start the first greenhouse and nursery within 60 days of earning the first $100,000. We will have the first wave of seedlings planted within 12-24 months. We will begin the community education programs across the region immediately.  
The Foundation will expand into Phase II upon completion. Phase II is a national economic development program similar to Phase I, but much larger (approved by The United Republic of Tanzania). We also will develop solar and wind projects.
About Mellowswan

Mellowswan Foundation Africa-Tanzania
 works with communities across Tanzania on health, environment and welfare issues. It offers research, investigation, health services and free medication to disadvantaged communities and community members. 
The Foundation is a registered nonprofit organization (ID No 84760). Meet our partners at Mellowswan via this quick
video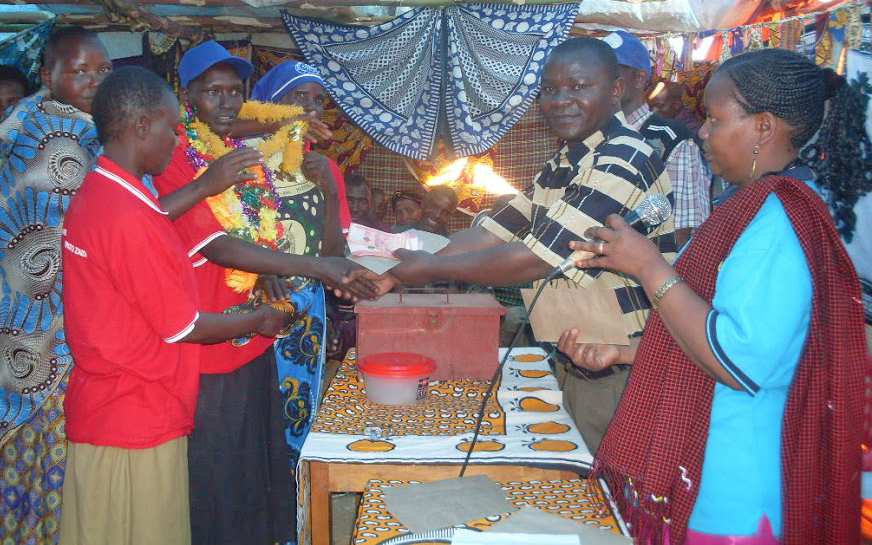 Sacred Seedlings
 is a global coalition of volunteers working to defend ecosystems and the planet for the benefit of future generations. We help local stakeholders around the world.

+ Read More
Be the first to leave a comment on this campaign.