Save Dave - My dad has Brain Cancer-GBM
$1,300
of $7,000 goal
Raised by
21
people in 36 months
     As some of you may know, my dad (Dave) went in to the ER at the beginning of Feb. 2014 for what he thought was a mini-stroke. A week and a half later and after multiple tests, he was diagnosed with the most aggressive and deadliest of the Glioma Brain Cancers called Glioblastoma Multiforme Grade 4 (GBM for short). We found out he was fighting for his life. Surgery was scheduled to take place 2 weeks later and on Feb. 27th the Neurosurgeon was able to remove 100% of the visible tumor.  Because of the tumor's location and the trauma from the surgery, my dad is now in a wheelchair.  The right side of his body (arm and leg) are basically useless. The doctors thought he would have more mobility by the 6 month mark.  He's at that mark now and reality is setting in. He is slightly more mobile than he was right after surgery, but worse than he was prior to surgery. He can take some steps, but he is very unstable on his feet and has fallen several times since the surgery. I'm not going to lie, It's a little scary to watch him get up and out of his chair.  He finished his initial 6 straight weeks of Chemo and Radiation and has been on a monthly Chemo schedule since May 2014 with MRI scans scheduled every 2 months to monitor any new tumor growth. Unfortunately, because of the aggressivenss of this type of Cancer, we have been told it will grow back and it's just a question of when.   

(Photo taken Feb. 28, 2014, 1 day after surgery)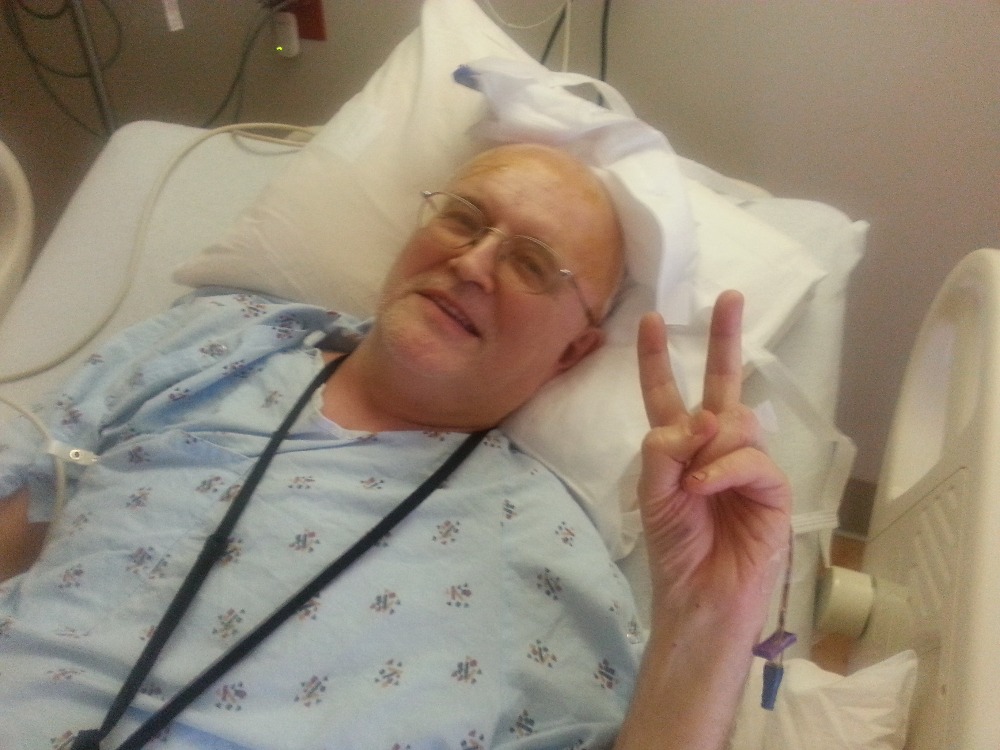 (Photo of Zach pushing my dad around in his wheelchair @ Rehab)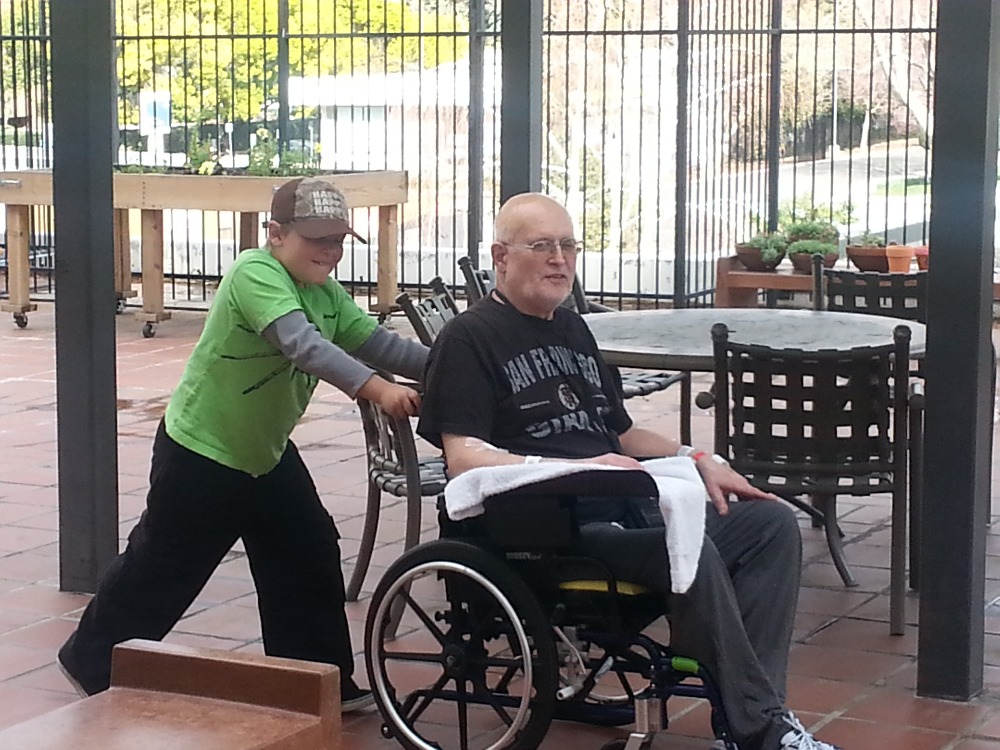 That said, my parents are dealing with a HUGE life change.  They live in a 2 story condo and the shower is upstairs so it's not ideal living conditions for someone in a wheelchair.  My brother Kevin and I thought that by setting up a fundraiser to help our parents pay for their large medical yearly maximum co-payment ($5,000) and the likelyhood that my mom will need to eventually hire private nurses to help her with my dad.
This has been so overwhelming for our family.  The medical bills and dad's upcoming medical needs should be the least of their worries during this diffucult time.  I'm sure their needs will surpass $7K, but this is a start and will at least help them pay their deductable and any other medical necessities that may come up. 

Any amount will help so please pass this on to any and all.

Thank you so, so much!  

Love,
Jen (daughter), Kevin (son), Steve (son-in-law), Tara (daughter in-law), Zach & Alex (Grandsons)

(Photo in Rehab - Kevin brought a D&D game and gamers to keep my dad's mind off of things for a few hours).


(Photo taken during my dad's first visit home since his surgery.  Dave's Grandson's sporting their new T-Shirts. "I wear Grey for my Grandpa" - March 16, 2014)

+ Read More
Help spread the word!
 91 total shares