Santa Cruz Connect 2019
$5,000
goal
Campaign created
2 months
ago
OUR VISION
To ensure every community member of Santa Cruz County receives equal access to care. To provide an opportunity for SCC to come together at these biannual events in a compassionate and supportive way, unique to the needs of our individuals and families.
OUR MISSION
To serve community members of Santa Cruz County in need of services and provider care all in one place, overcoming the very obstacles and access to quality of care that is often an issue in the progression and solutions for those in need (including, but not limited to homelessness).
"It's so exciting. I really love what happens here [at Connect events]. Lives change."
— Sylbia Blan, Santa Cruz Sentinel 
WHAT WE'VE ACHIEVED
For the past 10 years, we have connected thousands of individuals in our own community with services they need.
We have become part of the larger event-based community (Project Homeless Connect), which exists in 220 cities across three different countries.
Typical providers at these events offer legal services, bike repair, veterinary care, holistic health and wellness supplies, medical care, veteran resources, hygiene station and hair cuts, connection to local services for assisting community members with housing and food, and more.
WHY WE NEED YOUR SUPPORT
Imagine if each individual in SCC were to donate $5 to this day's event. That is several pairs of socks, a meal, or a few books to children in need. Imagine if each business in SCC were to donate $100 to this day's event. That would mean 10x more sleeping bags, clothing, and food handed out to each community member attending.
ADDITIONAL OPPORTUNITIES
Visit our website for press kit and additional information
here
.
Interested in volunteering for the event?
Sign up
here
!
PAST EVENT SUCCESS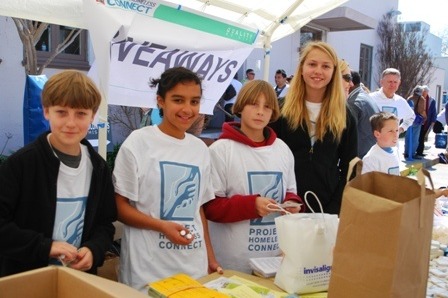 + Read More