Red Crescent Run
$22,318
of $20,000 goal
Raised by
367
people in 48 months
Hi, my name is Louis Mykoff. I'm running 125 miles, down the levee, from Baton Rouge to New Orleans to raise money for Team Gleason Initiative Foundation. Steve and his friends and family started Team Gleason to generate public awareness for ALS, raise funding to empower those with ALS to live a rewarding life, and ultimately find a cure. The Red Crescent Run will start on October 21st and end on October 26th, the night of the Saints' Sunday night football game. Last year we raised over $11,000, this year our goal is to raise $20,000 in support of Team Gleason. I would really appreciate any donation you can make to help me reach my goal.

Steve Gleason will always be remembered for his blocked punt on the night the New Orleans Superdome reopened for the first time after Hurricane Katrina—a defining moment for the city, the state, and the team that we love. Steve played for The New Orleans Saints from 2000-2008. In 2011, Steve was diagnosed with Amyotrophic Lateral Sclerosis (ALS), considered a terminal neuro-muscular disease. Steve is determined to inspire others by continuing to pursue life adventures despite his diagnosis, and has challenged the worlds of technology and science to identify their most promising developments toward new treatments and a cure. Steve, along with his friends and family, started Team Gleason to generate public awareness for ALS, raise funding to empower those with ALS to live a rewarding life, and ultimately find a cure.

Gleason's story inspired me, so I decided to do something kind of crazy, impactful, and important-- something that would make a difference in others' lives, and also something that would make me feel inspired and complete. I'm going to run the levee from the USS Kidd in Baton Rouge to the Superdome in New Orleans. The run will come out to around 125 miles over a 5 day span. Basically, a marathon a day.

When I heard about Steve Gleason's fight against ALS, along with many others, it really put my problems into perspective. Their fight inspired me, the way it has inspired countless others, to reconnect with my own motivation, determination and drive. Like them, I want to show that I can overcome my own struggles. I want to be a part of something that is bigger than just me. I want to show my family, friends, and anyone else who hears about my run that ordinary people can make a difference; that even the smallest contributions can go a long way. I want to remind myself and others that anything is possible with dedication, inspiration, love, and hope. Most of all, I want to join Team Gleason in helping find a cure for ALS.

Thank you so much for helping me reach my $20,000 goal in support of Team Gleason. Any amount you give will help me get there. Thank you for your support!

Links:

WBRZ coverage: http://www.wbrz.com/news/runner-finishes-125-mile-run-for-team-gleason/

WAFB coverage: http://www.wafb.com/story/23318838/runner-raising-funds-to-fight-als

JEFF DUNCAN, NOLA.COM | THE TIMES PICAYUNE:  http://videos.nola.com/times-picayune/2013/10/why_you_should_know_louis_myko.html
Drew Brees, Reggie Bush, and many others have shared our webpage with their friends! Please help and do the same!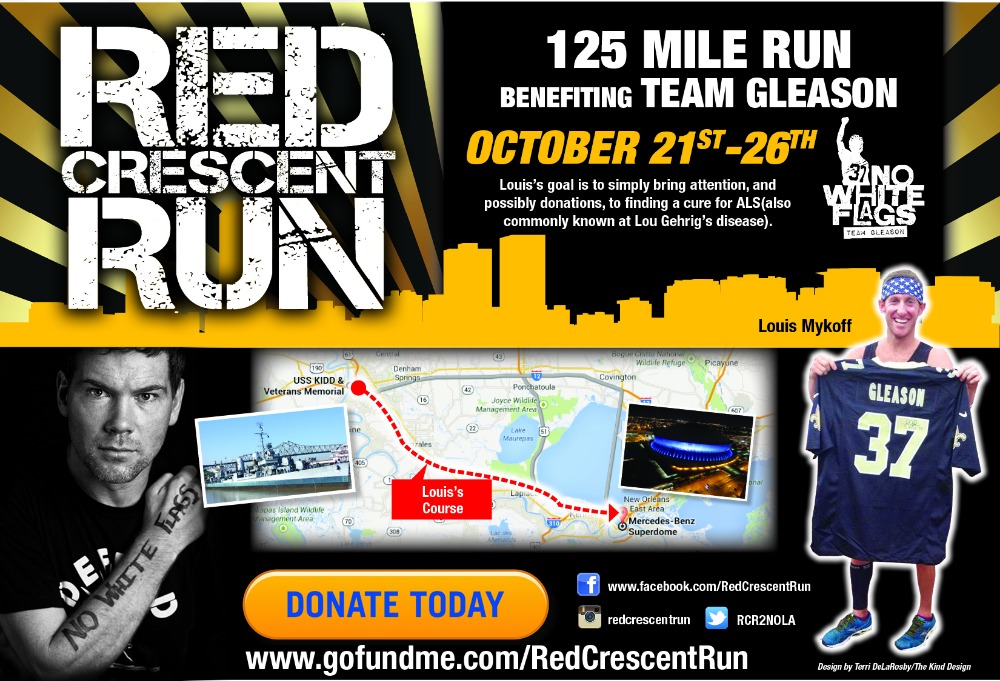 Pictures below are from last years run:



Just an increbile view while running down the levee.



The sun rising as I continue my journey.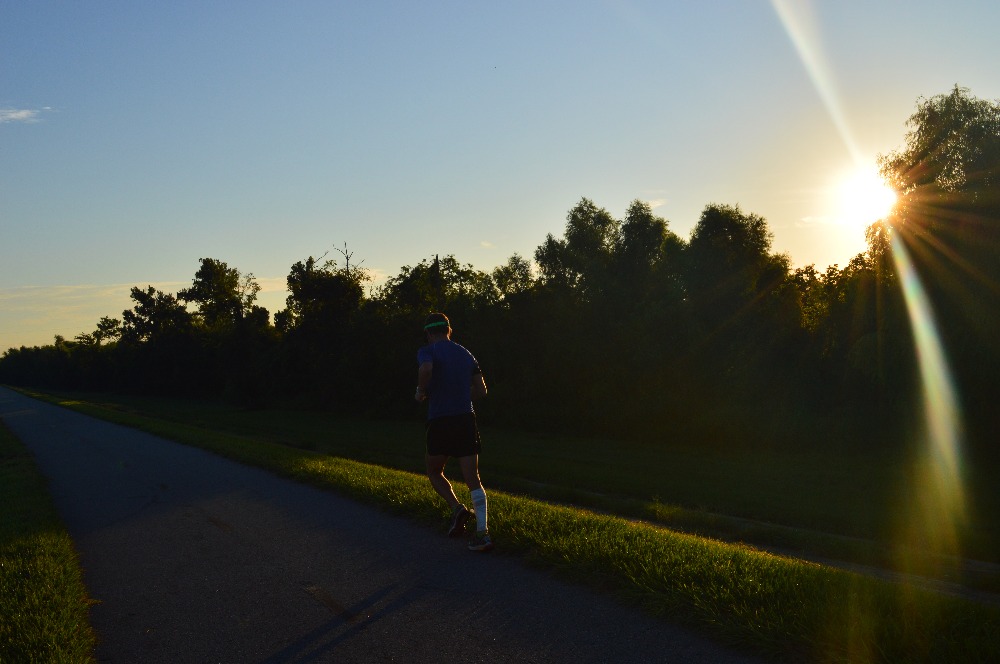 Making it despite some shin splints. 



Made it to St. Charles ave!



Finish! Standing by the inspiring "Rebirth" statue. Made in honor of Steve Gleason.

+ Read More