Repay Ray
$28,231
of $50,000 goal
Raised by
251
people in 29 months
#RepayRay  - The Official Campaign 
Some debts can never be repaid. This is the story of my hero, Sergeant Ray Jennings, an Iraq-war vet who was just freed after spending 11 years behind bars for a crime he didn't commit. I'm the law student who got him out, but he's the one who inspires me.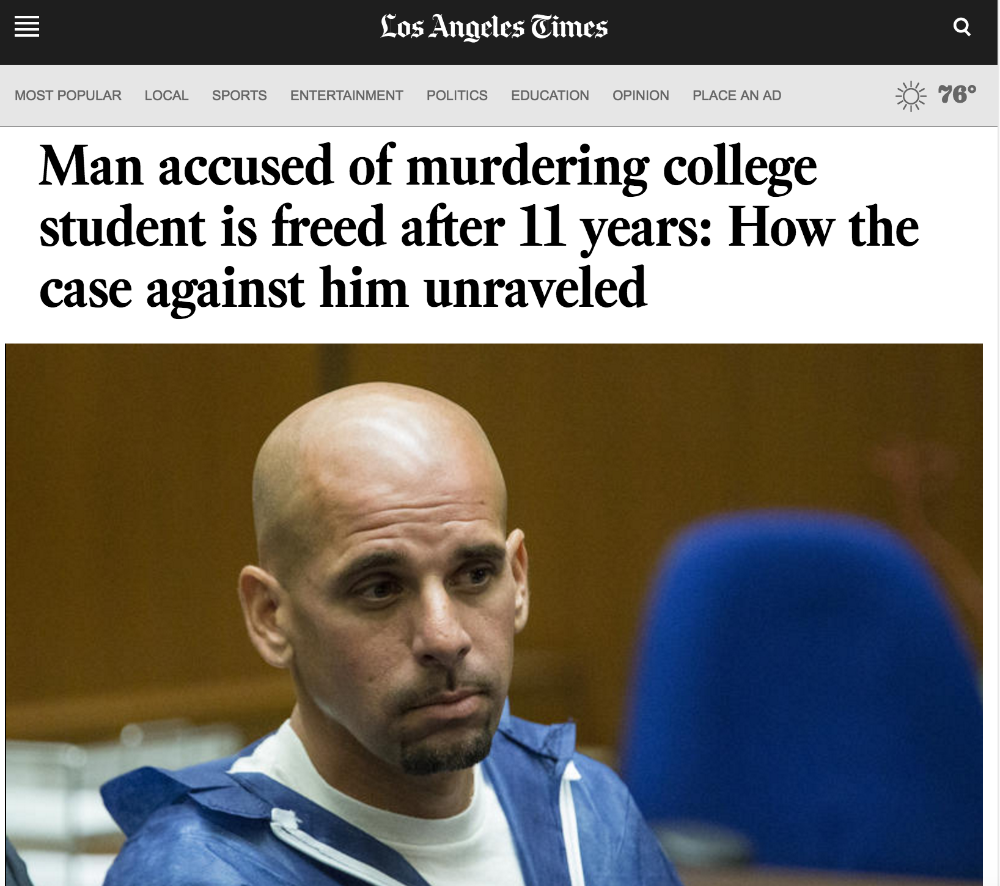 Ray joined the Army National Guard when he was 17. Over the next eight years, he got married and had four kids. While training to become a U.S. Marshal, Ray decided to support his family by working part-time as a security guard. That fateful choice cost him everything.

His second night on the job, while patrolling a dark parking lot, he heard gunfire and radioed for help. Four-hundred yards away, a beautiful 18-year-old college student had been murdered inside her parked car. 

None of the evidence pointed to Ray. There was no gunshot residue on his uniform, and another man's blood was found under the victim's fingernails. But detectives had no leads, so Ray became their scapegoat. 

They insisted he was the killer, but they couldn't arrest him because there was no evidence to support their theory. For five years, nothing changed. Ray's law-enforcement career was ruined by the false accusations, but he stayed in the National Guard and served a tour in Iraq. 



When he came home to visit his children, he was arrested at gunpoint and charged with first-degree murder. There was no new evidence. The prosecution had simply decided to roll the dice. 

At the first trial in downtown Los Angeles, the jury was unable to reach a verdict. The prosecution tried again, but the second jury was also unwilling to convict Ray. The court agreed to give the State one last chance — and moved the third trial back to the small community where the murder occurred. 

There was no way that Ray would get a fair trial. There were billboards of the victim along the roads, and more than 100 articles in local papers had portrayed Ray as a cold-blooded sociopath. The 12 jurors convicted Ray, then went to a candlelight vigil with the victim's parents. 

In court, Ray proclaimed his innocence before God. "I sit here as an innocent man, and this is one sin I will not be judged for." He turned to the victim's family and told them that, once the real killer was found, he would forgive them. Then the judge sentenced Ray to life in prison. 


A normal man would have lost hope. The California Supreme Court refused to hear Ray's case, so he sat behind bars while his children grew up without him. Two hour-long specials on national TV glorified the police and prosecutors who had put him behind bars.

But Ray Jennings is not a normal man. He always believed that his prayers would be answered, and justice would be served. And he was right. 

A year ago, I saw Ray's case on TV and became convinced that he was innocent. I approached my dad, and together we wrote a 34-page letter to the District Attorney's office explaining why Ray should be released from prison.

Last week, we won! The State stipulated that it no longer had faith in Ray's conviction, and agreed that he should be released. After 11 years behind bars, Ray was finally able to walk out of the courtroom a free man. 
 
Now he needs our help rebuilding his life. He was released onto the street without any money, so he is relying on the kindness of strangers to help him get back on his feet. Let's do everything we can to repay him for everything he has gone through! 

When Ray was imprisoned, he lost everything — including his career. If he'd been working instead of imprisoned, he would have earned almost $1 million for his family. Instead, he has not a dollar to his name. 

Right now, he needs to buy all the things we take for granted: clothes, shoes, food, a phone, a computer, a car, etc. In the long term, it's his dream to move back to North Carolina where he can buy a house to be with his five children and 71-year-old mother. 

The government has not agreed to give Ray any compensation for his time in prison. Other exonerated inmates have waited years and years without receiving any payments. Ray shouldn't have to wait another day before getting his life back. Society owes him more than we can ever repay. 



All the funds from this campaign will go directly to Ray to help him rebuild his life.  My father, Ray's attorney, donated all of his time and will not charge Ray any fees. All the money goes to Ray. Period. 
For more information on Ray's case, please visit our law firm's website at  www.EhrlichFirm.com
+ Read More