45
19
Polly's Artist Residency in NOLA!
$2,145
of $2,470 goal
Raised by
49
people in 13 months
Dear family, friends, fans,

I have been given an amazing opportunity to participate in an Artist Residency in New Orleans through the My Good Judy Foundation. 
I am extremely grateful, hopeful, and inspired by this invitation! 
I have created this page to tell you more about the residency and to ask for your financial support. 
Whether or not you are able to make a donation of any amount, I appreciate the encouragement and am thankful for the outpouring of positive, supportive energy I have been receiving already.
ARTIST RESIDENCY: The My Good Judy Foundation was created to honor the ongoing life work and legacy of poet/activist/foremother Judy Grahn.  The foundation offers a one-to-six week residency for artists, critical thinkers, poets, playwrights, and performers.  I will be in residency in the month of March!
Judy Grahn co-directed the two graduate programs through which I earned my degrees: a Master's degree in Women's Spirituality; and a Master's of Fine Arts in Creative Inquiry: Multidisciplinary Arts. 
Judy is the social theorist behind Metaformic Theory and the founding mother of Metaformic Consciousness, both of which have impacted and influenced my published writing, songs, ritual performance and visual art. 
Judy continues to inspire and build a better world and it is my honor to keep shining a light upon her work by finding new ways to situate myself within it.  Her  influence travels far and wide, having made cultural contributions through her lifelong poetry; writing; social theory; queer cultural studies; lesbian feminist activism; and women's spirituality. 
FINANCIAL SUPPORT: 
WHERE WILL YOUR $ DONATIONS BE GOING?

Here's the breakdown:
*$1500  towards paying a temporary employee & operating costs to keep Toko Imports going during my residency.  
As many of you know, the most important and beloved focus I've had for the past sixteen years is that of raising my daughter.  In addition, for the past three-and-a-half years I have been working six or seven days a week, between the combined running of
Toko Imports
and by continuing my contributions to the birth community through offering placenta encapsulation / postpartum support services. 
Toko manages to just skim by most of the year, and the winter months are particularly slow and challenging. While continuing to be a community hub and landmark experiential retail shop in downtown Ithaca, Toko has zero budget for employees and so I'm asking for financial support to hire someone temporarily and to help keep things running smoothly during my residency.
*$550 towards travel expenses to and from NOLA
both for myself (driving there and back) and for my daughter whom I'm hoping to fly down for the final days of my residency. 

*$300 towards art supplies
and cost of postcards printed with my art images, specific to the residency.

*$120 approximate fees associated with processing payments
for donations totally $2400.  (There is a 2.9% plus $0.30 per transaction fee for every donation made through GoFundMe for processing credit cards and safe transfer of funds)
THANK YOU SO MUCH FOR READING THIS AND CONSIDERING MAKING A DONATION TOWARDS MY ARTIST RESIDENCY IN NEW ORLEANS. 

Whether or not you can make a monetary donation, i appreciate your support!!


For those of you who can contribute, I'd like to offer a gift to every donor, no matter the dollar amount given. 
 If you'd like one of my creations
pictured below
, follow the donation reward links and let me know which one you'd like!  (if you $ donate a custom amount, you still get to choose one of these!)
------------------
*
Radwoman art
card w/ handwritten thank you 
*
Metaformic Economics
(my article)
*
Bledsung of the Placenta
:
Women's Blood Power at the Sacred Roots of Economics
(my chapter)
*The Declaration of Radwoman cd
(my first cd ©2006)
Radwoman art card
w/ handwritten thank you. (here are a few examples!)
Metaformic Economics,
my article published at Metaformia.org , edited by Anya De Marie ©2009
Bledsung of the Placenta: Women's Blood Power at the Sacred Roots of Economics
, Placenta Wit, edited by Nane Jordan, published by Demeter Press ©2017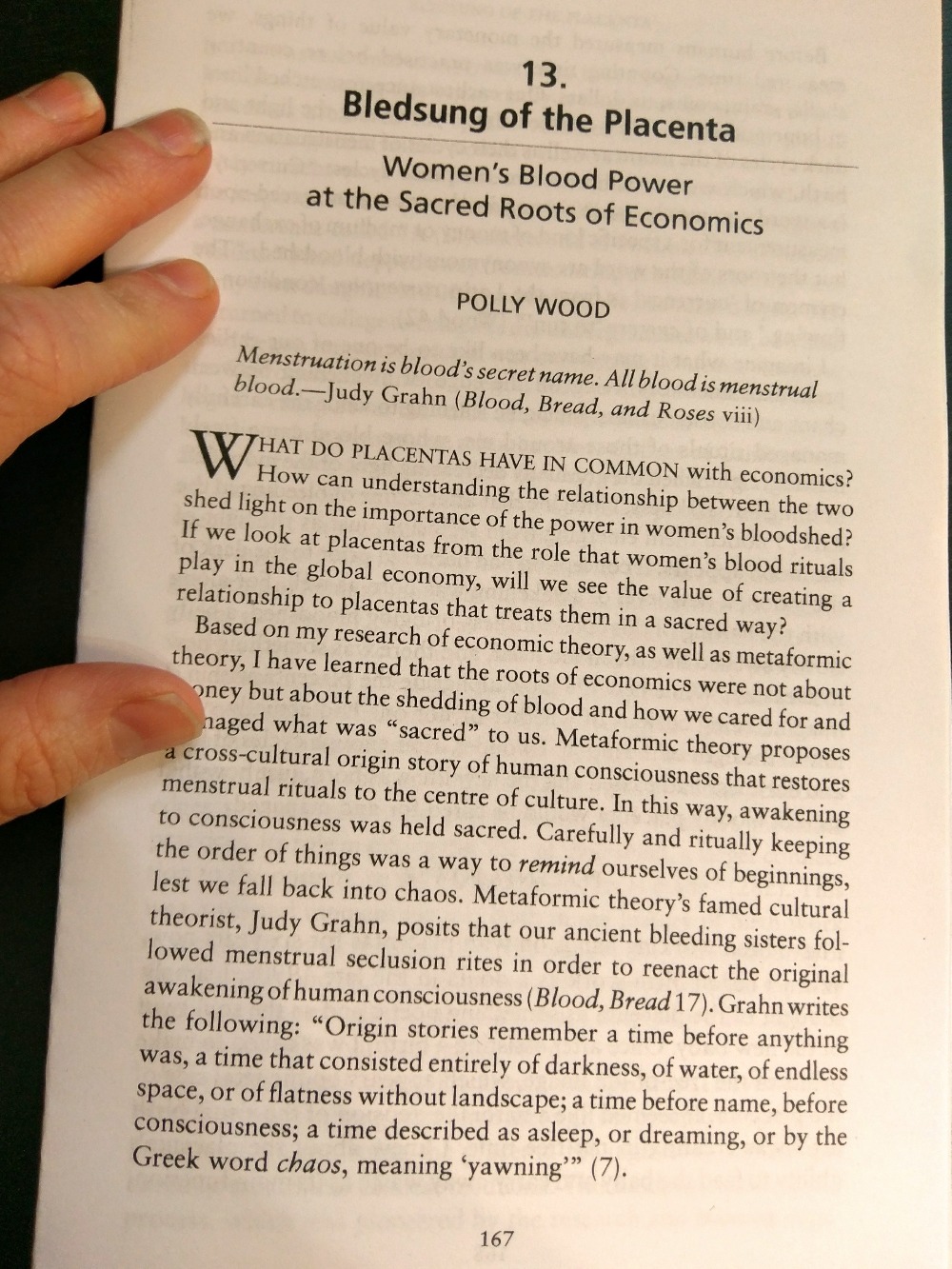 The Declaration of Radwoman
 (my first cd 2006)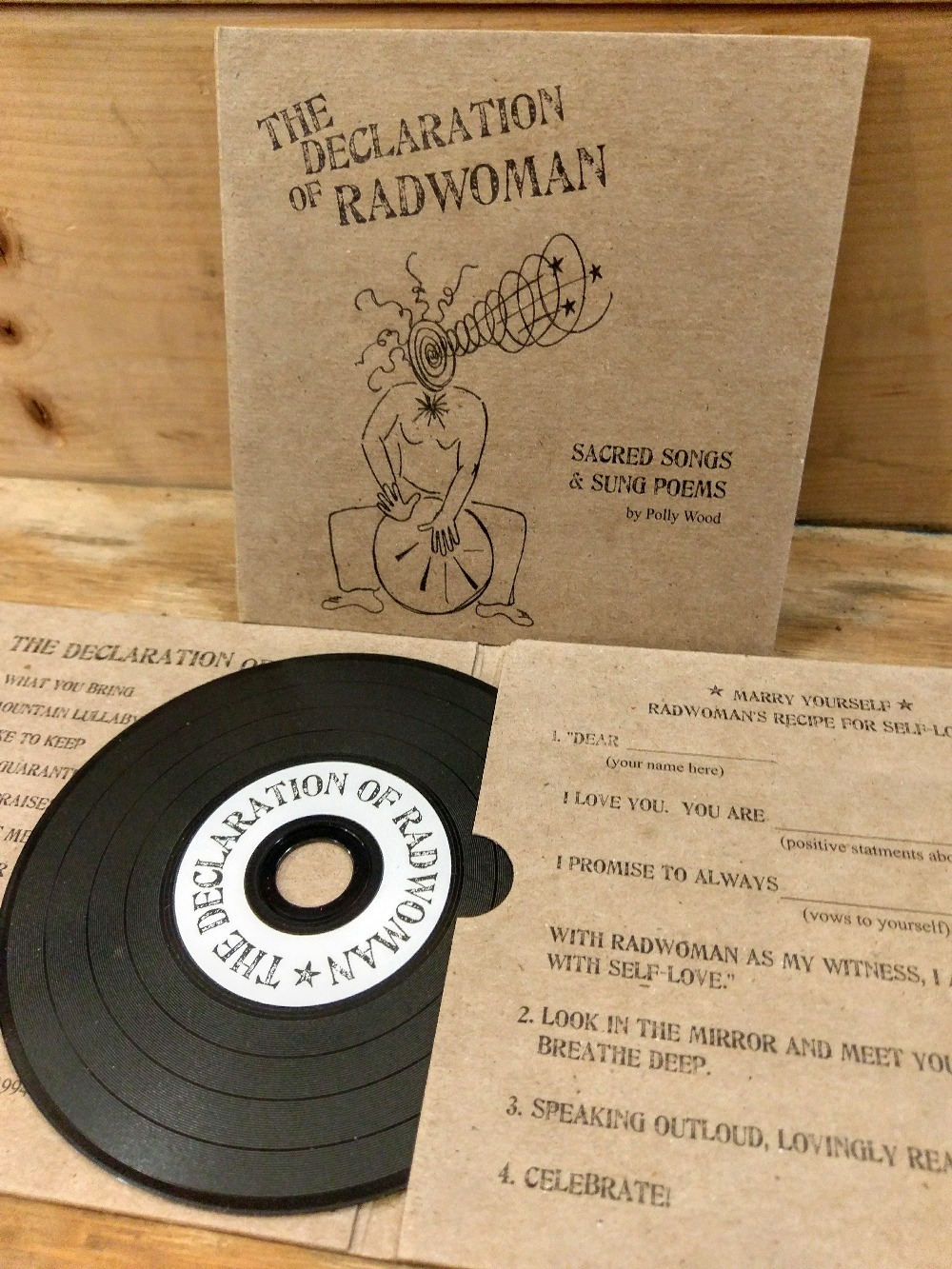 **If  you'd like to know more about the residency, read the mission of the My Good Judy Foundation **
To learn more about Judy Grahn, follow these links:
Judy's personal website:
Judy Grahn website 
or the wikipedia page:
Judy Grahn wikipedia 
**
For an introduction on Metaformic Theory and Metaformic Consciousness, her ya go!
Metaformic Theory wikipedia
Metaformia: a Journal of Menstruation & Culture
With love and appreciation,POLLY
Polly Wood ~ Soulful, Feminine Rhythm & Rhyme
http://www.pollywood.ws
http://www.radwoman.com
+ Read More