Speaking for the Animals
$100
of $30k goal
Raised by
8
people in 15 months
Hello and thanks so much for stopping by my page! My name is Roger from Kingston, Ontario and this fund raising campaign is for giving a voice to all our furry friends who cannot speak for themselves as well as providing a place on the web for pet owners to turn to for information pet owners need to properly care for their pets.
The dog in the picture above is Midnight (who has been with me since she was 5 weeks old). She and I originally come from Montreal, Quebec but we moved to Ottawa, Ontario in 2002 after both my parents passed away. We actually walked for four days to get there as the alternative was to send her by transport four days prior to me taking the train. I could not get a guarantee on the type of care she would get through that method so we walked.
In Ottawa I got a job as a computer technician which came to a sudden halt when I developed a severely crushed disc in my neck. Doctors in Ottawa told me that I should go to Kingston, Ontario because the best doctors are here and maybe they could repair the damage so I could start working again. So again Midnight and I hit the road and walked to Kingston (2004)  only to be told that there was nothing that could be done. Now I'm disabled and unable to work for the rest of my life.
Being used to having a $40K plus income a year I was now living on a disability income of less than $12K. After rent about 80% of the remaining amount went towards my dog's care. We lived at that level until 2014.
2014 was the year I had to euthanize Midnight. Two weeks after her twentieth birthday. She cried very hard to let me know she wanted to fight on. I couldn't sit there and watch her suffer. I stayed by her side til the end.
Why I Need to Raise Money
So why am I raising money? I made one promise to Midnight as sh was slipping away. I would give her a legacy. So to honor my promise I started a website called 
Pet Quest
for pet owners who wanted a place to go to get information that was essential to the health and welfare of their pets.
It is my goal to turn that site into a first-class online pet magazine that not only talks about social pet issues but is also a place to ge to get information specific to the breed of pet you own as well as to get the latest information relating to the medical conditions that can cause harm to our pets.
I know there are many sites out there that offer similar info but I have yet to find one that offers complete information to pet owners.
Right now 
Pet Quest
is a standard blog. But, hopefully, with your kind donations I can turn this into something that Midnight and all of us can be proud of.
I knew that running a web site would cost money. Just keeping it simple costs about $2000 to $3000 a year. To go where I want it to go cost at least 5 times that amount. That leaves money left over for something else I need to do as you will see below. Right now every penny I have left over goes right into maintaining the web site.
How the Money Will Be Used

The money will be used for two things: 1) to maintain the 
Pet Quest
web site, and 2) to give back to the Humane Society (more on this later).
To maintain 
Pet Quest
require a lot of processing resources. For this I need to purchase more processing power from my hosting company. This is an important first step because we get a lot of visitors and the web site is slowing down in speed and a slow web site means that visitors will not come back.
I also need to provide an offsite storage place to keep backups of my web site data on a regular basis. For a web site the most valuable asset they have is the data they provide. Without it there is no web site. So if there is ever a problem with the hosting company where they lose all of their data there has to be an alternative way to get the data back online and that is something that falls on me.
I also want to develop the site into a more dynamic site with a better look and feel than a blog site. I am not a programmer of the latest technology neede to accomplish this. However, I live in a city that has one of the best Universities in the world. I won't be hard to get them involved in using my site as a student project for one of their courses. For this though I would need to compensate those that do the programming and developmental work.
I also want to encourage people to submit articles and stories to be published on
Pet Quest
. If I can manage it I would like to have four submitted articles posted every week. In return for published stories I would like to offer the submitters a gift card from national pet shops (probably a $25 card).
Another part of this campaign is to make a donation to the Humane Society. The reason for this is that after I put Midnight to sleep I found myself in a deep depression. I was missing something in life. So I started looking for another furry companion within a few weeks.
I started looking online at local shelter adoption listings within a 500 mile radius of where I live. Found many dogs that were available for adoption. I made many applications to adopt only to be disappointed.
After about six weeks I went to my local Humane Society just to visit and perhaps take a few of the dogs for a walk around the compound. That's when I came across a sadly depressed 4 year old Australian Shepherd who seemed to have lost the will to live (I'll post his pic at the end). His name was Benjamin Franklin.
So I took Benji for a walk and he really didn't want to go.
After the walk I applied to adopt him because I didn't think he would survive much longer in the shelter. He was basically willing himself to die slowly. I also made it a point to call back to get updates on him and to go back a walk him a few more times.
On my next visit to see him he gave a little wag of his tail when he saw me. The bonding process has now started. I went back once more after he was neutered just to see him. A couple of days later I got the call to come and get him. That was December 23, 2014. He became the greatest Christmas present I had ever received.
It was during my visits to see Benjamin that I found out that the Humane has had to cut back on services because they have a hard time getting funding. Because I am so glad to have Benjamin and I believe in the great work they do part of the money raised will go back to the Humane Society so they can continue their great work with animals.
How Soon Do I Need the Funds

The answer to this quest is right away. This is also meant to be an ongoing campaign with a goal of $30,000. If more is raised then more will be available for supporting the Humane Society.
What This Means To Me
This means keeping a dying dog a promise I made to her. It also means keeping a promise I made to my newest furry companion in supporting the Humane Society. Failure to me is out of the question.
My Thanks in Advance
In conclusion I want to thank all the future supporters who will contribute. They will have my absolute gratitude as well as the gratitude of both Midnight and Benjamin.
Thank you for the time you have spent already just reading this.
And now here's Benjamin:
This one is taken at a Christian drop-in center that I take him to regularly because he brings happiness to the people there.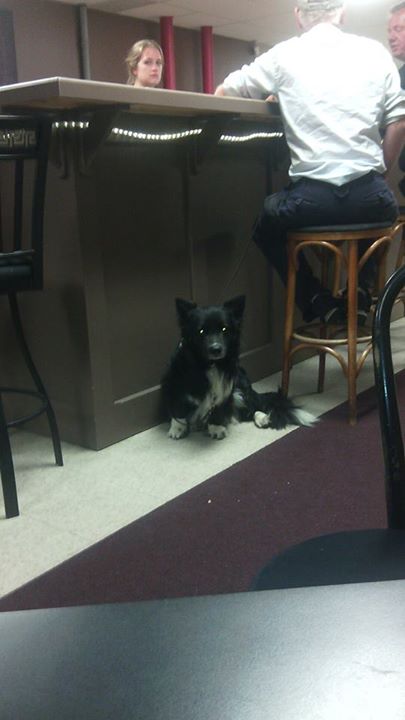 + Read More