Pay2Save - Make Liberia Heals Viral
$805
of $125,000 goal
Raised by
19
people in 26 months
#Pay2Save - Heal Liberia, Save the World!!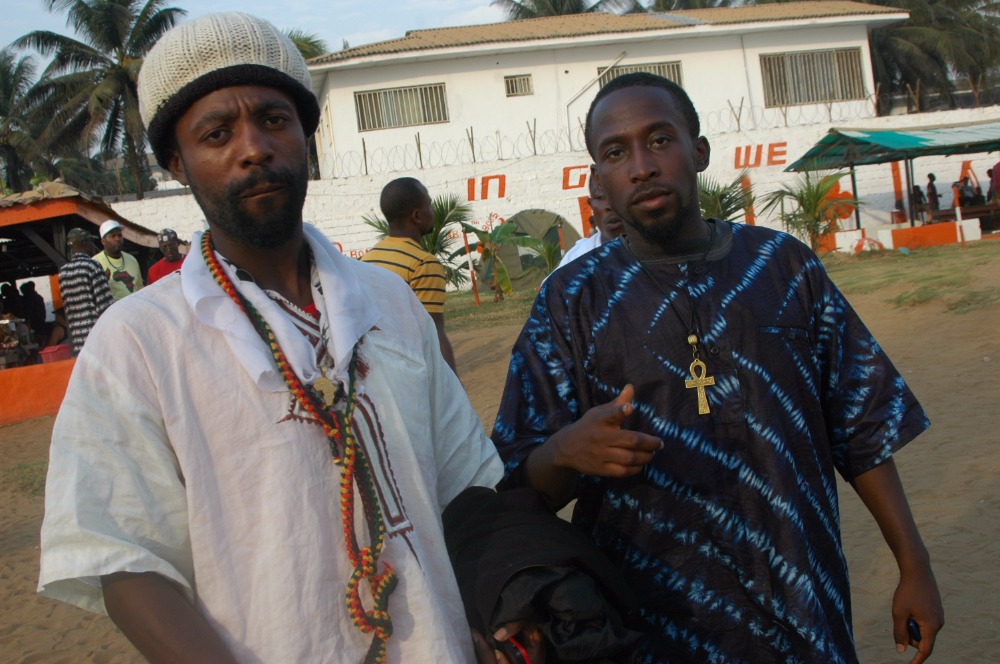 (Jauz & Putu at a Liberia Heals event in Liberia)
 
(Let's Raise $125,000 to construct the Liberia Heals Monument  & Sponsor Psycho-Social Healing Services, Host Liberia Heals Concerts/Events, & Sponsor the Liberia Heals KeepSake Memorial Book )

Contributions of atleast $15 Get Liberian Flag
(Or Any World Flag of Choice)

Contributions of atleast $25 Get "STWOST" Album

The "#Pay2Save Campaign" is designed to reward people who contribute at least $25 to humantarian efforts spearheaded by artist/activist Putu & his brother Jauz, with an exclusive Collector's Edition physical copy of his latest album, "Save the World, or Stop Trying?".  (Starting Feb. 1st  2017) One of the organizations these two brothers helped established and have worked through is called the "Liberia Heals Initiative". In order to get the attention of the masses of Liberians worldwide,  and have them join Liberia Heals in gathering the names of loved ones who died during the Civil Wars, & the Ebola Crisis for a National Memorial, a major marketing and promotional campaign is necessary.  The funds raised through this GoFundMe page will sponsor this marketing campaign for Liberia Heals and also provide the finances necessary for the construction of a National Healing Monument in Liberia.  While all contribution amounts are encouraged, no matter how large or small, those who contribute $25 or more will be rewarded via the #Pay2Save Campaign with an album. 

Background: Using Music to Create Awareness

 Almost 10 years ago, they were two promising rap artists who made a pact with each other to give up all their personal desires and ambitions in America, and to instead focus on helping people in their native homeland of Liberia, West Africa.  The nation, which at the time was just beginning to recover from civil war, was in dire need of motivated young minds eager to help rebuild. Ultimately, their willingness to aid the nation led to them founding a grassroots organization called "The Liberia Heals Initiative", along with two other concerned Liberian activists, Vee Ward & Franklin Bundoo in 2012.  As musicians, they (Putu & Jauz) took on the responsibilty of using their talents to draw attention and garner support for Liberia Heals projects.  Since then, they have worked tirelessly with meager resources and assistance from kind hearted individuals to spark a grassroots movement for Liberia Heals.  Now it is time to make the movement more visible to the mainstream public. With your help, this "Wake up Call" for Liberians will be heard loud and clear around the world. ( www.LiberiaHeals.org)

The Liberia Heals Wake Up Call

 The funds raised on this page are devoted to a $125,000 effort designed to complete the goals set forth in The Liberia Heals Initiative.  It will sponsor events across Liberia and throughout the Liberian Communities across America, finance the contsruction of a National Healing Monument, and in essence create awareness about the importance of healing the Liberian people post war & Ebola. These actions will create the platform for professional psychologists and counselors to provide consistent services that cater to those effected by the traumas of the past. With the success of this GoFundMe venture, all the promotional materials and equipments necessary to finance a project of this magnitude will be accounted for.  It is desired that with your help, by July 26th 2017 (Liberia's Independence Day), the funding goal will be acheived. Upon that success, the Liberia Heals Initiative will be able to move forward on their objectives. All Liberians and the entire world will expect to see Liberia Heals National Monument/Memorial & looking forward to the publishing a Book of Names to remember the people who died during the Liberian civil wars, and the Ebola Crisis.  Professional grief counselors and many people of all walks of life are ready on stand by to put to use the contributions provided to this campaign.
The world has seen Liberians suffer in pain and agony.

Now its time for the world see Liberians Heal!

In order for this project to be completed, Liberia Heals needs the participation of every living Liberian and help from friends of Liberia.
With your support, this worthy cause will set an example to the world body of nations and greater human family,  about how to reconcile .

If we are successful with this fundraiser Liberia, & the World will never be the same. (In a Good Way) Thank You!         
              
+ Read More
Update 2
25 months ago
Share
Day 24 Update! - Wednesday June 1st 2016

Greetings Everybody!!

It's been a lil while since I gave an update, but we been aggressively working to get this campaign some great exposure so that we can get our desired result!.. So far we have now raised $175 in about 3 weeks and we are very appreciative of that, but know that we have a long way to go! In the coming weeks/months we will be introducing new interesting strategies to get more attention, including giving people more insight about the behind the scenes of this movement... Please remember to spread the word... And OHH!! We have a major event planned for this month in Liberia.. Stay tuned!!... In the mean time, here is a mini throwback video of how we took the Liberia Heals movement to the RURAL interior region of Liberia.. An area where many say is overlooked when it comes to such initiatives.. Our plan is to touch EVERY region of Liberia.... LETS GO!!... Pay2Save!!!

Yours Truly,
PUTU
+ Read More
Update 1
26 months ago
Share
Day 1 Update - Monday, May 9th, 2016
Happy Mother's Day and Official Launching Date!

Greetings Everybody!!

I hope everybody had a wonderful Mother's Day Weekend! Whether you spent some precious time with your mother, or reflected on the great times you had with her while she was living, it is all nourishing to the soul! We had specifically chosen May 9th 2016 (the day after Mother's Day) as the official launching date for this campaign, and so it is appropriate for me to share this video with you. It is a song called "Mama, We Do" which is featured on my album. I encourage you to watch, and if possible even share the video with others. It is heartfelt dedication record to my dear mother who passed away during the beginning stages of The Liberia Heal Initiative. I recall moments sharing with her the optimism me and my brother had for the venture and how it was going to be a turning point along our tumultuous and challenging journey to help Liberia with limited resources. Unfortunately, she never lived to witness our first Liberia Heals event. Well, enough reading, take listen! For those of you who contribute to the #Pay2Save campaign you will be receiving the album with this song featured on it! Remember when you Pay2Save, you are supporting the movement behind the music! Let's Make Liberia Heals go Viral!

Thanks So Much!
Yours Truly,
Putu
+ Read More
Read a Previous Update
Be the first to leave a comment on this campaign.