Restoration of Norway Opera House -
$14,250
of $15,000 goal
Raised by
76
people in 38 months
http://advertiserdemocrat.com/70s-band-reunites-to-raise-money-for-norway-opera-house/
‌
http://advertiserdemocrat.com/creation-completed-reunites-to-save-opera-house/
http://m.sunjournal.com/news/oxford-hills/2015/08/24/creation-completed-reunites-save-opera-house/1753145
Our old Rock band, Creation Completed, comprised of Oxford Hills students Alan Bean, David Ryerson, Billy Holden, Karan Shaw Bracy, Rob Baker and Annie Somers, (and Andy Whitney who is in Korea and can't be here), is performing at a Street Dance in Norway Saturday, August 29th, to help raise money for restoration of the second and third floor of the Norway Maine Opera House.
The second floor is the Stage and Performance area, the third floor is the balcony that used to seat large audiences. Our band performed on this stage for dances back in the late 60's and 70's, Alan also performed on this stage from the time he was a child, and we all have a great love for this building. This gofundme is for anyone who might wish to donate to the restoration of the Opera House  by credit card,  it's secure, and we thought it would be best to offer. 
This gofundme is for the Opera House, our band is doing this for no profit. Helping the Opera House is something that we all care about. 
Historically, the stage and performance hall has always been used for many kinds of events: talent shows, plays, pageants, music, as well as important ceremonies, military, town meetings, graduations, inaugurations, and in the late 60's also became the Recreation Center where youth met to have fun, and where dances were held and movies were shown weekly.
Built in 1882 out of wood, the Opera House was rebuilt in 1894 in brick after the Great Fire in downtown Norway. As you may already know, the historic building suffered disrepair and neglect over the past more recent years during private ownership to the point where Maine Preservation listed it as one of Maine's Most Endangered Properties in 2003. A roof collapse, roof leaks, ruined roof trusses and partial brick wall failure threatened the stability of the entire structure. Thankfully, the Town of Norway took over ownership of the building through eminent domain before it could collapse and stabilized it with funding from a grant, yet much more repair is still needed.
The first floor and basement repair and renovation was completed in 2013. The store spaces on the first floor are now used and functioning again, which has been VERY important for Main Street. The 2nd and 3rd floors are still needing a 4 million dollar renovation. Much will come from grants, but 1.5 million must be raised locally and that needs everyone's help.
The Opera House is and always has been vital to Norway's Main Street and downtown. We are raising money to help restore the stage and performance hall so that it can be used and enjoyed again by everyone as it always was and should be, into the future. It is the center of Norway's historic district.  It may seem huge to accomplish, but every donation is a step in the repair and restoration process. Please help bring it back to functional use again! Every donation  helps!
200 dollars buys a chair for the Opera House balcony, this was approved recently!! A small plaque with your name engraved will either be mounted on the back of a chair or on a wall piece, in recognition of you donation.  It depends upon what kind of chairs the Opera House buys. 
If you live out of town now and can't make it to our Street Dance August 29th (which is No Admission and Free to everyone, but we hope for donations for the Opera House), you can contribute here on gofundme by credit card, or you can mail a check to:
Norway Maine Opera House
PO Box 271
Norway, Maine 04268
Please write 'Street Dance' on the memo part of the check so that we and the Opera House can keep track of donations.
And let your families and friends know how to donate too, let them know that the Opera House still needs a lot of help, please!
We will have Donation Containers at the Street Dance, too, so if you can't contribute now, don't worry- you can donate at the Street Dance on Saturday August 29th!  In case of rain, it will be held in the Grange Hall.
We all thank you very much for your help for the Opera House in advance~
we are glad to be part of this with you.
Sincerely, 
Alan, David, Billy, Karan, Rob & Annie
First photo: First Impression: Alan Bean, Karan Shaw Bracy and David Ryerson  look at the damage upon entering 2nd floor.
 Below is a photo of the metal and wood brace that takes up the entire performance hall, and reaches all the way beyond the third floor balcony up to the ceiling. You can see that the bracing has it's own ceiling for strength. It extends above that platform all the way to the Opera House ceiling. Huge. This is the condition of the Opera House today.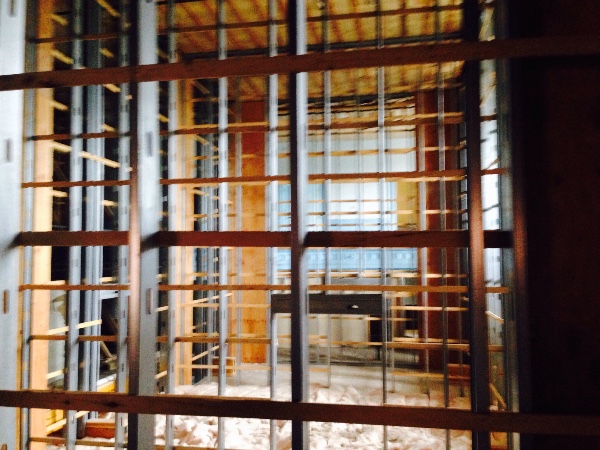 + Read More