Lenny's Leap of Faith
£42,901
of £45,000 goal
Raised by
503
people in 33 months
Lenny was born 6 weeks early and after a very traumatic start to life
At a year old Lenny wasn't reaching his physical milestones and his legs and arms were very tight and stiff.
After a brain scan and tests we were told Lenny had not been getting oxygen at some point in the birthing process and we were given the life changing diagnosis of Cerebral Palsy and we were absolutely devastated for him.
Lenny is now 5 years old, he is a happy bright beautiful cheeky little boy.
Lenny loves to read , swim and play football.
Lenny walks with a walking frame and to help his leg muscles relax enough to let him walk, as legs are extremely tight and stiff, he has Botox at Great Ormond Street hospital.  Lenny had his 3rd dose in November 2015.
The Botox lasts between 4/6 months depending on the individual.
When Lenny's Botox where's off he begins to lose his ability to walk in his walking frame as his legs scissor drastically, his calf muscles pull him onto his tip toes and his really tight hamstrings make straightening his legs very painfully.
It's heart braking to watch him struggle and lose his ability to walk in his frame.
Our only option to take away this stiffness (spasticity) permanently is to pay for the SDR operation as the NHS has stopped funding .
The operation itself costs £30,000.
The other £10,000. is for the year of intensive Physio Lenny will need after the operation.
Spasticity causes hip displacement, knee , ankle and foot deformation, the spine curves and arthritis develops in joints and it s so painfully as their bodies try to grow against their extremely tight muscles.
I would do anything to help Lenny avoid this in his life.
Please help us , every little helps.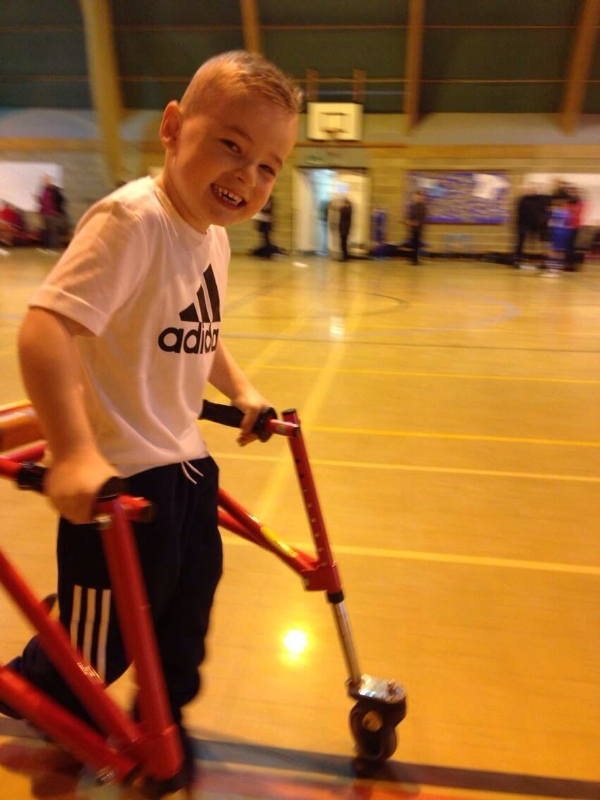 + Read More