LA Urban NDN Photo Project
$3,240
of $3,000 goal
Raised by
83
people in 44 months
We started - now we just need to finish - please give a donation to help us finish the first part of this project. :) (This is chapter one of a four part series).

This photo project LA Urban NDN will focus on urban American Indians living in Los Angeles, California, and will showcase images of tribal peoples coming together in the pan-Indian community of Los Angeles. The project is intended to counter stereotypical depictions of Indians as a relic of the past, dressed in buckskin and feathers -- the images that many Americans visualize when thinking about American Indians. (Additionally, this will be a timeline of when American Indian came to Los Angeles.)

My subjects (in which I have 8 at the moment) are tribal people from various tribal reservations and communities in the United States. Some are the offspring of families that relocated from tribal reservations elsewhere to Southern California under the Bureau of Indian Affairs' (BIA) relocation program during the late 1940s and the 1950s; others are individuals who moved to Los Angeles for personal reasons.

The "Relocation program" was an attempt by the United States government to Americanize Indigenous tribal communities in order to partition more tribal land. Some tribal people returned back to their homeland however, most stayed in Los Angeles where the pan-Indian community grew, and tribal members bonded and shared their tribal cultures with one another. Many young families participated in social gatherings where they shared stories, traditions and dances; they also bonded with others by participating in the urban pow-wow movement, and also connected with each other through American Indian social programs. Nonetheless - the tribal individuals connected with one another in an urban environment.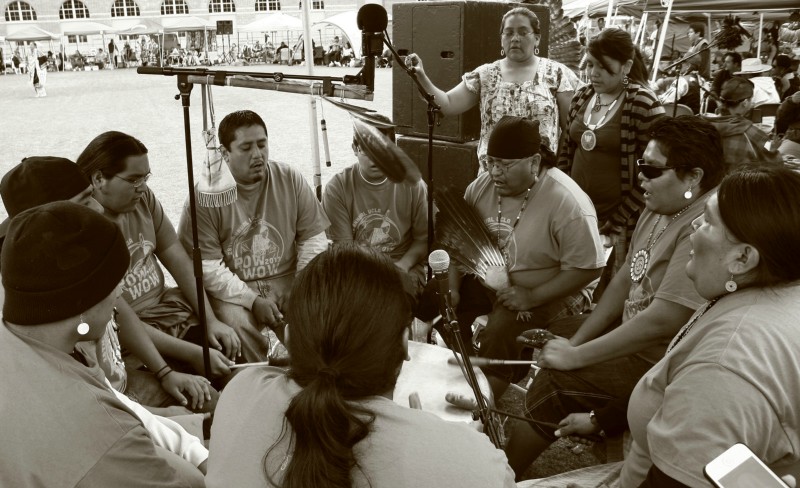 My reason for this project is because I came from the Navajo reservation and I've lived in Los Angeles now for over 20 years. I am also active in helping (and have worked) in the L.A. Urban tribal community and I want to bring a real voice and visual history to American Indians living in Los Angeles. (Additionally, I also learned that my parents were part of the U.S. Relocation program, yet they moved and lived in Oakland, California in the late 1950s and then moved back to the reservation in 1964. I was born on the Navajo reservation, yet I as a child I yearned to live in the city. Which is the reason why I'm here today.)

Now that I work and live in the mecca of Hollywood, I have viewed outrageous, inaccurate, and/or insulting images of American Indians as seen and portrayed through non-indigenous lenses. Because of this, I felt strongly for a need of more realistic and down-to-earth images of Native living in Los Angeles that reveal the truth of our existence from an Indigenous perspective.

My photography/film project will be taken in black & white where focus will be on the individuals within their contemporary environment -- living in urban Los Angeles where they still continue to retain cultural connections to their tribal communities. In addition, I will also video capture their experience and have them share their life which will expand into a large documentary project - in the future.

My photography/film project will highlight the vibrant lives of Indians in Los Angeles TODAY, counterposing the contemporary reality to historical caricatures such as Disney's Pocahontas and the "new" Tonto and that late images of Edward Curtis who showcased the dying culture of American Indians. From this project, I will help in dispelling the fantasy of the dying Indian that is so pervasive in all media today as even more recently with Kayne West's imagery of American Indians.

Funds will be use for a higher end camera rental (Full-Frame Canon 5D, Mark III) for both still and video production along with all necessary rentals of lights, lens, video photographer, and purchasing of a Compact Flash Memory Card. Additionally, the funds will also be used toward, permits, insurance, travel and printing expense needed to complete this project. I do have quite a few subjects, so for a day of shooting I do need to provide craft services and rent a meeting room. (which we did the first time around of our shooting schedule).

By your donation, you will help in the production to showcase a neorealist portrait of urban Indians from different nations continuing to keep tribal traditions alive in a city like Los Angeles.


This project will become a historical photography book and also a documentary of contemporary NDNs.

Ahéhee' (Thank you in Navajo)

Please visit my website:
www.tachiiniiphotography.com

My IMDb weblink:
http://www.imdb.com/


* All supporters will be recognized in the book, film and any other project that will highlight this historical project.
+ Read More
Update 1
Posted by Pamela Peters
40 months ago
Share
Thank you so much to everyone!

I was able to reach my goal! We just finished up the second session of photo and video production last week. I am very excited to share the final production with everyone "" it's turning out to be something amazing!!!

For those of you who haven't received your "thank you cards and gifts" I'll be sending them out this weekend. Again thank you for your support and generosity towards this project!

I am going to leave this campaign up and any additional donations will be used towards future cost toward the book (which actually is expensive and I'll also be seeking grants for) print and editing cost.

Again, thank you for your donation and support to make this project come to fruition!

Ahéhee'
+ Read More
I wish to help in any way I can to see your project published!
+ Read More
Please support Pamela Peters, a Dineh filmmaker, artist, photographer, in raising funds for her dream project. Every little bit will help her reach her goal. Let's all support our artists! Thanks!
+ Read More