1
1
1 person likes this update
Dear supporters,
We've worked together on this project since April 2014. Despite the international interest, we've only raised $2480 via GoFundMe and $150 at a comedy fundraiser last year. This has caused me to rethink our plan.
The house went from $500k to $329k since our campaign started. Due to this drop in cost, I have decided to change the fundraiser amount.
At this time, we are now only raising money to buy the property, with additional travel and promotional costs. A total of $338,850 (we subtracted the amount raised at last year's comedy fundraiser).
We are giving the project another year and a half to reach our campaign goal.
We will start a new fundraiser to pay for ADA modifications (construction and parking) and the youth center, after we've purchased the house.
We went to the house recently to make a better video. Keep checking back for updates.
Please follow us at
www.facebook.com/kurtcobainmuseum.
Sincerely,
Jaime Dunkle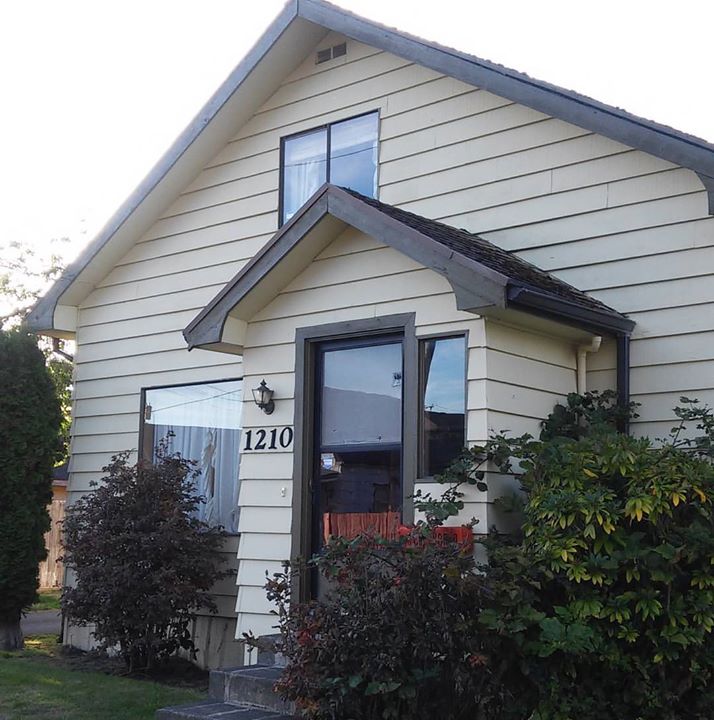 We want to turn Kurt Cobain's childhood home into a museum. 

We're making sure this house is memorialized by us fans so it doesn't end up in the clutches of capitalist greed. This museum will reflect the anti-commercialism spirit of Nirvana.

We only had a few minutes in the house to take video and photos. It's not edited, it's not fancy, but it's real. And that's how we want the house to remain. Ideally, it will contain actual donated items from his life. That part is still in negotiation. Right now we need to get the house to make sure it's preserved.

Update: We've decided to move the update posted by Amanda to this portion of the page, as it answers some of the questions we're repeatedly asked to address. So here you go:

"Donating to a campaign hoping to raise $700K might feel like throwing a quarter down a bottomless well.

$700K is a far cry from the $14.95 many scraped together in the early 90s to wander into a record store and buy Bleach, or Nevermind, or In Utero, on record or CD or tape. It was a big choice between what sounded better, and what could be played in a car. The best-loved tapes would have the white lettering worn down to nothing. By the time I retired my first copy of Nevermind, the tape bore only the letter N.

$700K = 46,822 CDs, or tapes, or records. I probably don't need to say Nirvana sold way more than this. Suddenly this sum doesn't seem so daunting.

The "why are we doing this?" I'll leave to Jaime. At the center or any nonprofit or would-be nonprofit is a dreamer with the unique ability to convince others to do things. That's Jaime to a T; otherwise, I wouldn't be writing this. For over ten years now I've been a grantwriter for food, and an author for passion. I know that if I end any meeting with an executive director or a would-be executive director with the notion that the idea I just heard sounds impossible, it's probably what I'm going to do next. In each instance where the meeting ended and the work began, what needed to happen did. And that's how it starts: with an unfulfilled need, and the passion to fill it.

On the surface it's easy to cast this as an abandoned home in Aberdeen sold at an inflated price on account of a former resident, and a family that either wants money or needs it. When I think museum, I think of things preserved under glass and hanging on walls that you can't touch or taste, and that for some reason you pay to see. Nirvana will be inducted into the Rock and Roll Hall of Fame on April 10. They're already in the EMP Museum. These are museums. This is the childhood home of an alt musician who never escaped the 90s. Just living in the Pacific Northwest leaves you trapped in that fashion, right on down to the junkies shooting up in doorways and a homeless population that builds shantytowns alongside riverbeds. The whole region offers up an inherent inescapable bleakness. Why preserve under glass what oozes and molds everywhere?

Then Jaime confessed the time and energy she's already invested in giving a pipe dream smoke. Meeting with fire officials to determine potential hazards and safety issues. Meeting with city officials to measure zoning issues and potential obstacles to completion. Meeting with contractors donating their services in-kind to let her know what she'd be facing in terms of construction and repairs to the roof. These folks outlined ADA requirements, and she realized she'd have to also buy the house next door to Kurt Cobain's in order to carve out sufficient parking and not be a burden to neighbors. The second home she envisions as a safe space for area youth who might like more information about music, or about heroin addiction and suicide, or just some place to summon the sort of new ideas that inform fanzines, bands, performance art. It's zoned for inspiration and activation.

What's $700K actually looks like is a museum, a youth center, parking, taxes, a lawyer who can negotiate the sale, acquisition of nonprofit status for tax exemption (and the lawyer required for that), and renovation so an indoor rainstorm doesn't become a reality.

Nonprofit status also means that the financial habits of the museum will be public record, allowing anyone to check in and see how money is being spent, and to demonstrate that any funds raised (through earned income or donations) are directly reinvested. It also makes the museum eligible for grants and donations that will make it easier to sustain over the long term.

To keep people motivated, we've set some initial benchmarks, the first of which is $5,000. GoFundMe is not like other sites "" you can use the money as it arrives, and take as much time as you need. With $5,000 a lawyer can be hired to speed up negotiations with the house's realtor. Should the price come down in a way that lowers the overall total, we will lower the amount of funds needed on this website. We will also lower the total amount of funds needed should donations arrive in other forms of payment. Please contact kurtcobainmuseum@gmail.com for more information about this.

If you don't have money (and many of us have little to spare) there are other ways you can help. You can share the fund with your social networks. You can send us your fan-created art for celebratory display on this page. You can send us your stories and testimonials about the influence his music and life have had on yours. You can donate a year of webhosting service to help us get a museum wordpress site going. If you're a lawyer with knowledge or expertise in nonprofits, you can be our best friend forever. You can send us your zines (we like zines). You can also donate your coffee to our bellies, because no one is going to be sleeping any time soon.

All this will allow Kurt Cobain's adolescent house to be used as a home, for his fans, by his fans.

There's no place I can think of that is just for fans. That most of his fans understand the magic of adolescence, when the first big ideas bloom and get etched out and plinked out on instruments you can barely play, when magazines are cut into pieces with the realization that in looking through the pages, you never see yourself. And I think that if I were Kurt Cobain, I'd want my legacy to be more ideas cooked by younger minds that observe their presence missing from the mainstream, and who have an active desire to alter how we understand art, music, life.

This weekend, consider donating $20 for the 20 years since his death, or however many dollars for the years you've been alive, to help ensure that 20 years from now his childhood home will have a reputation as a hive for creativity. That creativity is his legacy. Not tabloid fodder and tragic death." -Amanda

Please check our donation levels below. We are working out other rewards. Thank you for your support!
What is GoFundMe?

Fundraising made easy >>
CONTACT
LINK
POSTER
REPORT