Kramer Family Fire Relief Fund
$3,952
of $10,000 goal
Raised by
43
people in 50 months
UPDATE:
Thank You!
The loss of our home has been a painful and exhausting experience that has forever changed our lives.  The beautiful truth behind that change is not the loss of property, but our rejuvenated faith in the human spirit.  The generous outpouring of love and support has taken us from a state of devestation, to one of true appreciation and awe.  To our family, friends, and community, we thank you all with our whole hearts.
While we plan to keep this fund open soley as a reminder of your gracious outpouring of support, we kindly ask anyone still looking to donate to direct your continued generousity towards your local community and its volunteer Fire Department and First Responders.  These organizations are an undoubtable and ever vigilant asset to our rural communities and they deserve our continued support.
With Deepest Gratitude,
The Kramer Family
Original:
As a personal friend of the Kramer Family, I was saddened by the recent news they had experienced a fire completely destroying their family home. If you know Chris & Teri Kramer, you already know the kind, caring and generous people they have been to our area community over the years. You have experienced the countless times they have helped support community fundraising efforts for local Veteran Groups, Law Enforcement, Emergency Response Organizations and so many others both personally and through their business, Kramer's Guns.   Personally, they have been like a second set of parents to me and as I suspect, many others over the years.
Below is a statement made by the Kramer family and as is their very nature, moments after their loss, felt the need to selflessly focus not on theirselves but on our community's first responders and emergency agencies. This is a true testament to the caliber of friends and neighbors we so proudly call them.
So it is with a kind heart that I ask members of our community who are so inclined to stand with me in an effort to help them out in their devastating time of need.
Funds will be given directly to the Kramer Family as needed and all unused funds will be forwarded to a local cause or organization of the family's choosing.
I would like to thank each of you for your time reviewing this fund and may God bless our friends in their time of need.
                                                                               -  Ryan Sondgeroth
Kramer Family Statement:
On behalf of the Kramer family, I want to express our sincerest gratitude for the outpouring of prayers, generosity, and love after we lost our home of 28 years to an electrical fire. Although tears have been shed and possessions destroyed, the most important thing in this world remains intact, our family. Pictures can burn, but our memories cannot. The house is nearly gone, but our friends have not moved an inch.
It can be difficult to stay positive during such a devastating event, but when the people that mean everything are safe, then nothing was truly lost.
We thank the brave firefighters, from eight local departments, that fought to control the fire in such a challenging environment, along with medical responders and police officers. They worked tirelessly for over 7 hours, saving irreplaceable objects like my Grandfather's WWII American burial flag. My parents, Chris and Teri, have always been active supporters of local emergency departments, as well as our veterans. Now, it has become personal. These public servants, these people we grew up with, these dear friends are selfless and truly caring individuals that deserve all the praise and accolades they receive. Their extraordinary efforts and genuinely sympathetic actions do not go unrecognized and we are proud to trust them with our safety and well-being.
It is in these times of despair that our community, friends, and family have once again shown their true colors. The sheer number of people offering a hand, a place to stay, food, and so much more, is overwhelming and deeply appreciated. We are so grateful to have such caring and generous people in our lives and we thank you all from the bottom of our hearts.
With Deepest Gratitude,
Rick Kramer (son) and the Kramer Family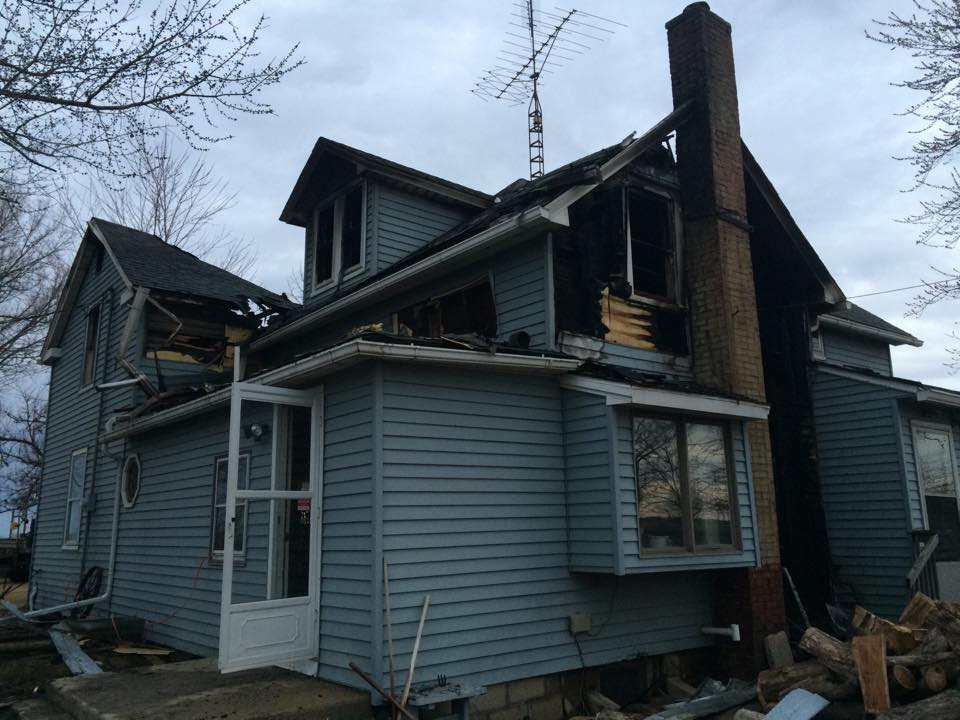 + Read More