Ki$$es for Kristie
$1,597
of $5,000 goal
Raised by
37
people in 48 months
About 10-15 years ago my Aunt Kristie was diagnosed with Multiple Sclerosis, when she actually only had been bit by a little tick... but unfortunately contracted Lymes Disease.
Aunt Kristie was misdiagnosed and mis-medicated for almost five years as she watched her life slowly slip away.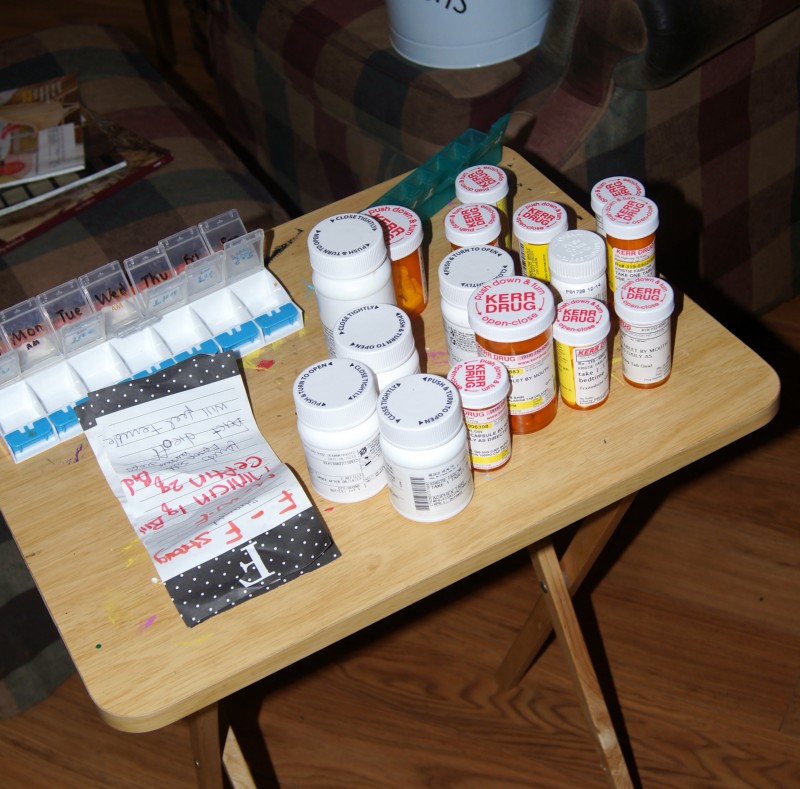 *her daily medicine
Kristies condition has continued to worsen and due to her misdiagnose, her body is past the point of responding to the "normal" medicines given to Lymes patient. She is beginning to loose cognitive function and she is now wheel chair bound. She agonizes in pain just when someone touches her arm. I have never really been so closely involved with a chronic illness like this, but Lymes disease seems absolutely miserable. She is constantly aching in pain and can no longer do any of her art because it hurts her fingers too much.
She has been through some of the worst things, I think, anyone should ever go through. She is my idol. She is my inspiration and I want to do something to help.
But a few weeks ago we got a little bit of good news! The Jemsek Speciality Clinic, in DC, focuses on Lymes disease patients and making the rest of their life more comfortable and worth living.
http://www.jemsekspecialty.com/
Kristie and my mom, Kim, traveled to the clinic and they committed Krisite to their patient database!! She is thrilled to be able to work with these incredible doctors. They have already given her some lotion she calls the "magic cream," which takes away her pain whenever she rubs in on! How cool!
BUT this is the part where I want to help...
Working with the clinic is very expensive--the gas from Chapel Hill to DC, the hotel stays, the medicine, etc. Aunt Krisite cant afford her Lymes bills anymore, after already loosing her job, so I wanted to try and help.
WHAT IS KI$$ES FOR KRISTIE??
By creating this webpage, posting flyers, selling homemade crafts, and other things I am going to try and raise as much money as I can to help make the rest of Aunt Krisitie's life the best it can be and educate the public about the devestating effects of Lyme Disease, especially if it goes untreated. This website advocates for education, prevention and shares the heartbreaking story of Kristie's journey. Kristie was once a healthy horsewoman who competed nationally and won numerous awards for her horsemanship. Today, she is is confined to a wheelchair, has failing hearing and eyesight, can no longer drive a car and, because of the sever brain damage caused by the disease, often forgets the name of family members. This is where your money can come in a variety of different uses!
(
http://www.lymemd.org/
).
I think that one of the worst feelings in the world would be knowing your imminent death. My Aunt inspires me to take every day as it may be your last... as cliche as it sounds. I think it is my turn to show her how good life can be in these last few months of her life. I want to make all of her dreams come true ultimately showing and proving to her her life was worth living-- as of now i feel like she doesn't believe it was
+ Read More
Be the first to leave a comment on this campaign.