Help Us Help Them
$14,890
of $23,000 goal
Raised by
61
people in 19 months
My four children and I are embarking on an opportunity of a lifetime-- one year working with the 92 children at Mukhanyo Christian Academy, in South Africa.  We need your help. 

MCA provides uniforms thanks to donors. 
The goal of this mission is to develop a computer lab for the students and to develop a hydroponic garden or expand the existing  garden to use as a teaching opportunity so that  the children will develop additional skills to help them support  themselves and their families. The future lab has already acquired some laptops and has verbal commitments for more laptops, a 3d printer and coding/programming software. The teachers, as well as the students, will be receiving instruction.  The lab will then serve to attract "paying" students which will help the school become more self supporting, as well as greatly enhancing the workforce skills of the students. The school wishes  to add grade 7 the following year and additional grades each year through high school.
The school is located in KwaMhlanga, South Africa in the Mpumalanga Province, and for many of the children it is the only quality education available to them in this impoverished region. The school is run by a dedicated team of local teachers and supported by the The  
Friends of Mukhanyo,
a nonprofit based in Durham, NC. The school currently serves 92 students grades R(K)-6 and provides a Christian based curriculum through qualified and loving teachers. Two warm meals a day are served along with a never ending supply of hugs, songs, prayers and laughter to these beautiful children. Most  of these children are directly affected by HIV, either by having lost at least one parent, being infected themselves or in the case of several, both. 

Selfie!!!
A group of 14 people, from a variety of churches here in North Carolina, had the opportunity to spend 10 days at the school this past March and as one of them, I knew that I had to get back soon and help. The happy smiles of the children have done more to teach me about the love and hope of God than any experience so far. Your help in this important mission will go a long way toward improving the quality of life of these wonderful and loving children through education.  The percentage of people here living in extreme poverty is roughly 50%. Although I haven't yet verified this fact, I have also read that four out of five black children will not graduate from high school. For more facts about the dismal state of education in South Africa read the June 3, 2010, article in
The Economist
, " Last in Class."
These children deserve a chance at a better future. Please donate and please spread the word through your church, civic organizations and friends. 
About us:
My children are Pearl , 20, Isabella, 16, Samuel, 14 and Aidan 14. They each bring their own unique talent and heart to this trip.  The girls both have lots of experience in theater, voice, music  and art and look forward to working with the children in those areas and in teaching English.  The boys will be helping in teaching English and  the technology area and we will all be gardening.  My background is in nonprofits, currently as the Director of a hands-on children's science center, where we recently opened a regional Science, Technology, Engineering, and Math lab in North Carolina . Prior to that, I was  the founder of a community gardening project. Our plan is to depart in  mid to late July.  We will know more as the kid's passports and tickets fall into place.  We will be providing updates for you through  this site and then for those who provide contact information through  
Friends of Mukhanyo
‌, we will provide updates via social media and good old fashion snail mail.
Detailed budgets will be coming soon on our Facebook page, "Help Us Help Them. " Thank you for reading this far and for any support you may offer through prayers, donations or by sharing our work with others.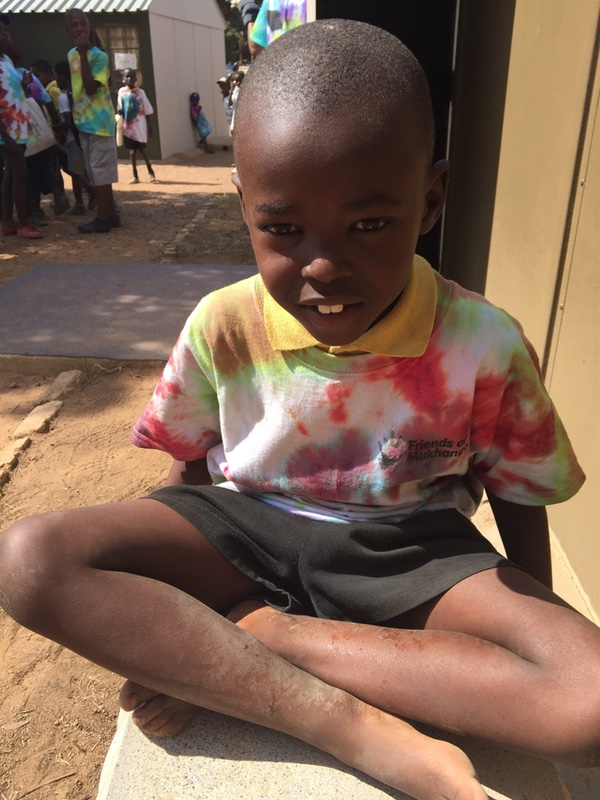 Keorapetse. Grade 3. He wants to be a pilot.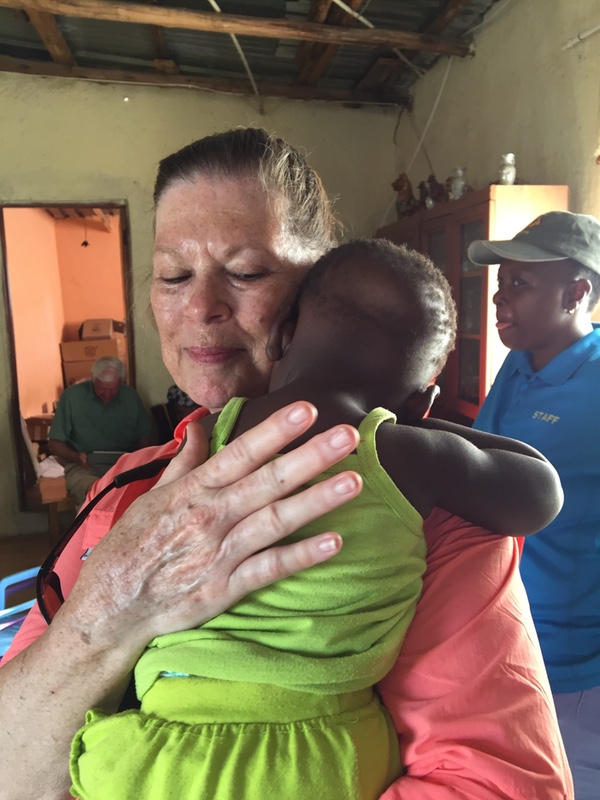 Donna visiting with a local family

Writing letters to new American pen pals. The children all had exceptional handwriting!

Getting water from the central tap to wash hands in the class room before lunch.
+ Read More