See that adorable little bambino in the picture? That's my son. When I became pregnant for him I became very conscious about what I was putting on my body and face. Turns out all of those oils and creams I was slathering on were full of harmful chemicals, and those chemicals can cause infertility, fetal problems, disrupt hormones, disrupt endocrine activity, cause eczema and rashes, and some of them are even made from crude oil! Gross. Nothing pretty about that.
Knowing that the skin is our largest organ and absorbs all of those horrible ingredients, I had to make a change. But being the skincare junkie that I am, I was underwhelmed by the options that the natural skincare market had to offer. They were either too hippie-ish, too expensive, or ineffective. I searched high and low for something sleek, with great packaging, at a decent price point. When I didn't find what I was looking for, I started making my own products to use, and doing loads of research, and that eventually that led to starting my own skincare company.
Jules and Esther will be a full line of products for women, men, and babies, and is in the latter stages of production and should be launching in September of this year. Using only the best in natural, vegan, and organic ingredients, it is highly effective yet healthy skincare for the whole family. The initial launch will be 12 unisex products with men and baby lines to follow. I've funded everything myself thus far using money from my full-time job and freelance work, but I'm still falling slightly short of what I need to launch. I've worked hard my whole life (usually two or three jobs at a time, even while in college!) and I'm trying to make my dream come true while helping others at the same time, by offering a better skincare option from the mass produced and chemical laden lines.
Thanks for your consideration in helping launch Jules and Esther!
Our products:
The initial launch will have 12 unisex products:
-A foaming face wash with aloe and gotu kola
-A chamomile and lavender infused milk cleanser
-An oil cleanser with jojoba and tamanu
-A retinol treatment
-A Ph balancing moisturizer
-An AHA cream
-A wrinkle cream with avocado and helichrysum
-A Vitamin C and cucumber eye gel
-Also working on an oil serum (seaberry, rose hip, tamanu) and some hydrosols
Here is our logo, designed by the very talented Nicole LaFave of Design Womb: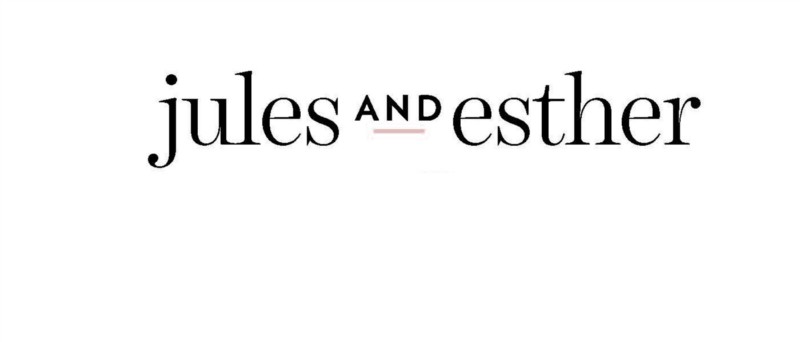 Packaging is in the works!
I'm in the midst of building our website (
www.julesandesther.com
) but only the framework until I can get the packaging finished and photos done. Getting so close to the finish line!