Jenson's fight
£3,777
of £10,000 goal
Raised by
115
people in 32 months
Jenson James Edwards is just like any other three year old boy, full of fun, life, adventure and mischief. He has such a cheeky and extremely loveable nature that you cannot help but fall in love with him straight away. The only difference with Jenson is that he has been diagnosed with Duchenne muscular dystrophy.
Duchenne muscular dystrophy is a muscle wasting condition that results in premature death. The death age can very from any where in there teens to early thirty's. Cause of death is normally Cardiac and/or respiratory failure. If that's not bad enough before this Jenson will have to suffer muscle failure in all muscles in the body, starting from the age he is now just three years old. In almost all cases children by the age of ten will be wheelchair bound. Shortly followed by all other muscle failure from his eyelids right down to his toes. There is no cure for this awful condition so we as parents will have to watch our beautiful boy deteriorate year on year before finally having to lay him to rest at such a young age.
We as parents cannot describe the heart ache and pain this has brought upon us. It's been nearly two months since Jenson was diagnosed yet it has not gotten much easier to come to terms with. We don't think we will ever be able to fully come to terms with it but we hope we will learn to cope with it better. We have had to greave for the life we once had for Jenson but now live in hope. Hope that one day they find a cure to this awful condition.
This fundraising page is solely set up to help Jenson make memories. It will also help towards special equipment he is going to need in the near future. In a nut shell everything raised here will be spent on making Jenson life that little bit easier and more  enjoyable through this tough battle he has to fight.
Would just like to thank each and everyone who has taken the time to stop and read this. We are currently working on setting up a web page for Jenson, on that web page we tend to start raising money for Musclur dystrophy Uk.  We have lots of great fundraising events up and coming so please watch this space. 
Thanks again and we hope to have things more in place very soon!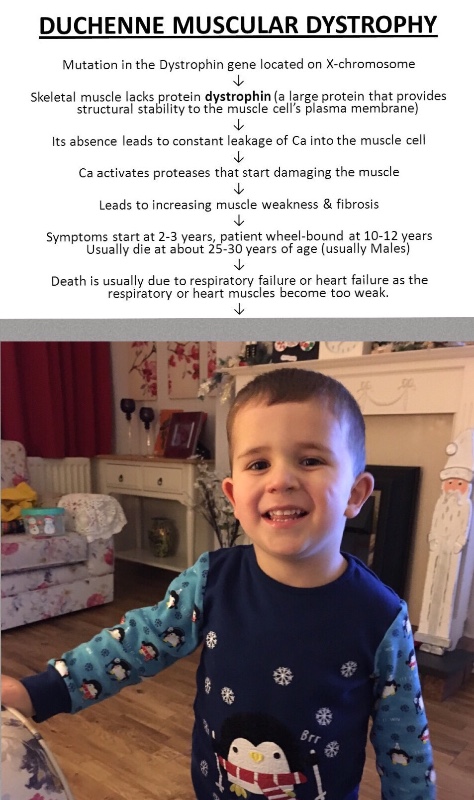 + Read More
Kelly Williams
28 months ago
Can I help by raising awareness by way of a story in the Daily Post? I've sent you a friend request on FB if you want to speak to me.
+ Read More
I really hope a cure will soon be found to help your beautiful son.xx
+ Read More