Jaws the cat- broken jaw
$6,080
of $8,000 goal
Raised by
177
people in 39 months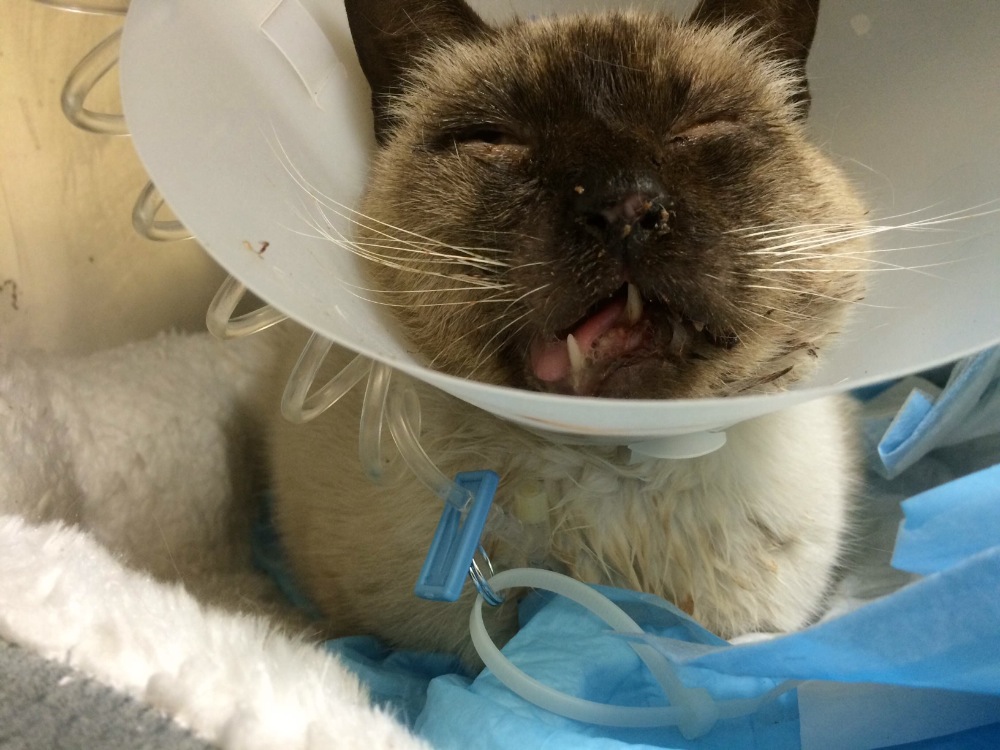 Hi everyone!   
I am asking for help so we can fix this poor guy.  
I am advocating for this stray cat we named "Jaws."   He was found in Elizabeth NJ under a good Samaritans car who brought him into our hospital.  
The person who found him didn't know if he had an owner but brought hi in because he was in pretty bad shape.   Before I even opened up the carrier to see if he was potentially friendly or had to be sedated, I smelled an infected mouth, it was a matter of finding out why.  Upon his physical exam, I determined he was very dehydrated, had crusted up nose and eyes.   He also had a pretty banged up face.   The left side of his lower jaw is fractured in I feel 3 places along with a fracture where the right and left lower jaw meet up in the front, causing a malocclusion where he can not close his mouth, he is wanting to but unable to eat, and his lower left canine tooth is poking into his soft palate.   Despite all these injuries, he immediately started purring and rubbing his head when he was being touched.  
I am very suspicious of abuse such as getting his face bashed in with a baseball bat or something along those lines since he also had a bullet on his X-rays in his tail region.  He was at some point someone's cat---  he is a purebred Siamese, neutered male, and very social.   
He has been stabilized and put on antibiotics; IV fluids, pain meds and anti-inflammatories at the hospital.   He needs much more than that; he needs major jaw surgery and all the help he can get.   I referred his case to a dental specialist who is meeting up with him and the Good Samaritan tomorrow afternoon.   I am hoping that he can fix the jaw by wiring it back together or taking the lower left half of the mouth out (mandibulectomy), possibly a feeding tube, cleaning and removing infected/broken teeth and stabilizing him after the surgery.   For a specialist to do the surgery, he quoted me about $1500-4000 just for the repair, depending on the extent of the injuries, how it was repaired and then plus hospitalized stay and medications.   Please help this Good Samaritan out for she did not expect this kind of damage for this little guy.   I did not want him to go to the shelter waiting for an owner for a few reasons.   One, when I called, they told me no one reported a lost Siamese cat, and two, they told me that if he was in any medical pain, that they would not hold him the 7 days and he would be euthanized.   This woman really wants to help him, but is feeling overwhelmed for the incurred costs associated with him needing the surgery and needs you all!!    Share his story and let's get him this surgery he needs to be happy, pain free, and able to eat!!!    Any donation would be appreciated, even if it's sharing his story.
+ Read More