Ghana's Orphan Project
$105
of $10,000 goal
Raised by
2
people in 43 months
Mission, Vision, & Values
Our mission is to connect African Muslim children with their forever families in the World using an ethical process that will bring about an improved life for those orphans who may have a tree bark for dinner.
Salaam Services works toward a day when Africa is without orphans; who face death each day of their lives. Most of the orphans die each day from malaria; because there is no medicine or medical facilities to help them survive the day.
At Salaam Services we believe that having solid ethics is essential, our clients (parents) are our partners, and communication is critical.
We also assist those who are in need of economical assistance, i.e. food, clothing, financial, medical and other community needs. Our assistance extends from the USA to Africa, Indonesia, Malaysia, Mexico, and other parts of the world.
More Information
As Salaamu Alaikum.
We are attempting to assist the orphans of Ghana through our feeding and medical projects. We need the help of the world community to give donations so we can reach our goal to build a decent orphanage to care for these orphans and establish a medical center for them to obtain treatment for malaria and other ailments.
The orphans in Ghana are extremely hard pressed for help. The over-all condition of Ghana is pitiful; half the time there is no electricity and the sewer system there is a ditch in front of each house, where a pipe from the house runs into the ditch. These conditions causes mosquitos to build up and mosquitos are the main cause of the malaria epidemic in Africa.
We have been offered land to build on, and build an orphanage, and we are reaching out to the World community to give us a helping hand in building this Orphanage and give these kids a chance at life. Anything you can contribute to this will be a blessings.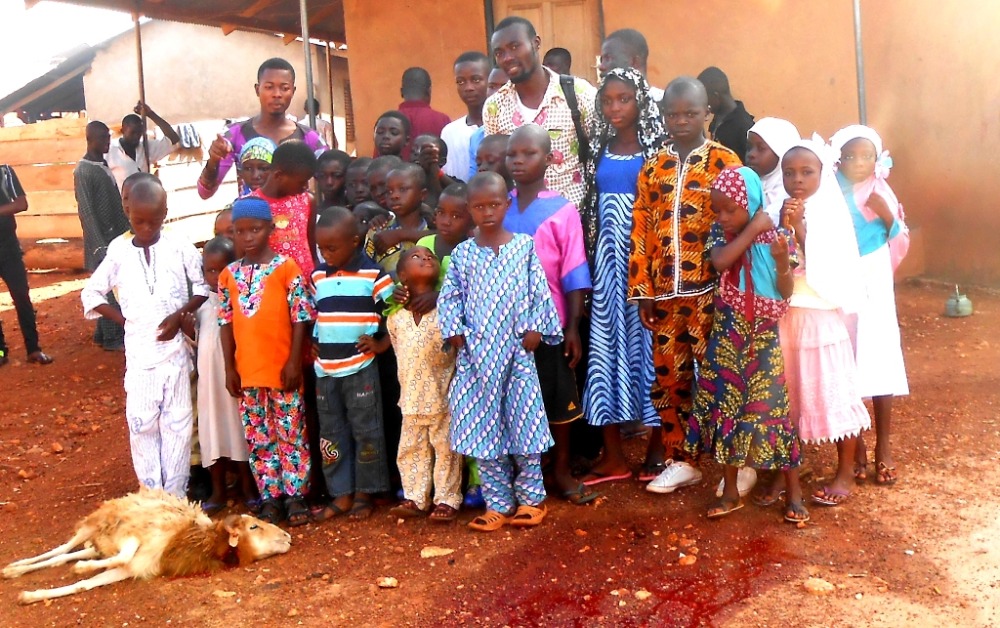 Salaam Ul-Muslimiyn sacrifices a goat to feed the children of Yadome, Ghana.
One goat will feed many of the orphans of Yadome; this goat was from the $50 donation of a Muslim family. Just imagine how many orphans will eat because of this $50 donation.
This village gave the land for an orphanage and medical clinic to be built on now all we need is the funds to build and stock; will you help an orphan today? Give!
Contact Us
(USA Contact Faris Abdul-Matiyn, President)
+ Read More
Be the first to leave a comment on this campaign.