Team Jason Kickin' Cancer's Butt!
$18,859
of $50,000 goal
Raised by
142
people in 32 months
On February 8th, my healthy 11-year-old son, Jason, woke up with puffy eyes.  No other symptoms.  So I watched it for a few days.  When he returned from a weekend with his Dad, his eyes were still puffy.  Still no other symptoms.  He went to school, I went to work, but I called the pediatrician and we were seen the same day.  It was Tuesday, February 16th.  When the doctor examined Jason, his liver and spleen felt swollen to her, so she sent us for blood work to rule out an infection. Those labs were drawn on Wednesday morning. Jason went to school when they were done.  His eyes were still puffy, but he was otherwise still feeling fine. Unfortunately, the lab failed to process the tests "stat" as ordered by our pediatrician, so, for expediency, she arranged for us to have labs drawn by her colleagues in the medical suite next to hers on Thursday afternoon.  And, as it happened, Jason woke up that morning feeling tired and achy, so he had stayed home from school.  By the time we arrived at office of the Pediatric Specialists of Virginia Center for Pediatric Cancer and Blood Disorders, Jason was so tired that he curled up on the exam table.  He slept through the labwork and the hour-long wait for the news that would follow:  his test results suggested a problem with his bone marrow.  They had a room waiting for us already on the 10th floor of new Children's Hospital -- the pediatric oncology floor -- and Jason was scheduled for a bone marrow biopsy the following morning, nothing to eat or to drink after midnight.  We were an hour from home, I had one wiped-out kid, and only my purse and our coats in hand, and we were headed to the hospital for an overnight stay.  Just 24 hours later our lives changed forever as we sat in a tiny consultation room with a doctor we just met and heard the words "Burkitt's Leukemia, Burkitt's Lymphoma."  Jason was just down the hall, and he was no longer just a tired, puffy-eyed kid, he was now in excruciating pain.  And it was CANCER.
Burkitt's grows that fast -- in a matter of days.  Jason endured hours of painful scans throughout the night that first Friday night and, as soon as he was through, he went straight into surgery to have a central line (port) installed in his chest and a spinal tap that included his first dose of chemotherapy.  That first admission lasted 16 days.  He has since been readmitted for chemotherapy or its side effects four more times; in the last 57 days, we've only spent 16 nights at home.
Aggressive cancer requires aggressive treatment, and it's been hard.  Really, really hard.  But it IS working and Jason's prognosis is good.  He is going to beat this thing and life is going to get back to "normal," just not fast enough for any of us, which is why we're reaching out.  We have another four to six months of treatment, intense treatment that will continue to require frequent and lengthy hospitalizations.  We are fortunate to have good health insurance, but my company abruptly stopped paying me a month ago so on top of worrying about the kids, we are now worried about how to pay the mounting bills.  Your donations will be used for just that -- to pay our out-of-pocket medical and living expenses until I am able to return to work.  Money raised in excess of what we need during this time will be donated to the Children's Oncology Group Foundation (
http://cog-foundation.org/
) to improve the outcome for all children with cancer.
Since the moment this crisis began, we have been awestruck by the outpouring of love and support from all around us -- the meals, the cards, the gifts, the visits, the texts, the calls, the prayers, the hugs, and just the general good positive energy that so many have sent, and continue to send, our way.  It's impossible to convey how much it has meant to all of us, how even the smallest gesture goes such a long way in helping to alleviate the stress, the overwhelming anxiety and the helplessness we all feel in this situation.  We are beyond thankful... and with your help,
Iron J is Kickin' Cancer's Butt!
https://www.caringbridge.org/visit/jasonhill2
+ Read More
Update 2
22 months ago
Share
One year post-diagnosis, treatment done, disease gone. CELEBRATING!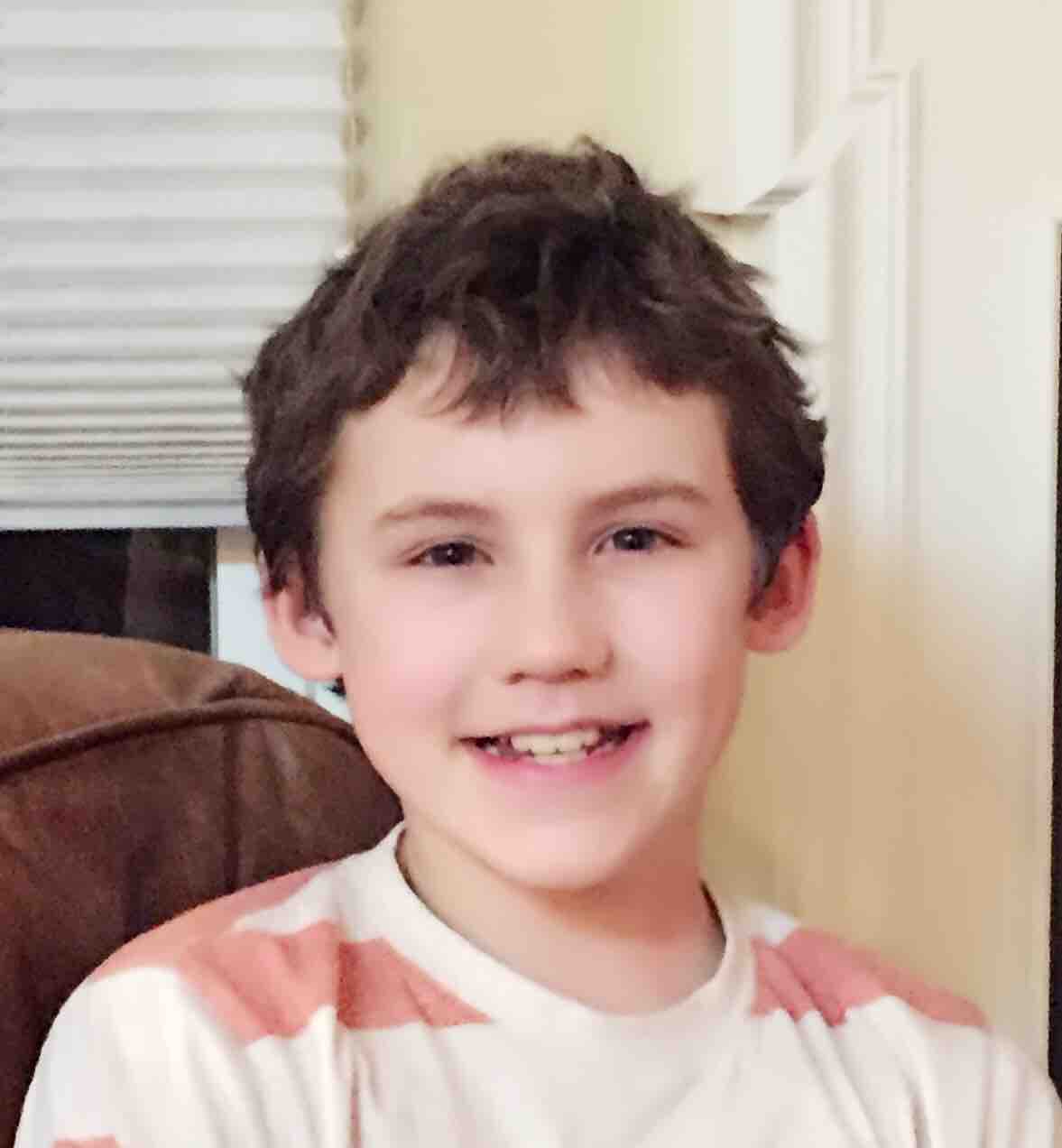 + Read More
Update 1
22 months ago
Share
One year ago today, we found out Jason had cancer. This night one year ago, he and I were up all night as he writhed in pain awaiting an early morning surgery to have his port installed and his first dose of chemo administered directly into his spine. For the next several months, we didn't leave that hospital for more than a day or two as a result of chemo or its side effects.

Today, we are celebrating. Jason has not been admitted to the hospital since Labor Day. He has not missed a day of school since then due to health concerns. His monthly check-ups have all been good. His biopsies and scans were clear heading into the holidays so his doctors see no need to repeat them. He gets one more dose of IV antibiotics during his next monthly check-up and then we'll schedule surgery to get his port out. Other than some short-term memory loss which we've been told should self-correct over the course of this year, we have not noticed any ongoing side effects from treatment.

Life is good, mostly back to normal, and we are beyond thankful. For so, so many things --

We had access to amazing medical care -- everyone took really good care of us, but shout out to the nurses in pediatric oncology and pediatric sedation at INOVA Fairfax -- you ladies are my heroes, complete gamechangers. As happy as we are to have all of this in the rear view, we miss our "family" there very much.

This experience also showed us we are part of a community where people come out of the woodwork to help -- complete strangers in many cases. I'm not sure how we could have managed it all without the funds raised here and by our schools and our neighbors. The online cancer communities -- particularly the group of local cancer moms and the Burkitt's online support groups have been and will continue to be invaluable -- it's just so sad to see how big these groups are getting.

Of course, our family near and far and our friends. I can't even begin to quantify the logistical gymnastics they performed to see us through this -- all the meals coordinated and delivered, the shopping trips, "adopting" our new marginally house-trained puppies... and most important of all, ensuring that Spencer never got lost in the shuffle, or felt like he might.

For SAP and CBRE who provided Jason's dad and stepdad with the flexibility and support they needed to take care of this family, and to my IFMA family and other long-time colleagues who threw out the professional safety net when my employer didn't.

To all of you for the countless prayers and positive vibes put into the universe for healing, strength, and hope. Keep it coming. Even though we're out of the woods, there are a lot of kids who are still fighting, who will begin their fight, and way too many who lost. We need to double down. There is too little attention and too little investment in childhood cancer. It is not rare, and the treatments our kids receive even when successful in killing the cancer, put them at high risk for a lot of significant future health problems. If you are so inclined, continue to donate -- but be careful, most cancer groups aren't funding children's cancer research. Nationally, Truth365 and CureSearch are a couple of orgs who are doing great work for our kids. Some of the local organizations supporting kids and families going through this are StillBrave.org and Team Mathias. And, finally, if you can, donate blood and platelets regularly (every 56 days for whole blood and every 2 weeks for platelets) and register to be a bone marrow donor -- it's just a cheek swab.

And with that, we're off to launch a lantern full of wishes to mark this first anniversary of many to come. Good night all.
+ Read More
Read a Previous Update
My son Cooper was a student of Whitney Cook whose niece was next door to Jason in the hospital. Cooper was diagnosed July 29th 2013 with stage 3 burkitts lymphoma.Age 12. Football, baseball, basketball player. Multiple organs and lymph nodes but not stage 4 spinal fluid. We have had 2 major scares since remission of Burkitts leukemia nut ended up clear. He is in remission and doing well. We totally understand your stress and agony. It is hell. We are doing well though and moving forward. Keep going. One day, one minute at a time. So sorry you have to face this. No one can understand this ridiculous cancer.... You will get through it.
+ Read More
Sally Cooke
32 months ago
Oh Kelly, my heart is breaking for all of you as you go through this test in your life. As you know, my grandson, Logan is also putting us to the test with several unexpected genetic problems that came to light on February 14th. Our lives have also found a new 'normal'. I don't like what is happening, but going with the flow and trusting the Lord is my only hope. I wish that I could give more to help you reach your goal and will be praying for your family and THE IRON MAN.
+ Read More