Help Save Eman
$144,517
of $180,000 goal
Raised by
752
people in 43 months
Verily with the hardship there is relief; Verily with the hardship there is relief
Quran 94:5-6
Welcome all! This page is dedicated to raising funds to help a brave little girl named Eman and her family with rising medical costs sustained in an effort to fund her treatment for leukemia.
Our world changed in one heartbeat as my beloved 3 year old niece, Eman, who had been fighting acute lymphoblastic leukemia (ALL) for the past 11 months has now been diagnosed with Chronic myeloid leukemia - CML which is very rare in children.
Eman during her treatment: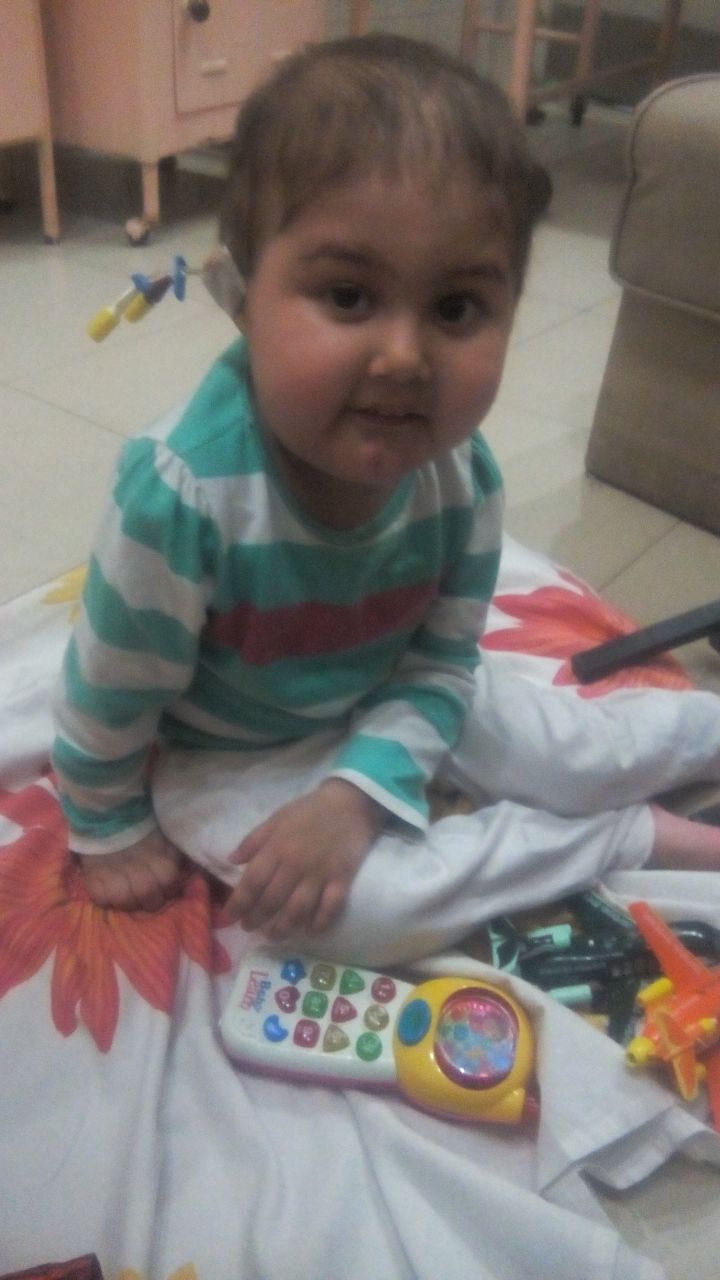 "Heigh ho heigh ho heigh ho. It's off to work we go ",
Eman sang.
Banking Details:For people in US wanting to give a tax deductible donation APPNA has made an account for Eman's bone marrow transplant.
https://www.instantreg.com/appnatemplate2/public-donations
Or go to
Appna.org
, go to
donate
, donate for a project choose general donation at the end of the page and choose Eman/bone marrow transplant from the drop down menu.
You don't have to be an Appna member to give tax deductible donation.
Please send me a message through Gofundme when you donate through Appna to keep track of donations.
For donations in USD 
Account Title: Sabeen Ahmed
Account Number 6756531422
Routing Number 031201360
Saving Account in US
TD bank
For donations in PKR
Account Title: Bismah Shakeel Ahmed
IBAN: PK80-BAHL-1063-0095-0059-7501
Account No: 1063-0095-0059-7501-5
Bank Name: Bank Al Habib
Facebook link:
https://www.facebook.com/HelpSaveEman/ Eman's Story:
My sister Saman had moved to a small town in northern Pakistan, because of her job. Her 2 year old twins and my mother also moved with her.
I remember visiting my sister in the winter of 2014-15. Winter meant fevers, runny noses and sore throats. And with twins, it was double trouble.
While Hadi got better and resumed his daily routine of playing till he slept, Eman started to come down with fever a lot and developed rashes on her face and body.
Initially, they were thought to be insect bites and various creams were prescribed with little to no effect. Meanwhile, Eman got thinner, ate less and less and grew tired easily.
When she complained regularly about aches and pains in her body, her mother Saman grew worried. Despite all kinds of medications, Eman would still be unwell.
"Mama, Eman is not feeling well. please give Eman some medicine,"
 Eman pleaded before bedtime, every night.
Eman's Nono (maternal grandmother) trying to ease the little angel's pain: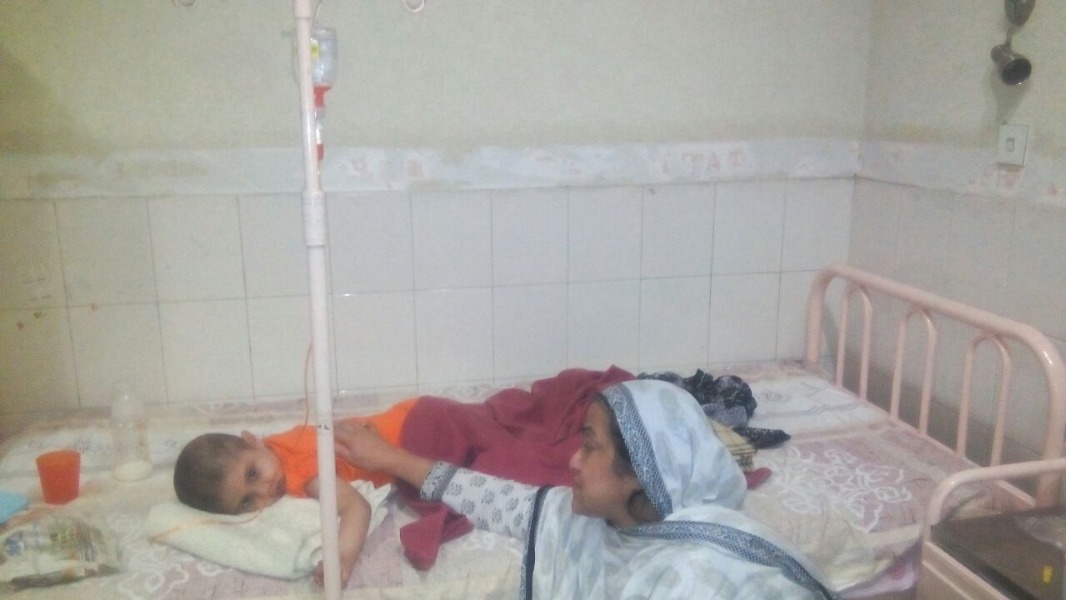 This little girl loved to stand outside the kitchen door and ask her Nono all sorts of things about cooking.
In March 2015, Eman woke her mother with a nose bleed. Terrified, Saman rushed Eman to a tertiary care center in Rawalpindi for treatment.
She had developed bruises on her body, was bleeding from her nose and her HB was 4.
After bone marrow biopsy results, we found out she has acute lymphoblastic leukemia.  

Eman's face all swollen because of steroids and chemo: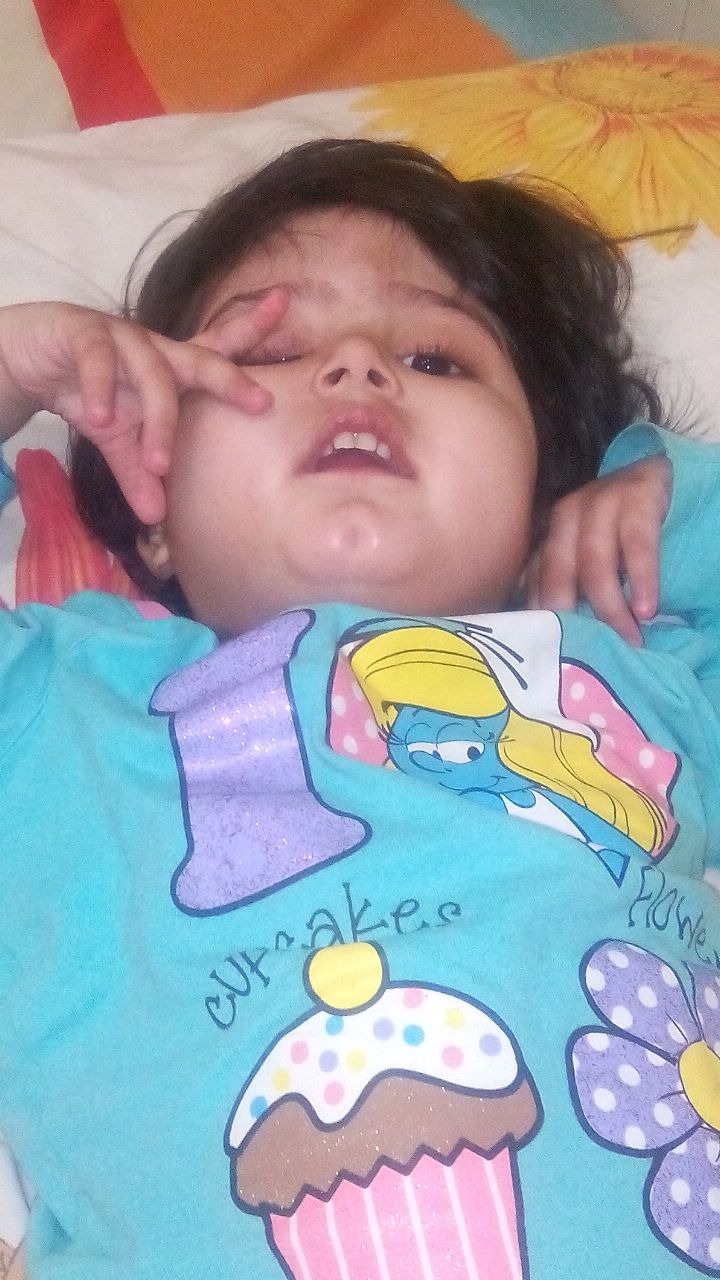 She was started on induction chemo regimen.. by the end of induction she was declared free of cancer.
However because of decreased immunity she developed a bacterial and fungal infection which prolonged her stay at the hospital. 
Eman's bruised and swollen feet: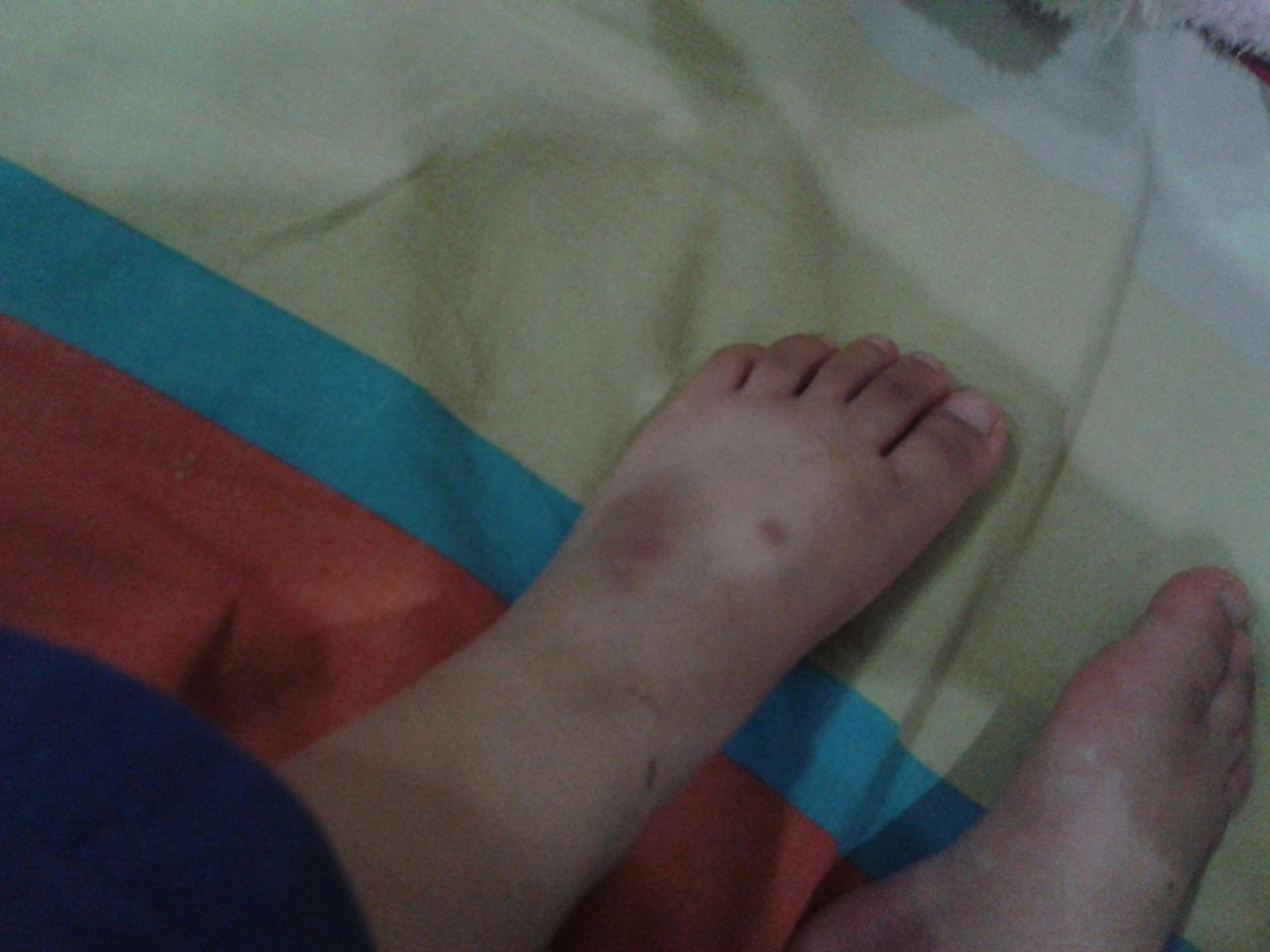 Look at these tiny little feet which have suffered so much!
Eman was discharged after almost 2 months stay in the hospital. We rejoiced and prayed.
Eman underwent interim maintenance, consolidation delayed intensification and was doing well.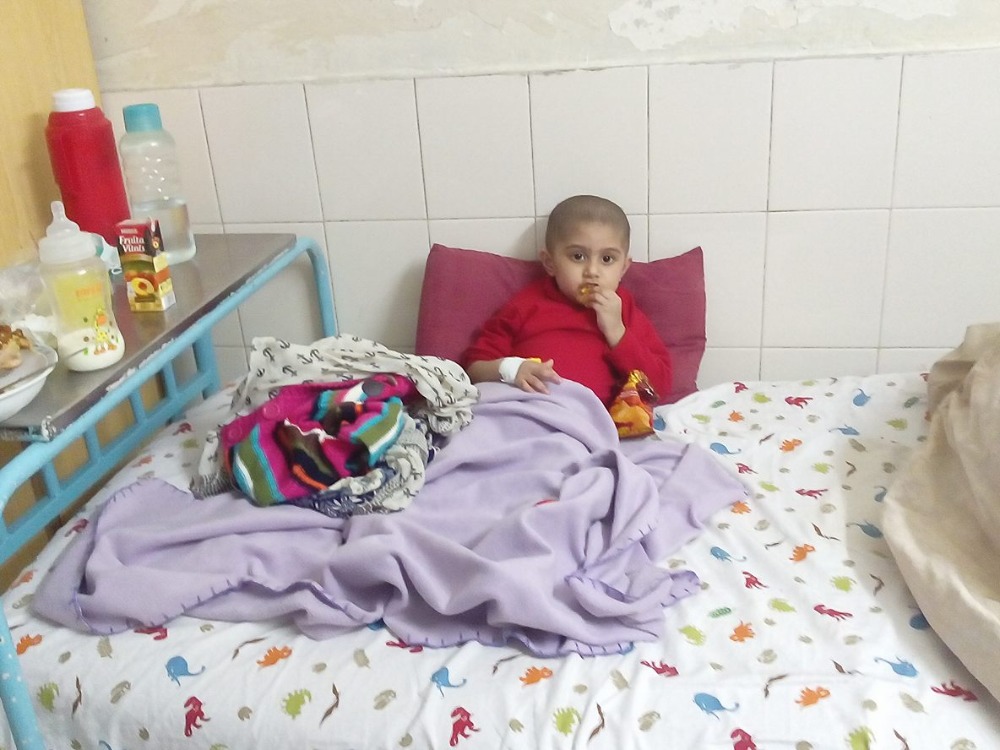 In December 2015, her blood counts started becoming elevated again. Her WBC counts elevated from 30 to 100 in a matter of days.
After a bone marrow biopsy Eman was diagnosed with Chronic myeloid leukemia (CML). We were devastated.
Eman using a nebulizer all by herself! She calls it 'Nebu'
This darling girl who used to run about the house playing and screaming is now mostly confined to a bed... She is so weak and in so much pain that you can't even hear her voice when she's crying.
Current Situation:
We are consulting other physicians all over the world. Eman's doctor has also consulted other paeds oncologists as CML is very rare among children.
She has been switched from Imatinib to Nilotinib, a new medication. Physician has also said she will need a bone marrow transplant as soon as we are able to find a match.
Her  brother is only 50% match. Bone marrow transplant is a very complex procedure with increased risk of complications, rejection and mortality as mismatch with donor increases.
Unfortunately Eman's mother and father are also only 50% match.
Haploidentical transplant from parents is another option but with dearth of  advanced research and techniques in Pakistan, it also has a very high risk of mortality and rejection.
We want her to possibly be able to undergo haploidentical or matched unrelated donor transplant in another country where she has a chance of survival.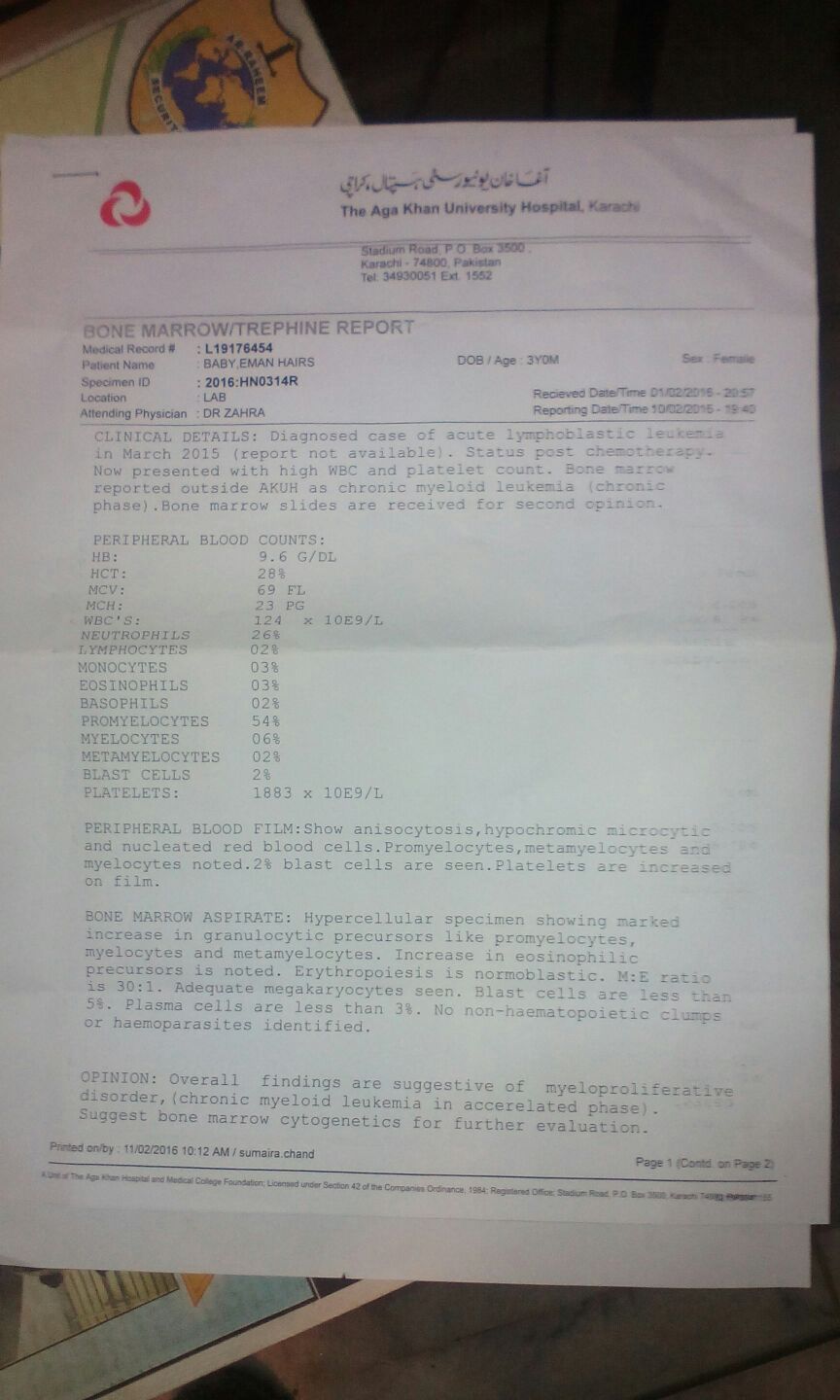 Eman's High resolution HLA typing results are back from Germany and Labcorp in US.  After a preliminary search on international registries we have some 5/6 potential matches.
An  initial  estimate of 157,000 euros equal to 180,000 USD has been obtained from Bambino Gesu children hospital in Rome, Italy for haplo or unrelated transplant.
It sounds impossible to raise that much money, but I have been a witness to many miracles and this will be one of them.
Eman has been bravely fighting acute lymphoblastic leukemia for past 1 year.
For months, Eman has undergone multiple bone marrow biopsies, CT scans, received blood transfusions, and toxic chemotherapy all meant to save her life.
Eman plays dress up: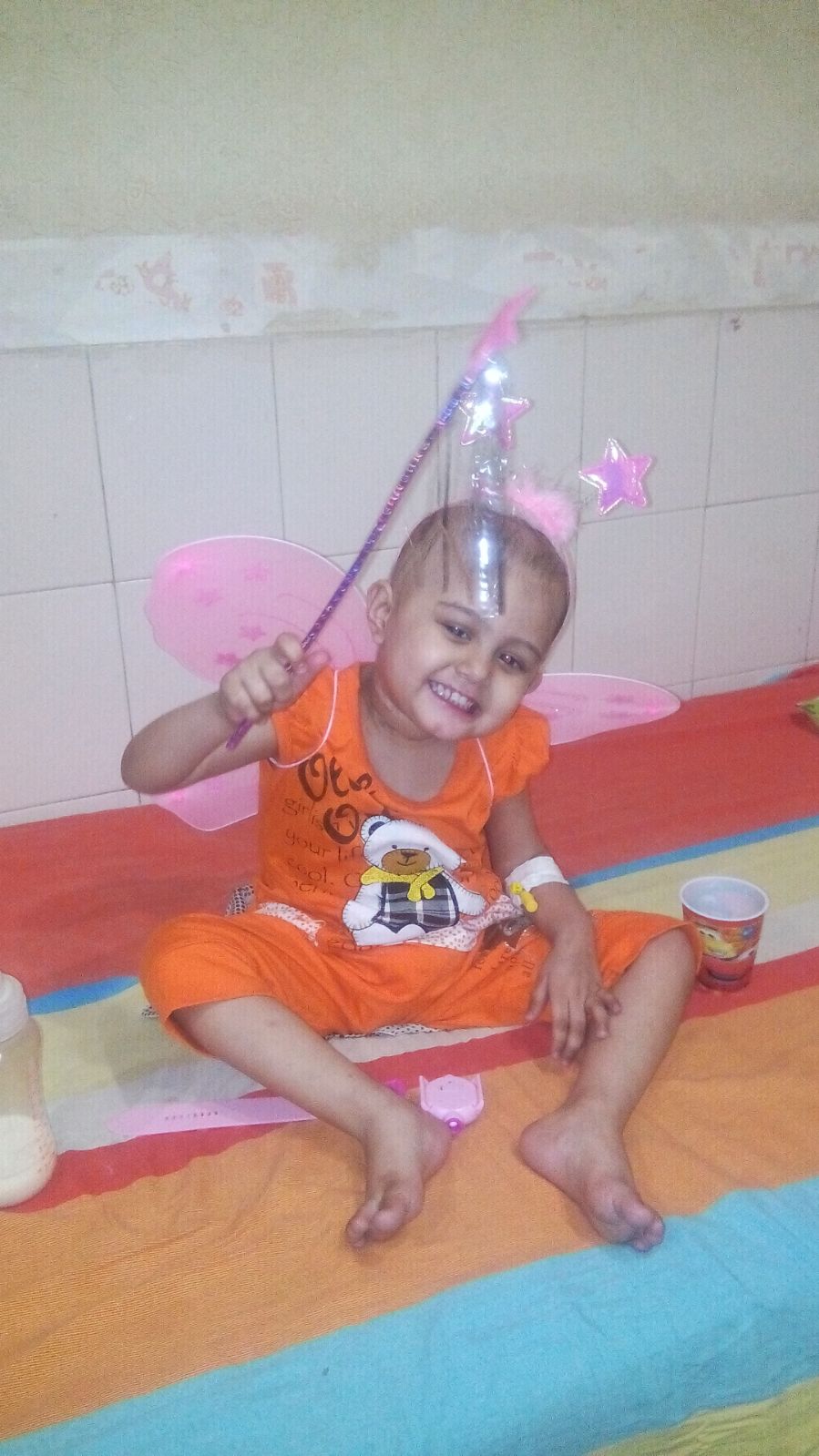 Despite all the bone pains and leg cramps, Eman manages to smile and laugh, she makes a butterfly out of a card lunchbox, she wants to go to the sea and swim. She has tea parties in her hospital room.
Eman at 1 and a half years old: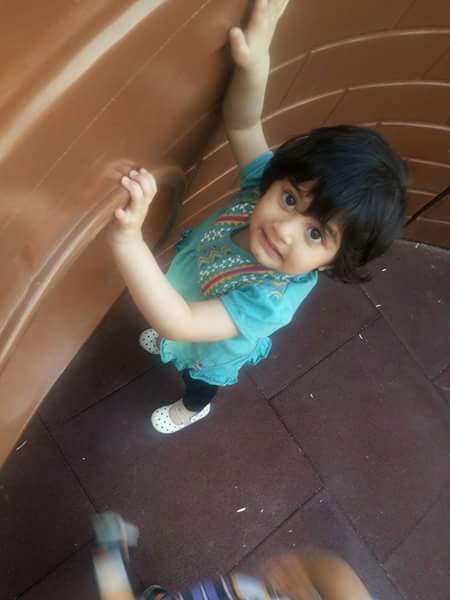 I have been a witness to our angel's misery, her pain , her fever.  A witness to my sister's and brother-in-law's never ending strength and courage and belief in God.
I have seen them, night after night, trying to soothe away Eman's pain, while struggling to raise money for her treatment.
My sister and my mother spent the first 2 months of Eman's treatment completely in the hospital taking care of the little angel while she hung between life and death. They have had to move four times during the past one year, all the while taking care of Eman.
Every day with Eman gives us one more day to pray for her health and life. 
Eman at 2 years old:
We need your help in saving our beautiful angel and giving her a chance at life. Every prayer, donation, like and share counts.
Please help us get a life saving bone marrow transplant for Eman.
Please forward this message to all who can support to help & save our little princess Eman. May ALLAH cure her completely, Ameen
In April 2016 Eman was found to be positive for Hepatitis C.  Her viral load is low though and has been coming down, which is Allah's great mercy. New Oral medication Sovaldi and Ribavarin has been prescribed for initial 6 weeks to see the response. Hopefully Eman will be able to clear Hepatitis C and will have a successful transplant. 
Visa Application to Italian Embassy has been submitted. 2 weeks processing time is required before issuance of Visa. Prayers that all goes well.
+ Read More