Help Sandra A Graduate on time
$9,186
of $5,000 goal
Raised by
282
people in 47 months
My name is Sandra Adeyemi and I need your help to start off my senior/final year at The University of Maryland, Baltimore County. 
Ever since my parents divorced in 2006, majority of the financial responsibilities for my siblings and I (4) have been on my mother. Three of us are now in college and although we do receive some financial aid from the government it is still not enough to cover all of our educational expenses, hence why we still need to pay out of pocket. In August 2014, I took a semester off my university to attend a community college (2 year college) with the hopes of being able to pay my debt off but was unable to. I was able to return to my University In January after begging the school authorites to let me in. Right now I have exhausted all means of physical help on my part.
My proposed graduation date with a B.A Degree in Psychology and a Concentration in Biopsychology is May 2016. However, if I do not pay at least $5,000 by next wednesday [September 9] which is the last day for registeration I cannot enroll for classes this semester pushing my graduation to December 2016/ May 2017. The total balance due is actually $11, 828 but im hoping with $5,000 I can beg my way in and pay off the rest while enrolled. 
I have been reluctant and hesistant to start this campaign because I do not know how nor am I used to asking people for help, but any help right now would be
GREATLY
appreciated. No donation is too small and will let my school know that I am serious about my degree and even if you cannot donate, your prayers & sharing this campaign will be appreciated as well !!!
Below is a  screenshot of all the classes and grades I have already taken. I only need 29 credits left in order to graduate. 
I pray that God will provide for you to be able to help me fund my first semester of my last year in college ! God bless you all. 
<33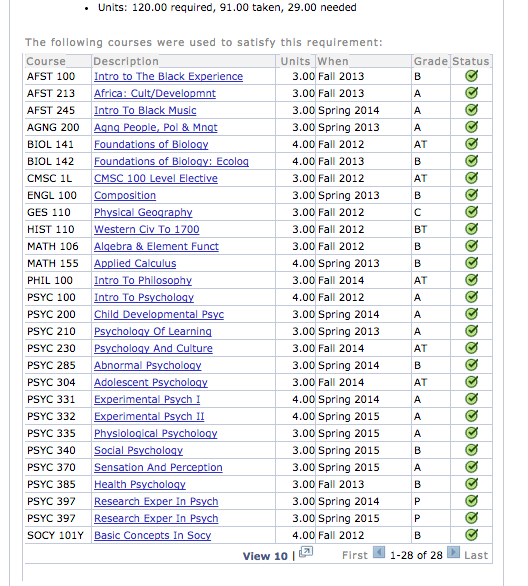 + Read More
Update 2
46 months ago
Share
You guys can not even imagine how grateful & happy I am right now. I just want to say a HUGE THANK YOU TO EVERY SINGLE PERSON. Those who donated, prayed, shared, liked. This would not have even been possible without any of you guys and I pray that as you all have helped me, God will help you in a massive way.

At around 11pm yesterday, I was granted access by the undergraduate provost to register for my classes. After I brought my balance down with the money you all donated, they told me that if I qualify for in state tuition, they will take care of the remaining $3000!!!!
Tell me God is not good ?

I cant even express my gratitude to God & you all, because honestly I don't know how to, but I am truly thankful.

Thank you guys & thank you Jesus !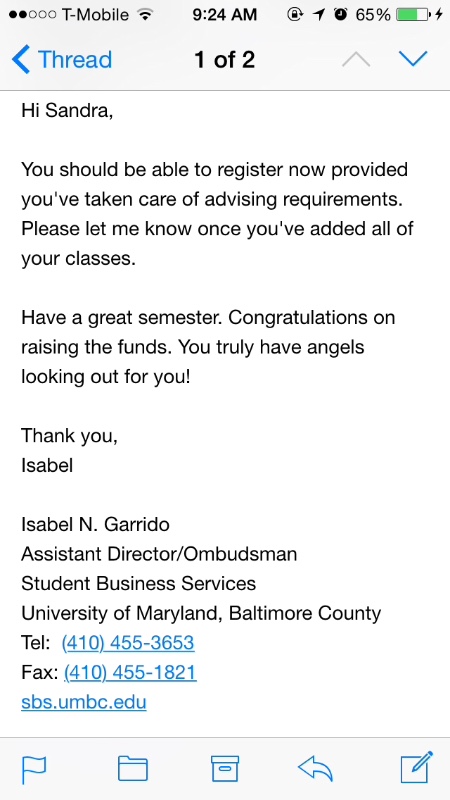 + Read More
Update 1
47 months ago
Share
OMG, I am extremely overwhelmed, shocked, GRATEFUL !! Thank you all so so much !!! The fact that you guys considered my situation as yours, I can't thank you enough.

first & most important goal down ! & IN LESS THAN 24 HOURS TOO !!! Who does that ?? ONLY GOD !! All Glory to God. Who am I that he is even mindful of me !! I can't begin to understand right now. I'll still be accepting donations while I try and talk to the administrative authorities !!!

God bless you ALL ABUNDANDTLY !!
+ Read More
Read a Previous Update
I'm so upset it listed my name... Pretend it says Anonymous lol
+ Read More