Hannah's A Cappella Academy Fund!
$15
of $2,000 goal
Raised by
1
person in 2 months
Hello everyone! My name is Hannah Abrahim. I am a sixteen year old junior at Upland High School. I am also a musician, vocalist, actress, and a teenage girl with a big dream. As you might have guessed, that dream is to one day make it in the music industry.
This may sound like just another sob story or an unrealistic career, but this fund proves that I do have a voice with a dream that isn't too far away from grasp. I am here trying to raise money to attend A Cappella Academy for the second time in a row. A Cappella Academy is a summer camp created by Music Arranger Rob Dietz, Producer of Pentatonix Ben Bram, and Bass of Pentatonix Avi Kaplan.
It was created for kids ages 13-18 who come from all over the world to make a cappella music. I was lucky enough to get the opportunity to try out for this incredible camp, and with all my blessings, I was accepted for the second time! I am one of the 78 future campers out of 588 applicants, putting me in the top 13% of the vocalists who auditioned! I can't say enough how blessed I am to be given this opportunity.
(Feel free to watch my audition video!)
My whole life, I've dreamed of becoming a vocalist. When I was younger, about four or five years old, I would sit around and write songs about lady bugs, sparkly stars, and my personal favorite, foam fingers. In chapel when we'd sing gospel music, I began experimenting with harmonies without even realizing it. When I received an award in my chapel for singing joyfully everyday, I realized that singing is truly what I want to do for the rest of my life. To make myself and others happy with my voice. Ever since, I've been working hard towards that goal. In school, I participated in countless talent shows
and musicals, and I have been in the choir program for six years now. I am now one of the leaders of my school's classical and jazz choir, which have performed at places like Disneyland and New York, and I help to arrange many a cappella pieces that we sing. Outside of school, I have taken on many large roles in musicals such as Peter Pan, Seussical the Musical, and The Lion King. I have also taken part in singing competitions around my community such as Lemon Idol.
Additionally, I have sung at gigs for weddings, charity events, and holiday parties for companies such as ABC Pharmacy. I have even flown to Washington D.C. to compete in a national competition where I sang a traditional Jewish song. I have taken vocal lessons for about four years now. I have also taken piano, guitar, drum, violin, and bass guitar lessons. Besides performing, I enjoy arranging, recording, and producing both original and covers of songs. I surround my life around music.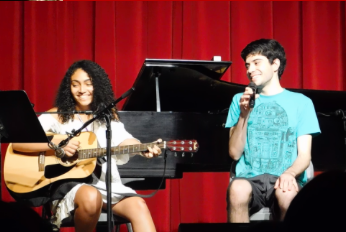 I could go on for hours,... but to get back to my main point: Going to A Cappella Academy would be a soundsational opportunity. Unfortunately, this incredible blessing does come with a price (literally), and a very high one! Tuition is roughly $2,000. This includes lodging, meals, classes, etc. As my family is on a tight budget at the moment, I am trying to raise money to make A Cappella Academy my dream come true. The deadline to make my deposit is April 1, so I would like to spread awareness of my cause and try to raise as much money as possible as quickly as possible! A Cappella Academy is a great opportunity for me to aspire as an artist. All my life, I've been told that I should become a doctor or a lawyer and that singing is a waste of my intelligence. I want to prove to my family that music is what I'm made for. I want to truly develop my skills as a vocalist, learn from some of the best performers in the business, and create fun and lasting friendships all at the same place at the same time. Any amount donated is truly appreciated.
Having attended A Cappella Academy last summer, I can truly say that it is a life changing experience. I have met some of my best friends from that summer camp, and I have grown so much as a musician and performer. A Cappella Academy has not only allowed me to develop myself as a singer, but has also shown me where I want to go to college and a feasible way to pursue my career. I could ask for nothing more than to return to A Cappella Academy again and continue pursuing my dream of music.
Once again, going to A Cappella Academy, let alone being accepted, is a true blessing! I am very thankful for all the support. Thank you for taking the time to read about my very lengthy and heartfelt fund!
+ Read More
Be the first to leave a comment on this campaign.