Helping Le'Naiya Get Back in School
$5,025
of $3,065 goal
Raised by
77
people in 40 months
Hey There!
My name is
Le'Naiya Blackwell
. I am a second year
Howard University
student looking to finish my college career. I started my journey to receiving a higher education in the Fall 2010 at the University of Pittsburgh at Greensburg. Although Pitt-Greensburg offered me a lot of opportunity they did not offer the opportunity to study music in depth.
After much thought and research about the Jazz studies program at Howard, I knew it was where I belonged.
I auditioned and was accepted in the Fall of 2012 and have been thoroughly enjoying my time there ever since.
My musical knowledge has grown exponentially.
My love and appreciation for all of the Jazz icons has matured.
My overall love for music was rekindled.
I have even begun to find my own sound.
Howard University's biography is filled with so many gems socially, academically, culturally, and musically. With that kind of lavish history and legacy comes a great price.
With the help of the Trio Scholars program, Grants, Need Based Scholarships, and using good old fashioned Elbow Grease working multiple jobs I was doing pretty well financially.
Unfortunately,
even with filling out scholarship/grant applications daily
I was not able to come up with enough money to stay in school.
This is a situation that will continue to occur each semester. However, with your support I will be able to put this money in the vault and focus on saving for the next semester rather than working just to pay the next tuition bill.
Therefore, sadly,
I am forced to take off a semester from Howard.
I immediately started looking for different options that would get me back in class. I discovered this crowdfunding site, GoFundMe.com and went to work advertising and thinking of different ideas and avenues to get support. After I was
re-tweeted by former mayor and current City Councilman Marion Barr
y
, my story was featured in the
Washington City Paper
followed by a news story on
WJLA Channel 7 New
s
.
I am a hardworking student looking to rejoin my fellow Bison and ultimately get my degree at Howard University.
On
April 4th, 2014, at 9pm, at Columbia Station located in Adams Morgan, DC
I will be giving and Education Benefit Concert to thank all of those who donate $25 right here on GoFundMe. Additionally I've added two other incentives.
I have no doubt in my mind that with your help I'll be able to finish my college career and go on to do bigger and better things for the community as a whole.
Please give me a chance!
Warmest Regards,
Le'Naiya Blackwell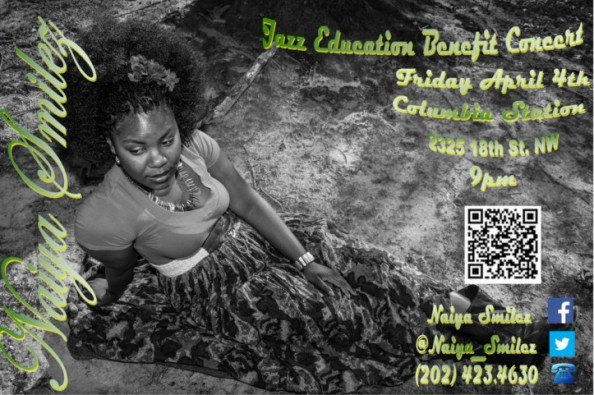 + Read More