Carly's Lyme Disease Health Recovery
£1,405
of £14k goal
Raised by
44
people in 21 months
I am setting up a crowd funding page for my sister in order to finance her ongoing health costs and recovery.
She was diagnosed with CFS/ME 20 years ago when at age 16 she went from being a completely healthy young girl to eventually fully - bedbound - sick at age 21. She came down with an initial flu virus overnight which never went and she was left to get worse and worse.
One day she was vibrant and well as she had been her entire life.. The next day sick.....
It doesnt sound possible does it? 
But it is our reality.
The doctors were unable to offer anything back then other than an eventual further diagnosis of  Autoimmune Thyroid.  However, conventional treatment -even for this - did not work well for Carly and nobody understood why. She was quite simply left (despite all our desperate appeals at the time) but has never given up hope herself.
Her health is still very poor - despite her doing all she can to help herself - and subsequently over recent years doctors have also confirmed Adrenal Insufficiency, Hypermobility Syndrome, and POTS.  Most recently, it has been suggested that mild Lupus is part of the picture too.
Any one of these illness's would be justifyably devastating and impactual on their own, but all-together you can get a sense of how complex and all-consuming this really is.
The problem is that these Autoimmune & other conditions are a result of something deeper .... a reason why her body is not functioning. 
A root cause undiscovered which triggered this nightmare...
Carly has started digging a lot deeper lately and a couple of years ago she had a huge break through (of sorts) whilst working with a leading Professor at Kings College hospital.
This Professor was incredibly sympathetic to Carly's case, and also to the shameful judgement she has faced by the profession over the years.  He was determined to prove how sick he knew she was, and eventually had a lucky break after many months by testing for Parvo Virus which showed up positive in her DNA - but negative in her antibody test. This means that Carly has the virus in her system (and probably has since age 16 with that initial flu bug) but that something is very off with her immune system in that it no longer is producing antibodies to fight it. The virus therfore remains at large and explains why she feels as though she has the Flu every single day. It is because she actually does! 
A result of kinds for sure. However, despite clear immune supression (backed by up private CD57 testing) there is nothing the NHS can do (and even the Parvo test was done privately despite Carly being seen within the NHS) and the professor advised (with real frustration on his part) Carly to do all she can to raise funds privately, and to keep on digging for further clues....
Parvo Virus was not the root cause....
Eventually, somehow, we believe we have hit the nail on the head, and have tied it all together with the discovery of Lyme Disease & Coinfections.
Lyme Disease is a tick bourne infection, which can often go un-noticed for many years, At some point a stress trigger (like getting Flu) may kick it into gear. Once is it activated it quickly affects every system in the body and explains why sufferers dont always respond well to various treatments. It causes a downstream effect on organs and the immune system. Once the body is so compromised it cannot fight off things like the Parvo Virus and other infections and so things just accumulate and get worse. This is called Late Stage Lyme Disease.
Sadly, despite many more clues as to what is really going on for her lately, and the seriousness of it all,  the NHS are still in no position to help.  I admit there are a few specialists who really want to help and learn more - but they are tied and limited within a system. This is just the way it is and this is why chronic sufferers like Carly really need to raise funds for treatment privately and abroad.
Carly contiunes to implement all she can nutritionally and spiritually to stay afloat, and stop her health deteriorating further. She continues to research all she can, and we know that we may need to find a collective team of doctors/practioners to help her to address the many issues involved now; For late stage Lyme Disease is incredibly complex,  and treatment must be very gentle and only applied as and when a sufferer is stable enough. This may mean much trial and error, and likely getting worse before getting better. It will means years of the right (funded) individualised support with the best doctors and practitioners from the States or Europe.
Already, Carly is working with a US practitioner we trust - who runs this clinic
http://methylationsupport.com/dev/
and a very skilled classical homeopath and accupuncturist. But she is the ultimate project manager who implements approaches when it feels right. 
We are still working on this team and it changes with time, as one practitoner does all they can, and once again the search for the next approach begins. It is likely she will need to travel abroad additionally at some point for more extensive in clinic treatment too. This was always going to be a multi-disciplined approach. We had hoped to keep the nhs on board but currently this is not possible and all treatment is paid for privately.
There are many potential clinics and practioners Carly has researched and would like to access currently and further tests she would like to pursue.
Lyme Disease (and this type of long term chronic illness) does not have a one-fit answer. If only it were that simple. There is no one cure. No one best doctor. It is a combination of research, trial and error, and access to the very top practitioners which give you the best chance. Recovery is certainly possibly and we retain full hope that slowley she can rebuild her health.  
We wont give up.
In order to fund her treatment - arising from current, ongoing and future fees we do require help and appreciate anything you can do. Our target amount takes into account the incredible healthcare costs involved in accessing the above for at least 2 years. We hope that within this timeframe - with the right help and support - Carly can begin to make progress.
Carly herself writes a blog at
www.carlyjennings.com
 and continues to inspire many people and pass on health and healing information. When she recovers she would like to help other people to get well, and will do all she can to pay any generosity forward.
I would really appreciate your support in trying everything possible to get my sister back to some form of 'normal' life & health. We all take health for granted, myself included, but after seeing first hand how it impacts a life and dreams I really feel I need to ask for as much help as possible for my sister's recovery.
I know that this is not your standard, clear, structured appeal for fundraisng, with a completely set in stone plan, but the truthful, harsh reality of chronic illness is that it is messy. Yet, if there is even a glimmer of help avaliable then access to it (and paying for it) should never be the reason someone remains sick indefintely I believe. There is always hope - if you have the means.
If you wish to donate any amount, or have any fundraising suggestions we would all be eternally grateful and would love to hear from you.
Thank you for reading this and for your support.
Donna  (and Carly and Family) x
PS Read Carly's Thankyou Blog post HERE -
http://living-brightly.com/health-healing/my-fundraising-update/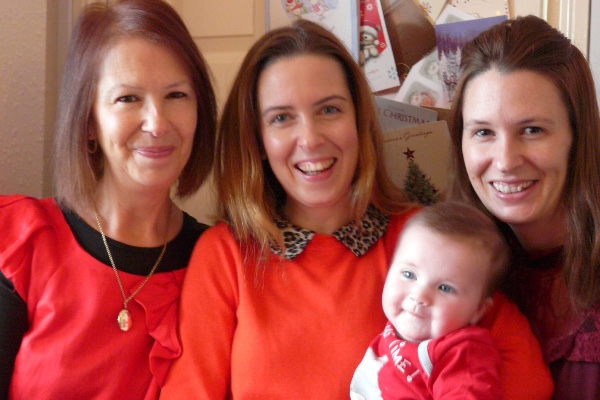 + Read More
Be the first to leave a comment on this campaign.